A/V Makers Welcome Autumn with New Gear
Pandemic and all that ails 2020 be damned. The cool, crisp air of autumn has arrived and A/V makers are upping the frequency of new product releases in anticipation of what we all hope will be a joyous (and financially rewarding) holiday season. But before we delve into the new tech goodies headed your way, it's worth noting that Bob Stuart, co-founder of Britain's Meridian and the creator of
MQA
audio technology, has become the first audio engineer to receive the prestigious
Prince Philip Medal
from England's Royal Academy of Engineering. Stuart is honored for "his exceptional contribution to audio engineering, which has changed the way we listen to music and experience films." Congratulations, Bob. Now, onto the new gear...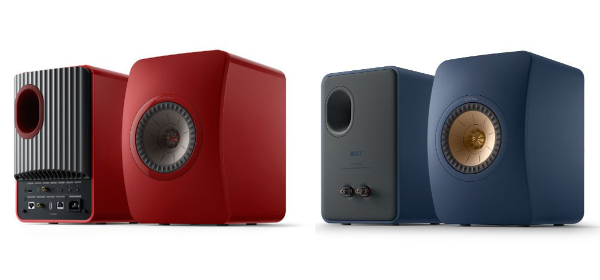 KEF Launches Refined LS50 Speaker
When KEF rolled out the LS50 in 2012, it was an instant hit and the company has been tweaking the foot-tall speaker ever since. The latest iteration comes in two versions: the powered LS50 Wireless II and the passive LS50 Meta. Both feature KEF's signature Uni-Q driver, which in this case fixes a new 1-inch aluminum dome tweeter in the throat of a 5.25-inch aluminum cone woofer. The culmination of a three-year joint research project with Hong Kong's Acoustic Metamaterials Group, the tweeter is hailed as more natural sounding than its predecessor thanks to the use of a new synthetic material said to "absorb 99% of the unwanted sound radiating from the rear of the driver."
Due out in early October, the versatile LS50 Wireless II (left, $2,500/pair) is Roon Ready and supports high-resolution wireless streaming via Wi-Fi as well as streaming via Bluetooth, AirPlay 2, Google Chromecast, and Spotify (via Spotify Connect). With the KEF Connect app, the speaker also has direct access to Tidal, Amazon, Qobuz, Deezer, and internet radio; the app also provides equalization (EQ) controls.
Onboard power comes in the form of a 100-watt Class AB amplifier to drive the tweeter and a 280-watt Class D amplifier for the woofer. The left and right speakers can be connected wirelessly for 24-bit/96-kHz resolution or via a supplied cable for 24/192 playback. To accommodate a variety of sources, a 3.5mm analog input is provided along with HDMI (with enhanced Audio Return Channel or eARC), optical, and coaxial digital connections. The speaker is rated down to 40 Hz (–6 dB), depending on EQ settings, and has a subwoofer output for those who want even more bass.
Taking driver refinement a step farther, the LS50 Meta (right, $1,500/pair) features a specially designed 12th generation Uni-Q, which in addition to the refined tweeter employs a new cone neck decoupler and motor system to "further reduce coloration and distortion." The speaker is rated down to 47 Hz (–6 dB).
Both speaker models are available in black, gray, or white with a "crimson red" special-edition finish available for the LS50 Wireless II and a "royal blue" special-edition finish for the LS50 Meta. KEF is also offering a new S2 floor stand ($450/pair), featuring integrated cable management and a hollow column that can be loaded with inert filler.
Click here for more information on the LS50 Wireless II and here for more on the LS50 Meta.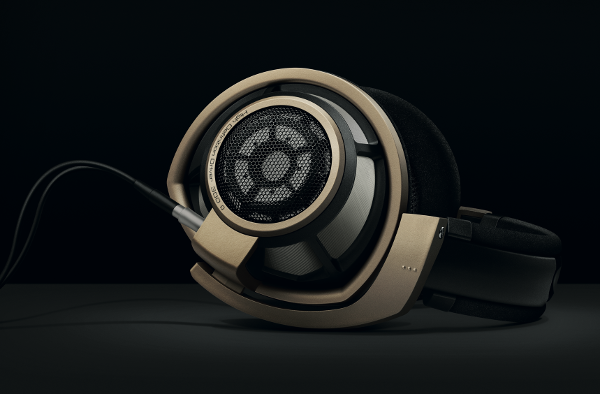 Sennheiser Releases Anniversary Edition HD 800 S Headphones
To celebrate a remarkable 75 years in the audio business, Sennheiser has introduced a limited-edition version of its flagship HD 800 S headphones, a 2016 reboot of the original HD 800 that dates back to 2009. The company is limiting production of the HD 800 S Anniversary Edition 'phones to 750 units, each featuring distinctive matte-gold accents and a laser-engraved serial number on the headband.
Priced at $1,700, the commemorative headphones are handcrafted at Sennheiser's headquarters in Wedemark, Germany and feature the same lightweight design and large (2.2-inch) Ring Radiator transducer the company has been refining for more than a decade. The left and right transducers in each set of headphones are "perfectly matched" and the open-back earcups housing them fitted with plush velour earpads. Visit en-us.sennheiser.com for more information.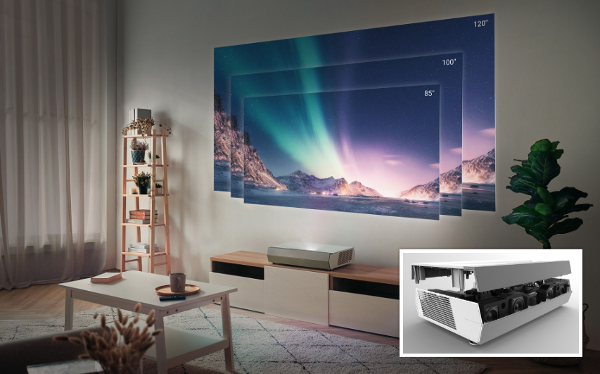 Optoma Doubles Down on UST Laser Projection
Optoma is upping its ultra-short-throw (UST) laser projection game with the CinemaX P2 ($3,299), a replacement for the popular P1 that delivers improved contrast and color along with a rated brightness of 3,000 lumens and a Gaming Mode that aims to make gameplay more responsive by bypassing the projector's image/motion-compensation processor. Like its predecessor, the P2 supports HDR10 high dynamic range (HDR) and can project a 120-inch (diagonal) image when placed only a few inches from the wall, but replaces the P1's eight-segment RGBYRGBY color wheel with a six-segment RGBRGB wheel said to improve color accuracy. The projector also uses Rec. 2020 tone mapping to achieve "extensive DCI-P3 coverage" and boasts an integrated soundbar that delivers 40 watts of power to dual woofers and a pair of full-range drivers.
Proper image alignment and geometry correction is handled "within 2 seconds" via the companion SmartFit app, while Optoma's TapCast app makes it easy to share screens from supported devices. The projector also supports smart-home integration via Amazon Alexa, Google Assistant, and IFTTT and is able to display of curated digital art through the Framed online exhibition, which ends March 2021. Visit optoma.com for more information.

Sonus faber Spotlights Lumina Speakers
Italy's Sonus faber has a simple explanation behind the name of its new affordably priced Lumina Collection of speakers: "Lu" stands for luxury, "mi" for minimalist design, and "na" for natural sound. Of course, it doesn't hurt that Lumina also means light (or illuminate) in Latin. Designed with home theater in mind, the mix-and-match series comprises three models: a three-way, floorstander, a two-way bookshelf model, and a center channel speaker — all wrapped in black leather and featuring a multilayer wood baffle plus two sets of nickel-plated speaker terminals (for bi-wiring or bi-amping).
The Lumina III ($2,199/pair) is rated to handle up to 250 watts of power and mates two 6-inch woofers with a proprietary 6-inch fiber-infused-paper midrange driver and a 1-inch silk-dome tweeter in a 39-inch-tall cabinet with a port that fires downward from an elevated base. Sensitivity is spec'd at 89 dB SPL (1 watt/1meter) and the speaker is rated to play down to 40 Hz.
The Lumina I ($899/pair) teams the same 1-inch tweeter with a 5-inch woofer in a cabinet that stands 11 inches tall; the speaker is intended for surround channel duties in a home theater setting or for use as a stand-alone stereo pair. Sensitivity is spec'd at 84 dB SPL (1 watt/1meter) and the speaker is rated down to 65 Hz.
In the 20-inch-wide Lumina Center I ($699), the 1-inch tweeter is flanked by a pair of 5-inch midrange drivers. Rated sensitivity is 87 dB SPL (1 watt/1meter) and the speaker has a low-frequency limit of 65 Hz.
All models are available in piano black or a wenge or walnut matte finish with maple inlays. Visit sonusfaber.com for more information.