Atlantic Technology System 8200e Speaker System
Supersize me.
When it comes to TVs and speakers, bigger is most definitely better. Smaller models can be perfectly acceptable, and, in small rooms, they're a necessity. But, if you have the space, you can't beat a large screen matched with a set of heavyweight speakers and subwoofers. The appeals of big-screen video and high-end audio are not so different; both deliver incredible scale, clarity, lifelike depth, and a more emotional experience. The only downside to a big system is that, once you get used to living with it, there's no going back; a 30-inch TV and pint-sized speakers won't get your mojo working ever again.
Size Matters
Atlantic Tech's updated, THX Ultra2–certified flagship, the System 8200e, certainly qualifies as full-size. The 8200e LR speakers, mounted on their optional pedestal bases, stand 53.5 inches tall, and the 8200e C center speaker is 28.5 inches wide and 16 high. It's no wonder Atlantic Technology expects that most of their mega systems will wind up in really big installations with the left, center, and right front speakers hunkered down behind a perforated projection screen or stealthily built into custom furniture. On the other hand, a good number of viewers will experience Atlantic's best with a mammoth 1080p plasma display, such as Panasonic's impressive 65-inch TH-65PX600U, where, dare I say it, the chunky 8200e C might be a deal breaker. So, I'd understand if you have to take things down a peg and substitute Atlantic's somewhat sleeker 6200e C center speaker ($1,400). It measures 21.75 by 11.25 by 12 inches. Yes, it's timbre-matched to the 8200e LR, but it reproduces a little less bass than the 8200e C.
This is a good time to point out that the 8200e LR and 8200e C's generous dimensions provided the designers enough baffle real estate to make the speakers bona fide three-way designs—with vertically oriented midrange-tweeter-midrange (M-T-M) arrays—flanked by 8-inch woofers. The design yields broad lateral dispersion, so listeners throughout the room hear pretty much the same sound character, and the vertical M-T-M arrangement controls vertical dispersion to minimize image-smearing floor and ceiling reflections. See, size really does have its advantages.
The 8200e LR and 8200e C speakers each offer three response-tweaking controls on their back panels. The top toggle switch, called HF Energy, has three positions: Reverberant, Damped Room, and THX/Average. It lets you choose between reduced high frequencies, to compensate for a bright or reverberant room; a slightly raised tweeter level, which is ideal for a room with lots of overstuffed furniture; and a flat treble response for most rooms. The middle switch, Location, toggles between THX/Normal and Behind Screen. The latter choice tilts the upper midrange and treble frequencies to compensate for the losses that can occur when you position the speaker behind a perforated projection screen. The lower control, Boundary Compensation, toggles between On and THX/Normal. Switch it on to reduce the midbass emphasis that would occur if the speaker were placed close to a wall. These controls' sonic effects are subtle, but they're still quite useful for fine-tuning the sound.
We get a size break with the surrounds—the wedge-shaped 8200e SR is a more manageable 15.3 inches high. I suppose most users will wall-mount the surround speakers, but, if that's not in the cards for you, order a set of Atlantic's matching, 37.8-inch-tall pedestal stands ($700 per pair). The speaker is outfitted with a pair of 1-inch silk dome tweeters and two 5.25-inch woofers, the very same drivers that the 8200e LR and 8200e C use. The 8200e SR is a switchable bipole/dipole design, but, if you prefer direct-radiating surrounds, stick with the 8200e LRs for use as surround speakers.
Seismic Matters
Atlantic recommends that you use a pair of their 642e SB THX-certified subwoofers with the System 8200e to achieve the maximum room-filling effect; due to space constraints, I went with just one. The 642e SB is a big, sealed (nonported) box that measures 21 by 19 by 18.5 inches and has a front-mounted 12-inch composite cone driver and a 300-watt-rated amplifier. The vast majority of subwoofer manufacturers can't resist reflex-loaded, vented designs, but the downside to that strategy is the inevitable smearing of transient definition. True, some of the best vented subs aren't at all flabby, but the 642e SB is markedly clean. I felt every beat from Patrick Hallahan's kick drum on My Morning Jacket's Okonokos concert DVD. The big sub's tenacious grip on bass was impressive; each low-down thump was remarkably distinct. I admit that, for some listeners, the low-coloration bass of Atlantic's subs might sound like less bass than the ported competitors. But, play a CD or DVD with deep, deep bass, and it's definitely all there. The other advantage of the sealed-box approach, which Atlantic also applies to all of the speakers in this system, is that the lower limit of the speakers' useful bass output rolls off more gently than with vented designs.
The System 8200e speakers' gracefully curved side panels, beautifully finished in high-gloss black, are suitably upscale. But the top and rear are decked out in pebbly vinyl that looks a little, well, tacky, on a speaker system that can cost nearly $10,000. Black is the one and only finish option.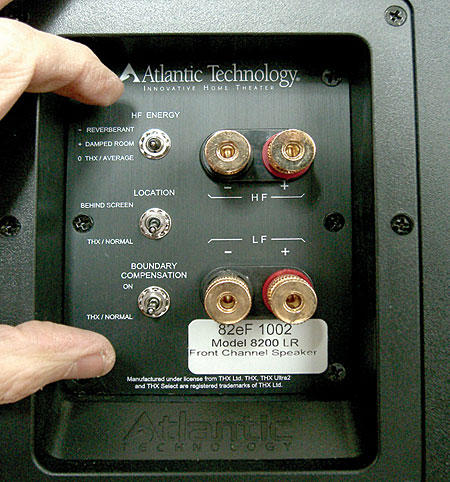 Supersized Sound
My neighbors on both sides of my apartment were on vacation, so I cast my normal inhibitions aside and pushed the limits of the System 8200e with my favorite DVD, House of Flying Daggers. The sound, especially on the drum-circle scene early on the disc, wowed me with its dynamics, and I could actually hear the drums echoing within the vast acoustic space I saw on the screen. Smaller speaker systems always shrink the dynamic and spatial scale of Daggers' soundtrack, but the 8200e put me inside the film.
I rocked out with Meet the Smithereens! and had a total blast. Do you know about this record? It's a faithful re-creation of Meet the Beatles!, performed with the perfect combination of reverence and joy by New Jersey's best-ever bar band. And, since the Smithereens are decades older than the Beatles were, the old guys put something deeper and darker into the sound. Nothing can touch the original's pure joy. But the Smithereens plug right into my middle-aged fantasies, and the big sound, taken at, ahem, room-filling volume, was a thrill I won't soon forget. Soundstage depth was good per se but was not quite as deep as with my favorite high-end speakers.
So, sure, the big system plays the loud stuff like gangbusters, but the biggest surprise is the way the 8200e communicates weight and scale at hushed, late-night volume levels. That sort of sonic dexterity is what I always want but don't always get. This time, I had the best of both for an MSRP of less than $9,000 for the complete 5.1-channel speaker system (which didn't include the surround pedestals). I admit that's not exactly chump change, but it's hardly out of line compared with the prices of today's supersized video displays. Listen, and you'll see.
Highlights
• If you've got the room, the System 8200e has the output capability to rock your world
• Extraordinary bass definition