Art & Voice Speakers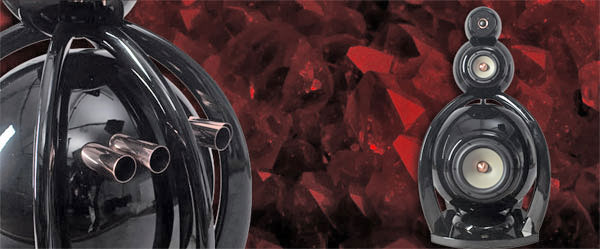 When I came across the website of Hungarian speaker maker Art & Voice, I could only gape slack-jawed at the incredible variety and artistry of its offerings. As the story goes, when the company's founder brought home some new speakers, his girlfriend immediately rejected them because they looked like two large coffins in the middle of their living room. This disappointing outcome inspired him to build speakers as works of visual as well as aural art.
Pictured above is the Sentinel. Like many models in Art & Voice's extensive line, this one is based on separate spherical resin enclosures for each of its drivers. In this case, the 8-inch bass driver is ported, and the frequency extends from 27Hz to 25kHz.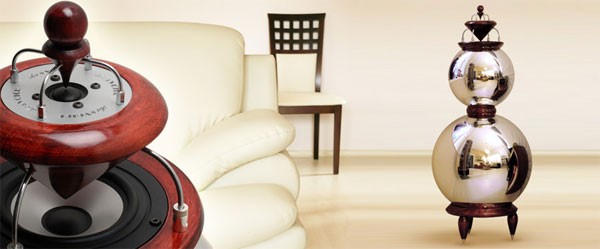 The VoiceNavy is another interesting design with an 8-inch woofer, 5-inch midrange, and small titanium tweeter. The tweeter and midrange fire upward into separate cone diffusers, which spread the sound in a 360-degree pattern. Frequency response is 28Hz to 25kHz.
The 3-way Kanji uses enclosures made from 15-20 layers of wood, and its frequency response encompasses 33Hz to 30kHz.
Departing from the spherical paradigm is the 3-way Thorn, with a dome tweeter, cone midrange, and 8-inch woofer in a wood-and-resin enclosure. Its frequency response ranges from 35Hz to 25kHz.
The Peakhead combines spherical and non-spherical elements, housing a ribbon tweeter, dome tweeter, and cone midrange in the oblong upper enclosure and a 12-inch woofer in the sphere below, which can get down to 25Hz; the upper range is spec'd at 30kHz.
The 2-way Robo sits atop a hand-made glass or metal stand, and the frequency response is spec'd from 50Hz to 22kHz.
Only the top sphere houses Mr. Steel's transducers, which include a coaxial driver in front and a passive radiator in the rear. Its frequency response extends from 35Hz to 25kHz.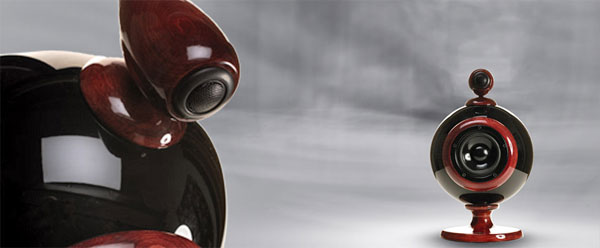 The 2-way Dwarf A is among Art & Voice's smallest models.
All Art & Voice speakers are hand-made and can be fully customized with electronics of different quality and artwork specified by the customer. Prices start at $1000/pair and can easily reach as high as $100,000 for speakers with Swarovski crystal decoration, diamond and ceramic drivers, and gilded silver voice coils and capacitors. Returning to semi-earthly prices, the VoiceNavy is about $25,000, while the Thorn is $12,000 and the Sentinel is about $16,000. I suspect the founder's girlfriend is much happier with these beauties than she was with two coffins in their living room.