Arc De Triomphe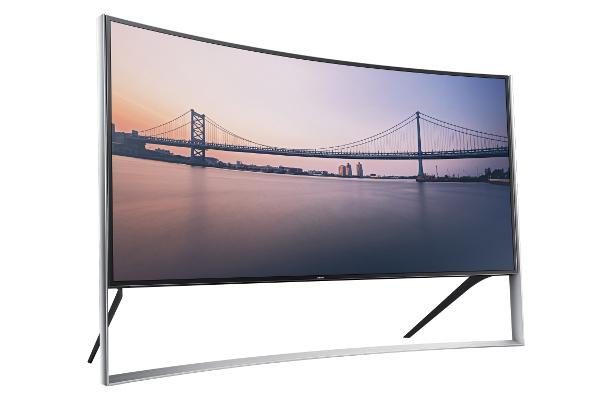 Hailed as "the world's largest UHD display," Samsung's 105-inch flagship is a sight to behold, standing nearly 5-feet tall and 8-feet wide on its sleek, minimalist arc of a frame. We were eager to learn about the company's vision for this $120,000 statement piece so we asked Dave Das, vice president of home entertainment to take us behind the scenes.
S&V: How did the "world's largest curved UHD TV" come into being?
Dave Das: Being the latest addition to our flagship S9 line, this model incorporates state of the art picture quality innovations. With 5120 x 2160 resolution, 2.37:1 cinema wide aspect ratio, and our Auto Depth Enhancer [explained below], we've combined form and function to offer the ultimate cinema-wide home theater experience.
S&V: The press release talks about Samsung's efforts to "reshape TV." Can you explain?
DD: The curved design quite literally "reshapes the TV." The curve, especially in a screen this size, immerses viewers with its wider pixel count and cinema-wide aspect ratio. It also serves to reduce some of the glare of ambient lighting and improves the off-angle viewing experience, even if consumers aren't necessarily seated in the "sweet spot" dead center.
S&V: Why did you choose a curved screen?
DD: In addition to the benefits I mentioned, the curved design brings a uniqueness and aesthetic quality that consumers appreciate. It stands apart from the norm and adds a new visual element to your home.
S&V: Tell us about technical features that set this TV apart from other flagships?
DD: Numerous technologies are used to provide outstanding picture quality. UHD upscaling ensures the best possible picture, no matter what the source. The four-step technology analyzes and up-converts Full HD, HD, and lower resolution content, then advanced processors reproduce images with UHD-level detail. UHD Dimming precisely scans a number of zones across the entire image and adjusts brightness to deliver deeper darks and brighter whites. Our Auto Depth Enhancer, a proprietary area-based contrast enhancement algorithm, analyzes regions of images and automatically adjusts contrast for a greater feeling of depth. Our PurColor technology reproduces colors as the filmmaker envisioned, expressing more detailed shades of color as accurately as possible. We've also increased the number of color adjustment points seven times over our 2013 lineup for more accurate detail and color expression.
S&V: What about user features? What sets the 105S9W apart?
DD: The TV is packed with features that enhance the consumer viewing experience and differentiate it from our past models. Multi-Link brings contextual multi-tasking to the big screen, enabling users to go deeper into their entertainment by splitting the screen into four distinctly unique sections. While watching sports, you can easily gain access to stats and scores; during cooking shows you can pull up recipes at the touch of a button; while watching films and TV, you can split the screen to find relevant information on your favorite actors and actresses, in addition to browsing the Web, searching YouTube and more all on the big screen.
The new Smart Hub is powered by our QuadCore Plus processor—making it two times faster than our 2013 lineup—which allows consumers to take control of an even faster, and more intuitive entertainment experience. There's also a screen mirroring feature that allows you to mirror your phone or other compatible mobile device's screen onto the TVs screen wirelessly. This feature allows you to use your big screen television instead of your smaller screen devices for showing content, media playback, or other functions.
S&V: Tell us about the 105S9W's elegant styling?
DD: We call it Samsung's Curved Timeless Design. The lines are clean, flowing and great attention has been paid to the concept of "less is more." By making the functional parts of the TV invisible—like the screws on the back panel for example—the focus is on the beauty and subtleness of the TV. Even when it's not powered on, owners can appreciate it in their home.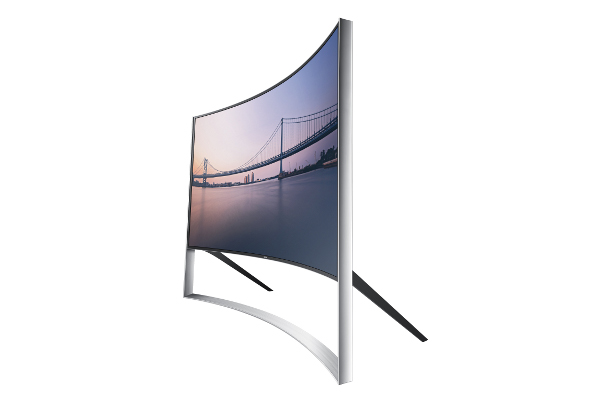 S&V: Who is the target customer?
DD: This TV is a statement. It's about the ultimate at home movie experience and the beauty of design. Unlike typical TVs built for the 16:9 resolution of broadcast TV, this specialty customer is looking for the 2.37:1 cinema-wide home theater experience, but also appreciates how the TV looks in their home.
S&V: Tell us about Samsung's One Connect Box.
DD: The One Connect houses the "brains" of your TV, and is meant to function as an evolutionary path for future hardware and software updates once UHD standards are set for next-gen physical media or broadcast content, as well as allowing an upgrade path for our own Smart Hub. In keeping with a focus on design, the One Connect also allows for one cable to connect the box to the TV, eliminating the cluster of wires from various external devices.
S&V: Owners of this TV are entitled to Samsung's Elite Service. What does the service include?
DD: Customers can receive an in-home visit by a Samsung Product Specialist to ensure customer satisfaction.
Samsung
800-726-7864
Samsung.com