Aragon Iridium Monoblock: The Signature V Rides Again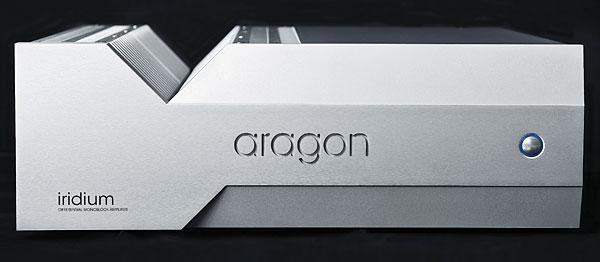 Gibson has its famous Flying V guitar, the high-end audio community has Aragon's signature V-notch power amp, introduced 25 years ago in Mondial's Aragon 4004 amplifier and resurrected in the Iridium Monoblock, flagship of the recently revived Aragon brand. This distinctive powerhouse is a direct descendant of the highly acclaimed Mondial Palladium Monoblock, says Rick Santiago, co-founder and CEO of Indy Audio Labs, which acquired the brand a few years ago. Iridium remains true to the audiophile legacy of Aragon's fabled designs and has been updated with "the latest low-noise, high-voltage discrete semiconductors" as well as state-of-the-art control features, including Ethernet and RS-232 connections and a 12-volt trigger for integration with custom A/V systems. When connected to a home network, the stately behemoth goes a step further, accessing a proprietary server that enables the amp to be controlled via popular iOS and Android mobile devices without having to download and set up an app. In addition to using a smartphone, tablet, or other browser-equipped device to power up or down, you can monitor the amp's temperature and fault status and even adjust front-panel illumination—all on an easy-to-use interface.
Behind the Iridium's finely textured front panel, which is meticu-lously machined from a 0.75-inch-thick aluminum billet at the same Indianapolis shop that makes critical chassis parts for Indy race cars, you'll find gold-plated circuit boards, a beefy power supply, and 24 output transistors, ready to deliver 400 watts in 8 ohms (<0.02 percent distortion), 600 watts into 4 ohms (<0.03 percent), or 1 kilowatt into 2 ohms. Add to that high-current wiring, and you have a monoblock built to produce lifelike levels and realistic dynamics without strain—even with speakers that challenge amplifiers with low impedances and/or highly reactive loads. The robust internal design, which also includes advanced thermal management, carries through to the exterior with high-current 60-amp binding posts, gold-plated RCA inputs, and professional XLR connectors.
The American-designed-and-built Iridium is designed to be used in pairs to power a well-heeled audio system or home theater, but Santiago says what really makes it special is "its ability to deliver a broad and deep soundstage, a musical midrange, and accurate, deep bass response." As for its distinctive look, the V-notch offers the practical benefit of helping to keep the amp cool by allowing airflow across its heat sink when the amp is placed in an equipment rack. Price: $3,999 in silver or black.