Apple TV Media Receiver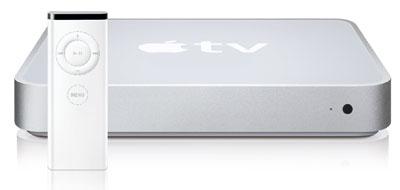 In the last 5 years, more than 50 companies have introduced home-network-ready receivers that connect your computer with your TV and audio system so you can stream music, TV shows, movies, and photos from the home office to your home theater. As place-shifting devices go, Apple TV - the slickest media receiver yet - is decidedly late to the game. Still, Apple hasn't missed much, since media receivers have been a tough sell. They've been difficult to set up, slow to keep up with evolving or competitive file formats, and largely incompatible with copy-protected content. Indeed, Apple itself has used its own digital rights management (DRM) scheme, called Fair Play, to prevent songs and videos purchased through its iTunes Music Store from playing on competitors' media receivers (among them, the Windows Media Center Extender built into the Xbox 360). So, right from the start, Apple TV should appeal to anyone with an iTunes-bought library who wants to play content not just on his computer or iPod, but also on his big TV and speakers. I was ready.
SETUP As with much of Apple TV, the computer comes first. This is where you buy music, movies, and TV shows as well as gather podcasts, import tracks ripped from CDs, and manage all your content before you can sync or stream it to your TV via an Ethernet or Wi-Fi connection. After I did the requisite upgrade of my Windows XP version of iTunes to version 7.1.1, I was ready to unbox Apple TV. Only a mini remote and a power cord come with the diminutive component. Cables are extra, but Apple's HDMI and component-video cables are attractively priced accessories at $19.95 each. Apple TV needs to be placed atop other components, since it's no larger than a tray of brownies.
You must have a TV with a component-video, HDMI, or DVI input. That leaves old analog sets out in the cold, but Apple TV is meant to be viewed on a widescreen display and, ideally, in high-definition. I used my own HDMI and Ethernet cables to connect it to a 50-inch plasma HDTV and to a router in the living room. From the setup menu, I selected 720p to match the TV resolution. Apple TV displayed a five-digit code and prompted me to enter it on any computer on my network from which I wanted to stream or sync content. (Content you buy from iTunes can be played on as many as five devices at a time, which can be a mix of computers and iPods, but, Apple says, an Apple TV doesn't take a bite out of the five.)