Apple TV+ Adds Apple Music Live Concerts as it Continues to Grow.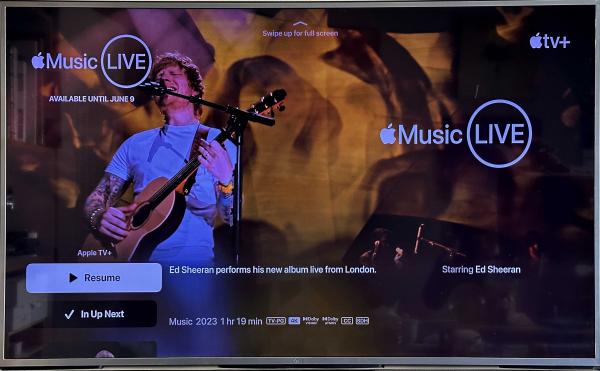 A friend recently told me she had just subscribed to Apple TV+ and asked if I had any recommendations for what to watch. When I started naming shows, it occurred to me that Apple TV+ has a plethora of high-quality, unique series starring big names, interesting documentaries, sports, and award-winning movies. And now it's adding live concerts.
These aren't concert videos like times past with grainy, out-of-focus screaming fans. These are high-production 4K, thoughtfully shot and edited videos with Apple's spatial audio, best experienced using Apple AirPods Pro earbuds or AirPods Max headphones.
An Ed Sheeran concert from London streamed today (May 10) at noon PDT. Although it showed on Apple TV+ as coming soon, it didn't play live as on Apple Music. Instead, a notification appeared on my Apple Watch the minute the concert ended, indicating the concert was ready to watch. Concerts only stream for a limited time and the Ed Sheeran show will be available until June 9th.
The first Apple Music Live concert premiered in May 2022 with a live performance of Harry Styles's album Harry's House. The rest of the season included Alicia Keyes, Lil Dirk, Billie Ellis, Luke Combs, and Mary J Blige.
The Apple Music Live section in the Apple Music app lists the concerts and artist interviews, individual songs from the concert, their most popular songs, and their Essentials playlist.
Most Programming Is Original
Unlike Netflix and Hulu, which offer tons of licensed content, Apple TV+ launched on November 1st, 2019 with only eight original series: The Morning Show, For All Mankind, See, and Dickinson, Ghostwriter, Helpsters, Snoopy in Space for kids and family, and Oprah's Book Club. There are now nearly 200 original titles, including those currently streaming, in production, and under development.
There is almost no licensed content except suggested videos related to newly released titles, free from Apple rentals during the title's launch month.
Apple's carefully chosen originals really are good enough to compete with dozens of well-known movies. Not every Apple TV+ original is a hit, but those that are have quickly become beloved classics. Examples include Ted Lasso, Shrinking, starring Harrison Ford and Jason Segel, and Scrubs. Other not-to-miss shows include quirky comedies like the musical satire Schmigadoon and the offbeat series Severance.
Many of the lifestyle series are thought-provoking. Hillary and Chelsea Clinton's Gutsy series shows the strong side of women celebrities that we may not have seen.
Oprah Winfrey has several shows, including one produced with Prince Harry. The Me You Can't See is six episodes featuring discussions about mental health, with several celebrities opening up about their struggles. Dear…. has two seasons of stories about how celebrities impact the lives of their fans. The fan reads their letter of appreciation to the celebrity then we see how they have used that inspiration to make a difference in the world.
The Oprah Conversation includes interviews with big names from Barack Obama to Matthew McConaughey, Will Smith, and Stevie Wonder. They discuss critical social issues related to their own stories. And, of course, there's Oprah's Book Club.
It's not all light comedy and feelings. There are also hard-hitting dramas like Mosquito Coast, starring Justin Theroux, M. Night Shyamalan's The Servant, and the apocalyptic See. There are also Sci-Fi series like For All Mankind, Issac Asimov's Foundation, and the just-released Silo.
Then there's sports. Tell Apple TV+ who your favorite baseball team is, and you'll get notifications on other Apple devices when the games begin and when there's a close score. Along with live games, Apple TV+ streams a Friday Night double-header, daily coverage, highlights, and classic games.
And, there are sports-related documentaries such as Boom! Boom! The World vs. Boris Becker, The Long Game: Bigger than Basketball about superstar Makur Maker who went to Howard University rather than the NBA, Real Madrid Until the End about the 2021-2022 iconic soccer team, and They Call Me Magic, a biopic/series about Earvin "Magic" Johnson.
Again, many Apple TV+ originals are excellent, and new shows are released weekly. Series have won significant awards. Ted Lasso has won eight PrimeTime Emmy's including Outstanding Comedy Series two years in a row and Severance won a Peabody.
Apple's feature film Coda won three Academy Awards including Best Picture. The Tragedy of Macbeth had three nominations.
The Future of Apple TV+
It appears that Apple TV+ is headed for changes. In February 2023, Apple hired advertising executive Lauren Fry, who, according to The Information website, was brought on "to help build a video advertising business for its Apple TV Plus streaming service." Ad-supported programming will likely come next, but no announcements have been made.
Still, for $7 per month, you get well-made streaming series, movies, sports, documentaries, and now live concerts. Apple TV+ is not only for Apple TV owners. The Apple TV+ app is available on other devices, including Roku, Samsung Smart TV, LG Smart TV. Vizio, Sony, Xfinity, Fire TV, Google TV, PlayStation, and Xbox.