Apple PowerBook G4 Laptop Computer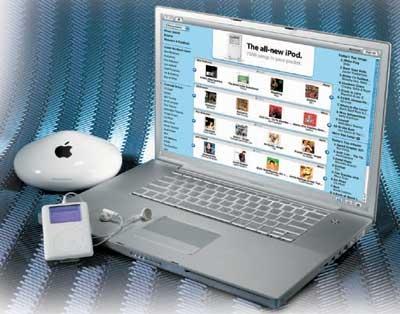 Photo by Tony Cordoza
Come with me back to the first days of portable computing, when two now extinct titans named Osborne and Kaypro ruled the land. Both offered models the size and heft of sewing machines, and while they did basic number crunching and word processing well enough, if you wanted to do anything more sophisticated, you were probably better off using a sewing machine.
And yet people were drawn to them, as much for what they promised as for what they actually did. While they seem quaint now, both pointed to a day when you could carry the power of a supercomputer comfortably under your arm. But given the primitive graphics and tortoiselike processing speed of those early models, only the headiest visionaries could have foreseen the successful merging of portable computing and home entertainment.
Cut to 2003 and Apple's PowerBook G4 laptop computer ($3,299). First, and most obvious, among its many A/V-friendly features is a 17-inch, 16:10 aspect ratio display that easily accommodates widescreen DVD movies. The 60-gigabyte (GB) hard drive has plenty of room for video, photos, and music. And the numerous connectors - including two USB ports, a FireWire port, and a PC Card slot - are neatly placed along the sides of the case so you don't have to grope around the back.
The sturdy anodized-aluminum case is 15 1/2 inches wide, 10 1/4 inches deep, and only 1 inch thick, and it weighs in at an easy-to-lug 6 3/4 pounds. The screen automatically adjusts to the ambient light level, as does the fiber-optic lighting behind the keyboard, making it easy to work at 3 a.m. on a cross-country flight when your cabin mates are asleep.
Addressing the move toward wireless applications, the 17-inch PowerBook comes with both Bluetooth and Wi-Fi wireless networking. Apple helped blaze the Wi-Fi (802.11b) trail with its AirPort base station, and the latest version, AirPort Extreme, uses the newer 802.11g standard to move data from base station to laptop and back at speeds up to 54 megabits per second. Bluetooth is good for short-range connections to things like cellphones and PDAs.
Epic Proportions The PowerBook G4 has got to be the coolest portable DVD player ever - not necessarily the best, because dedicated models offer connection and playback options the PowerBook doesn't, but the coolest. What it has that the others don't is a 17-inch widescreen display - 7 inches bigger than the biggest LCD in the portable-DVD arena. That it lets you watch DVDs on a true widescreen display while flying, commuting, trapped in a motel room, or at home while everyone else is asleep is one of the PowerBook's biggest selling points.
I was skeptical about how epic films like Gangs of New York and Lawrence of Arabia would fare, but the images were convincing. You can't tweak the screen beyond basic adjustments, but the colors were full and striking without being garish, and the grayscale was subtle, never becoming too contrasty or crushing the blacks.
One of the biggest problems with watching DVDs on laptops has been buffering: the action can periodically stutter or freeze as the processor struggles to keep up. But I watched at least 20 movies on the PowerBook, and not once - not even during those 2-hour-plus epics - did it ever choke.
LATEST VIDEO