Apple iPod Hi-Fi Audio System
Apple's computers have always been audio- and video-friendly, but the company has mostly left the home entertainment part of the equation up to third-party developers. Although an Apple hard-disk video recorder or music server has seemed like an obvious thing for Steve Jobs to trot out, year after year there's been nothing but new (and very welcome) takes on the iPod. But now we have the Apple iPod Hi-Fi audio system. Rather than being the digital home entertainment Swiss Army knife that geeks would expect, Apple's first audio system is designed to do just one thing: deliver good sound. But is that alone enough to justify its $349 price?
The Short Form
$349 / 17 x 6.5 x 6.9 IN / 16.8 LBS (with batteries) / APPLE.COM / 800-692-7753
Plus
•Excellent sound quality •Portable
Minus
•Top-mounted dock limits installation options •No video output or built-in wireless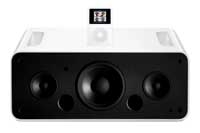 Key Features
•Dock connector for compatible iPods •Minijack input accepts analog or digital signals •Built-in power supply •Can run on 6 D-cell batteries •Carrying handles
The Apple iPod Hi-Fi audio system's horizontal layout makes it look like a typical center-channel speaker, but several design cues suggest it's not meant to sit underneath a TV in a typical audio/video system. The first is the white cabinet - something that's down with the iLifestyle but a bad match for TVs, where black would be better. Second is the top-mounted universal dock for plugging in (and simultaneously juicing up) any iPod with a dock connector: The few extra inches of height that a docked iPod adds limit the cabinet space that the system could comfortably squeeze into. And third is the lack of any video output on the box for connecting the Hi-Fi to your TV to view cover art or videos downloaded from the iTunes store - something you normally don't see on iPod speaker systems, but why not? (A workaround is to connect Apple's accessory A/V cable to a latest-generation iPod's headphone jack.)
What then, is the Apple iPod Hi-Fi? Well, it's basically a high-quality portable stereo system. The rigid, molded-plastic cabinet houses a pair of full-range drivers for reproducing high and midrange frequencies, plus a woofer to handle the low end. There are carrying handles on either side of the cabinet, and a power supply is built in, eliminating the need for an unwieldy wall-wart (it can also be powered by 6 D-cell batteries). And along with the iPod dock there's a minijack connector that accepts either an analog or optical digital input (cables not included). The system also comes with a small remote to control volume as well as basic iPod operations.
Having established the HiFi's purpose, my first move was to connect an AirPort Express to the minijack input and wirelessly stream songs to it from my laptop's iTunes library. Sitting on my couch 8 feet away, I was immediately impressed by the sound quality - hard-hitting tunes like "Millionaire" by Queens of the Stone Age sounded dynamic, with tight, ample bass and a wide presentation that extended well beyond the confines of the box. Not only that, but I could push the volume very loud without hearing perceptible strain.
Playing the Scottish band Mogwai's "Dial: Revenge," a more subtle track, allowed the Apple iPod HiFi audio system to show off its refined side. Vocals came across as detailed and clean, and the acoustic guitar and mellotron-like keyboards had a warm, rich presentation, with loads of natural ambience. The late-model 30-GB iPod that Apple sent me to test the system provided two extra speaker tone-control modes designed to work exclusively with the Hi-Fi: Treble Boost and Bass Boost. The system's sound was balanced enough that I didn't use these much, but I was glad to find that Bass Boost added some oomph without making the music bottom-heavy or bloated.
BOTTOM LINE
Although I can't help wanting more for my money from the Apple iPod Hi-Fi audio system - particularly stuff like built-in wireless networking and better integration with TVs - I must admit that the company has created one helluva boombox. The Hi-Fi's excellent audio performance puts it in the same league with
Klipsch's iFi
, the recipient of a Sound & Vision 2005 Editors' Choice award. Klipsch's system offers separate satellite speakers that can be placed wide for better imaging and streets for $50 less than the Apple iPod Hi-Fi, making it the better deal. But if you prefer a portable, all-in-one design and don't mind a white case, Apple's newest creation is a slice of sheer Hi-Fi heaven.
Visit S&V's iPod Info Center for more iPod buying tips.

SPONSORED VIDEO