Apple HomePod (Generation 2) Review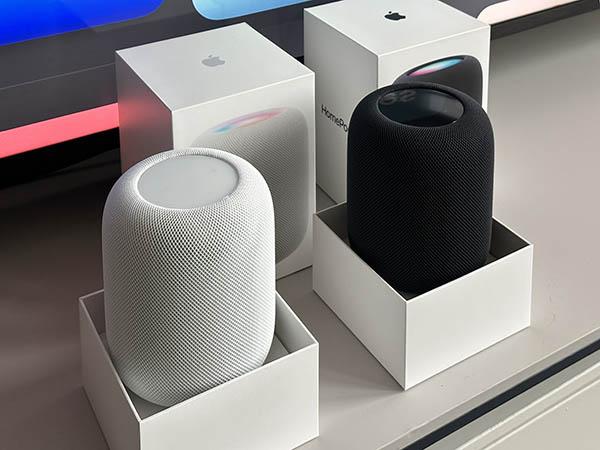 PRICE
$300
AT A GLANCE
Plus
Clear and detailed sound
Easy to set up and use
Supports Dolby Atmos, eARC
Pair two with an Apple TV 4K for a complete system
Minus
Needs an iOS device for setup
No optional subwoofer
Limited maximum volume
THE VERDICT
Apple's attractive and intelligent HomePod speaker arrives just in time to ride the spatial audio wave. It's a technologically advanced, high-fidelity, hyper-smart speaker that transforms into a full-blown surround-sound system when you add a second one.

The moment I first heard a pair of the new Apple HomePod speakers play spatial audio, I could not get one thought out of my mind: This is going to be more than good enough for 90+ percent of listeners. Of course there will still be a place in this world for large, powerful, multi-speaker systems. But Apple has clearly cracked the code in terms of delivering an all-encompassing, genuinely immersive listening experience from a pair of incredibly smart and capable compact wireless speakers.
Apple sent me a pair of HomePods to review. While one single HomePod does a lot and makes a great lifestyle smart speaker, pairing up two HomePods and using them with an Apple TV 4K opens up a whole new world of spatial audio possibilities for music, movies, TV shows and games.
Features
With a pair of HomePods, you can enjoy true stereo sound, providing clear and detailed audio separation, making you feel like you are part of the performance. Additionally, the HomePods have smart functionality, allowing you to control your smart home devices using Siri voice commands. You can use them to turn off the lights, adjust the temperature, play music and more, creating a seamless and convenient hands-free experience. HomePods also have advanced technology that creates a 360-degree soundstage, filling a room with enveloping, immersive sound.
Setup
Unpacking and initial setup was super easy and intuitive. The pairing process was easy, I just had to bring my phone close to each speaker, and the iPhone automatically recognized it and prompted me to capture an image of the animated light feature on the top of the speaker. After that, I was asked a few setup questions, such as if I wanted to use two speakers as a stereo pair or for my Apple TV 4K. I answered yes to both, the entire setup took only a few minutes and was straightforward. The Apple Home app is the home base for setting up and managing the speakers.
Once connected and paired together, it was just a matter of telling my Apple TV 4K that I wanted to use the HomePod system as the default audio output.
I want to acknowledge that setup was particularly easy for me because I use an iPhone and I already have an Apple TV 4K, so all I had to do is add the speakers and I was good to go, including access to my active subscriptions for Apple Music, Apple TV+, Tidal, YouTube TV (with the 4K upgrade), Netflix, and Disney+.
Apple's tweeter array and signal processing allows one HomePod to created ambience that complements the direct sound, and this is a pleasing effect for casual listening and spatial audio music. But with two HomePods and an Apple TV 4K, you can have proper stereo, surround-sound and even Dolby Atmos playback and enjoy it with music, games, TV and movies. When connected to a TV with eARC support, you can even use other source devices like gaming consoles and Ultra HD Blu-ray players with the HomePod speaker system. Just think of the Apple TV 4K as a mini AVR and the Homepods are its speakers, it just works.
You can set up a HomePod almost anywhere and it'll automatically adapt, but the one caveat is it needs to be on a flat, shelf or table-like surface, because the tweeter array's design depends on the horizontal surface, so you can't just put the pair on speaker stands (at least not without some sort of platform). I only bring this up because these are good enough speakers that audio enthusiasts may wish to explore what they have to offer in terms of critical listening.
Listening
Specs alone do not adequately describe the performance of the HomePod Generation 2 smart speaker, especially when using two for a full spatial audio-capable surround-sound system. When paired up with an Apple TV 4K and an eARC-capable TV, you have a full-fledged AV system that comes surprisingly close to delivering the listening experience offered by much larger and costlier AV receiver-based systems and the associated cables, speakers and subs.
Certainly, one of the most fun things you can do with this speaker system is browse through various spatial audio music mixes of familiar songs. I could not stop grinning through "Another One Bites the Dust" by Queen, which is not shy about making blatant use of the spatial effects. "Bohemian Rhapsody" was notable for how the build up of the track, all the way to its operatic crescendo, comes through. The tuning of the HomePods is such that they do not strain, the dynamics remain intact even at full volume.
For the first time I can recall, I got goosebumps listening to a smart speaker! Even more surprising is it was Lorde's track "Royals" that did it. But I can only praise the presentation, the mix was enveloping, the bass deep, Lorde's voice was crystal clear, and the chorus filled the room. Stunning!
For movies, I queued up some classic test clips in Atmos. The opening of Gravity and the big race scene in Ready Player One did the trick, these speakers can put sounds well into the room and put you inside an immersive bubble that belies their size, price, and simplicity. Is it the same as my full-size Atmos system with it's dual 12-inch sub and $8250 main speakers? Well, no. But it is a better sounding solution than all-in-one soundbars and the surround is surprisingly enveloping. I also marveled at the amount of bass that these charming pods managed to muster.
The Apple TV 4K is not just a great streamer, it is also a robust gaming platform. I paired up an Xbox controller using Bluetooth and launched the Apple Arcade Edition of NBA 2K23, chose the Sixers as the home team, and got to work against the Celtics. The game looked good on the 98-inch TCL TV I used as a display, and it sounded really detailed and realistic through the HomePods, including all the little details of foot movements and squeaking sneakers and crowd noise. It really puts you in the game and it's amazing to me that two speakers this small can do as much as they do.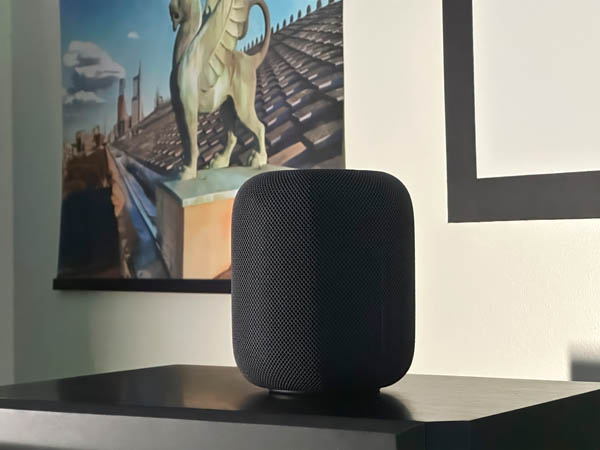 Conclusion
I firmly believe with the second generation HomePod, Apple has done for speakers what its AirPods Pro did for true wireless earbuds. This is a smart speaker that defines the category, a total aesthetic and sonic success. A grand total of $750 for two speakers and an Apple TV 4K puts puts an impressively detailed, room-filling immersive sound system in your home, one that requires almost no setup, no fiddling, and truly impresses with its spatial audio capabilities as well as how good the system sounds with conventional stereo and surround-sound source material.
This quick take review summarizes why I am so enamored of this speaker, it is an easy Top Pick. But it barely scratches the surface in terms of its capabilities.