Aperion Intimus 6 Series Home Theater Speaker System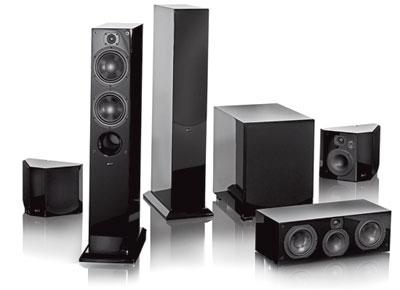 Compact satellite speakers can sound great, but there's something I love about the authority and sheer dynamic impact of a full-size system - the bigger the better. So when the Aperion Intimus 6 Series home theater speaker system arrived at my door in five good-size cartons, with the delivery guy sweating and swearing a blue streak, my heart skipped a beat.
That optimism increased when I pulled the speakers from their cartons. As a company that sells only via the Web, Aperion is known for delivering high value. I could see that instantly: My system - comprising a pair of 41-inch-tall 633-T front towers, a large 634-VAC center speaker, two 534-SS dipole/bipole surrounds, and an S-12 subwoofer - had a combined weight of 277 pounds, the result of Aperion using full 1-inch, high-density fiberboard construction in all the cabinets. And the speakers had a glossy black finish that a 9-foot Steinway would envy. That, along with their simple black grilles, gave them a powerful, understated presence in my listening room. (The speakers are also available in cherry.)
To promote cohesive sound, all the Aperions use the same 1-inch silk-dome tweeter, the towers and center share 6.5-inch woofers (two apiece), and the center and surrounds share a common 5.25-inch driver (midrange for the center, woofer for the surrounds). Somewhat surprisingly for a tower its size, the 633-T is a two-way design, with its pair of woofers crossed over to the tweeter at 2 kHz and no dedicated midrange driver. The center speaker, on the other hand, is a true three-way. The large subwoofer, meanwhile, uses a front-firing 12-inch driver in a rear-ported cabinet, driven by a 250-watt amp.