Anthem AVM 50v Preamp/processor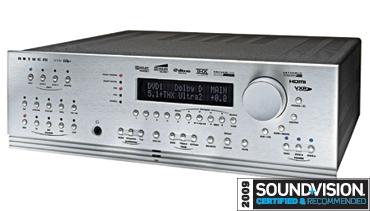 Key Features
$5,500 anthemav.com
• (8) HDMI (v1.3) inputs; (2) HDMI (v1.3) outputs • Other inputs: (4) component-, (7) composite-, and (7) S-video; (7) coaxial and (3) optical digital audio, and (7) stereo analog audio; AES/ EBU; 2-channel balanced XLR; 6-channel analog audio • (2) Component-video outputs (main and zone 2) • (10) S/E Analog outputs (7.1-channel plus center 2 and subwoofer 2) • Balanced (XLR) outputs • RS-232 port; (3) 12v trigger outputs; (3) IR receivers and (2) IR emitters • Sigma Designs VXP video processor with upconversion of all analog and digital video inputs to 1080p • PCM input up to 7.1 channels (24-bit/192 kHz) • Dolby TrueHD and DTS-HD Master Audio decoding • Includes Anthem Room Correction system • Zone 2 and 3 and record output paths • AM/FM tuner • Dimensions + Weight 171?4 x 57?8 x 14½ in; 30¾ lb
Anthem preamp/processors have been a fixture in my home theater for so long now that I can barely remember a time when I wasn't greeted by a big Anthem logo upon powering up the ol' system. Back in the Dolby Digital/DTS days, I owned an AVM 30. Then came the AVM 50, which added the welcome feature of HDMI switching and analog/digital video upconversion. Anthem's new AVM 50v isn't a radical redesign of its predecessor, but it does add a batch of desirable new features - specifically, HDMI 1.3 connections, built-in Dolby TrueHD and DTS-HD Master Audio decoding, and Anthem Room Correction (ARC), which Daniel Kumin covered in detail in his June 2008 review of the company's Statement D2 preamp/processor.
The AVM 50v's front panel is far from minimal, but the many uniform-size metal control buttons covering its brushed aluminum face are arranged in neat rows for a streamlined look. The LED display is large enough that you can read text from more than 10 feet away, and there's a large volume knob that makes level adjustments in 0.5-dB increments. Best of all, the AVM 50v's welcoming face lets you easily switch sources and audio processing modes without having to use a remote control.
With a total of eight HDMI inputs, along with more legacy video inputs of the component-, composite-, and S-video stripe than you'd ever possibly need, the AVM 50v stands at the ready to handle even the most exotic collection of video sources. Its Sigma Designs VXP video processor - a high-end solution that bats in the same league as video heavy hitters Marvell Qdeo and HQV - can take any incoming analog or digital signal in any format and upconvert it to 1080p resolution. Beyond basic upconversion, the Anthem's video features include high-quality noise reduction (block and mosquito) and detail enhancement, gamma correction, and aspect-ratio control, as well as standard picture adjustments like brightness, contrast, color, and tint.
Audio connections include a six-RCA-jack multichannel analog input for hooking up an SACD or DVD-Audio player, 2-channel balanced (XLR) digital and analog inputs, and both singleended and balanced audio outputs (7.1-channel). There's also a bunch of custom-installation- oriented connections, including powered IR receiver inputs and emitter outputs, and an RS-232 port for linking to an advanced home control system.
That RS-232 port also gets tapped for use by the Anthem's ARC feature, which requires both a computer running Windows XP or Vista and a special calibrated USB microphone. (You supply the PC; the mike, stand, USB cable, and ARC software application all come with the AVM 50v.) As with other room-correction systems - most notably, Audyssey MultEQ - ARC sequentially measures each speaker's in-room response and compares that data to a "target" frequency-response curve. ARC automatically adjusts levels, delays, and crossover points, and then taps the AVM 50v's substantial processing horsepower to apply filters to "fix" room anomalies - but more on ARC later.
SETUP
Pressing the Setup button on the Anthem's remote control whisks you to a magical world where all your A/V system configuration wishes become possible. You can store up to four separate video output memories, each one with unique settings that can be applied as the default for various sources. This will let you, for example, pass a straight 1080p/24 output to your display from a Blu-ray Disc player connected via HDMI, and then switch to upconverted 1080p/60- format output when you select a componentvideo-connected source like a high-def cable TV box. The Anthem's picture settings and noise-reduction/detail-enhancement adjustments can also be stored on a per-input basis, along with custom aspect ratio selections.
With all this setup flexibility on tap (the Anthem's Setup submenu provides 17 source memory channels), storing separate adjustments for your Blu-ray player and cable box is just the beginning. You can go on to create custom settings for watching standard- and high-def TV broadcasts, movies streamed from services like Netflix and Vudu, or even tweak settings for a computer. The list of possibilities is sort of staggering.
But that's only the video side of the equation; let's talk about audio. Any one of the Anthem's digital and analog audio inputs can be independently routed to any source. For an analog hookup (stereo or multichannel) you get the additional option of specifying it as an Analog-DSP or Analog-direct source. The Analog-DSP engages the Anthem's DSP engine, with options for bass management, time alignment, room correction, and surround-mode processing. Analogdirect, meanwhile, completely bypasses DSP so that the preamp will function as a simple analog gain-stage for that source. Anthem's separate Music/Movie bass-management settings also let you do crazy stuff like run your front tower speakers full-range when listening to classical music CDs and then, once you tire of high art and switch to watching Transformers: Revenge of the Fallen, have a subwoofer kick in to convey that movie's awesome LFE track.
After setting up the included mike ear-level at the main seating position and connecting my PC to the AVM 50v's RS-232 serial connection, I ran the included ARC software application. Two different modes are available: Standard, which prompts you to create five separate mike positions for measurement; and Advanced, which allows for additional mike positions and also lets you tweak some of the software's recommended settings. With Standard, everything is automated; you press a start button and the system emits test tones and makes measurements. Once that's done, correction data is uploaded to the AVM 50v, and you can view graphs of the measured, target, and corrected response curves for each speaker.