Amazon Uses AI to Boost Dialogue On Some Prime Video Originals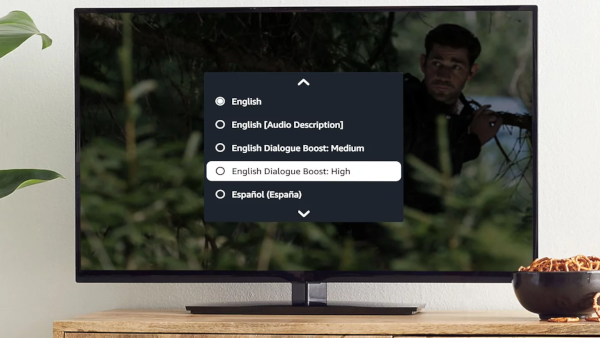 If you've found yourself cranking up the volume while streaming movies and TV series or turning on the closed captions to understand everything that's being said, you're not alone. Amazon is addressing the issue by using artificial intelligence to boost the dialogue on some of its Amazon Originals.
While dialogue/voice enhancement modes have become popular on TVs and soundbars, Amazon is the first streaming service to give its viewers the option of increasing the volume of dialogue.
"Dialogue Boost analyzes the original audio in a movie or series and intelligently identifies points where dialogue may be hard to hear above background music and effects," the company explained in a blog post. "Then, speech patterns are isolated, and audio is enhanced to make the dialogue clearer. This AI-based approach delivers a targeted enhancement to portions of spoken dialogue, instead of a general amplification at the center channel in a home theater system."
When it sounds like the actors are mumbling, it's not just that you're getting older. As recording technology has improved, dialogue has indeed become quieter. When a scene is recorded, each actor is mic'd and a large boom microphone records the "room." The technique allows actors to speak in a whisper to express their character's emotions or create mood in a scene. The situation is further exacerbated by directors who mix soundtracks for movie theaters to ensure loud action sound effects like gunshots or explosions impact the audience.
The Dialogue Boost feature is available across all devices that support Prime Video. To access the feature, go to the details page of the show you're watching and click on the information icon to see if "Dialogue Boost" is listed in the languages menu. If it is, you can enable the function during playback by pausing the video and moving the arrow up to the speaker icon to see audio options. Choose the language (not subtitles) and select one of three boost modes: High, Medium, or Low. Once you make a selection, your preferred level of boost is saved and will engage automatically with any content offering the feature. If you use a Fire TV, you can activate Dialogue Boost without pausing the video: Press the menu button and navigate to Settings while the show plays in the background.
I'm guilty of turning up the volume and at times even turning on closed captioning, so I was eager to try Dialogue Boost, which is only offered on a three Amazon Originals series and a handful of movies. Series include Tom Clancy's Jack Ryan, Harlem, and The Marvelous Mrs. Maisel. On the movies side, Being the Ricardos, Beautiful Boy, and The Big Sick offer the feature. Amazon says it plans to add Dialogue Boost to more titles during the year.
I sat down to conduct a series of tests but for some reason the boost was not available for any season of The Marvelous Mrs. Maisel but it was offered on both seasons of Jack Ryan and the current season of Harlem. As the feature is new, it will surely be implemented soon for all movies and shows where it has been promised.
I can attest that Amazon's Dialogue Boost works as advertised. Dialogue was consistently clear when I selected the High setting during a dancing scene in Being the Ricardos — and I hadn't turned even turned up the volume to my usual listening level. The technology works its magic while keeping background audio intact, albeit at a lower level, unlike some voice enhancers that reduce the volume of footsteps and other ambient sounds so much that you can't hear them.
By comparison, when listening at my usual volume setting without Dialogue Boost engaged, whispered words were often unintelligible, compelling me to turn on closed captioning to hear everything. When I switched to the Low setting there was some improvement but I had trouble distinguishing words and phrases such as "New York" and "Bolsheviks."
Bravo to Amazon for using technology to help viewers improve their entertainment experience. Let's hope other streaming services follow suit.