Amazon Fire TV Cube 3 Review
PRICE
$139
AT A GLANCE
Plus
Super Resolution Upscaling to 4K improves HD and SD content
Hands-free control of the Fire TV Cube and Smart Home Devices
Fast navigation and loading of content
Connect thumb drive or external drive to view/listen to media
Connect webcam for video calling
Minus
Sponsored apps, ads, and Amazon's FreeVee monopolize home screen and search
Set-top box integration didn't work with DISH Hopper

THE VERDICT
If you have Amazon Prime, cable or satellite, and smart home devices, definitely consider upgrading to the Fire TV Cube 3rd generation.

The 3rd generation Fire TV Cube has several new features that may make it worth upgrading from your current Fire TV. One of these features is HDMI pass-through, which allows for easy integration with set-top boxes. Additionally, the cube has a more powerful processor that improves picture quality. As the top-of-the-line Fire TV model, the cube combines the functionality of a smart Echo speaker and a streaming Amazon Fire TV.
Like other Echo devices, far-field microphones allow hands-free control of the Fire TV Cube and can respond to Alexa smart home commands. If you're more of a silent type, the new cube is perfectly matched with Amazon's just-released Fire TV Alexa Voice Remote Pro (sold separately).
The Amazon Fire TV Cube 3rd generation has undergone a redesign, both internally and externally. Instead of having a hard cube shape, the device now features speaker grill fabric on its sides, similar to the Echo Dot. Additionally, it now includes an HDMI input to connect and control external devices such as set-top boxes, and as a result, channel buttons have been added to the remote control. The device also has a USB-A port for connecting a hard drive or webcam, as well as a 100 Mbps ethernet port.
This new model uses the latest WiFi 6E standard, but you'll need the eero 6E mesh WiFi system to take advantage of it. Because other Wi-Fi devices do not use the 6 Ghz band in the home, this should result in smoother streaming of higher-resolution content. The smooth streaming is also due to the Cube 3's new powerful octa-core processor (8 cores) with 2.2GHz and 2 GHz speeds, compared to the quad-core 1.8GHz CPU in the Fire TV Cube 2.
The enhanced processing capabilities make Super Resolution upscaling possible. Super Resolution uses a filtering technique to keep details sharp and remove jaggies and other artifacts that can diminish the picture quality of high or standard-definition content on a 4K TV.
User Interface
Amazon changed the Fire TV home screen in 2022 to emphasize recommended titles and new releases like the Google TV interface. But Fire TV's top rows are sponsored apps and content, and I had to scroll down a few rows to get to my Next Up for You row. Likewise, Amazon Prime Video is hidden twelve rows down.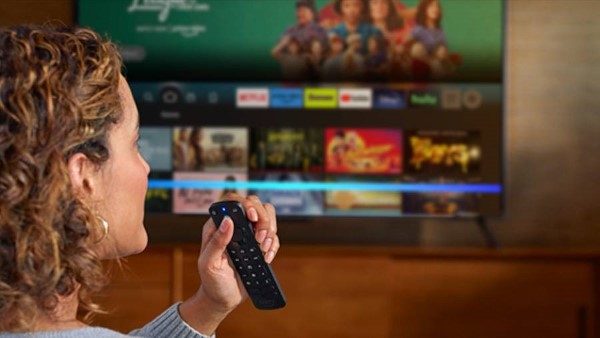 Search results also favor Amazon and sponsored apps, particularly its FreeVee ad-supported linear TV.
The home screen doesn't display all apps, but I could customize which apps were shown alongside the submenus for inputs, search, home, live TV, My Stuff, and settings. Because the remote has direct channel buttons for Prime Video, Netflix, Disney+, and Hulu, I added other apps like PLEX, Paramount+, and HBO Max for easy access.
Performance
The Fire TV Cube 3 is quick and responds reliably. Despite having many Echo Dots, speakers, and Echo Shows, the new cube is becoming my go-to Alexa to control my house, start routines, and more.
It's also my favorite Fire TV as it can be controlled hands-free without a remote. Search results are displayed with a number for each title. This way, I could say, "Play number 5," without reaching for the remote.
Navigating with the remote, or using Voice commands, instantaneously launches apps and switches between menus due to the faster processors. Scrolling is smooth and speedy both horizontally and vertically.
Having my DISH Hopper connected to the Fire TV Cube is convenient. I don't have to go back to the TV to change inputs and can view the front door cam and other Alexa overlays. While the set-top box integration should have reacted to "Alexa tune to the C-Span channel on Satellite," it never fully responded to the Fire TV cube (despite much troubleshooting). It quickly changed to the input but wouldn't change channels, show menus, etc. The DISH Hopper was more responsive using another Alexa speaker.
Super Resolution upscaling is an excellent reason to connect DISH to Fire TV Cube HDMI input. My Satellite TV looked better. Apps benefited from Super Resolution, too, as a compressed HD movie file on PLEX looked good playing on the Fire TV app. Still, my Apple TV 4K had a more detailed picture with better contrast.
When a USB drive is connected to the port, clicking on that input brings up the media files stored on the drive. It works well with a thumb drive but requires a larger external hard drive formatted in FAT32 or NTFS. I connected a thumb drive, clicked on the media share input, and thumbnails of all my photos appeared instantly. Pressing play started a slide show.
Fire TV Alexa Voice Remote Pro
The Fire TV Alexa Voice Remote Pro is sold separately but is perfectly paired with the Fire TV Cube. Like the cube's new remote, it has channel buttons to control live TV input.
It also has valuable new upgrades. There's nothing better than asking Alexa to find the remote and hearing a tone to locate it between the sofa cushions. The buttons are automatically back-lit in low-light situations. It has two customizable keys that can be programmed to perform any Fire TV control or Alexa voice command. For example, I set up one button to show my front door camera and another to turn down the living room lights.
Conclusion
The 3rd generation Amazon Fire TV Cube offers enough new features to justify upgrading, especially for those who still use a set-top box. The device improves picture quality when watching on a 4K TV, and it can also control lights and other smart home devices, making it a great addition to a home theater setup. Additionally, the cube allows for hands-free control of apps and playback, eliminating the need to navigate through menus.
For current and new Fire TV owners, the Fire TV Remote Pro is also a worthy investment. It's available for $35 and can be paired with the Fire TV Cube or Alexa speaker. The remote has backlit buttons, making it easy to use in the dark, and also has quick access to dim lights when it's time to watch.