Aluminum Avatar
One look and you know this is no ordinary speaker. The flowing, liquid lines of the Muon reflect the highest artistic expression, and rightly so—after all, it was created by renowned designer Ross Lovegrove for pre-eminent British speaker manufacturer
KEF
.
The Muon's sensuous shape arises from a convergence of Lovegrove's design aesthetic and the physics of sound. The first prototypes were milled from solid blocks of aluminum, which took a full week to complete. Production units are fabricated from 6mm-thick aluminum using a process similar to vacuum forming to mold malleable sheets of heated metal.
This 4-way super speaker includes four 9.8-inch bass drivers on the front and two more on the back to control low-frequency room effects. Also on the front is one 9.8-inch low-midrange driver and one Uni-Q point-source driver that combines a 6.5-inch midrange and 1-inch tweeter in the company's signature coaxial array.
KEF's Acoustic Compliance Enhancement (ACE) technology improves the low-frequency performance of this sealed-box speaker by filling the cabinet with activated charcoal. Tiny holes in the porous particles act like alveoli in the lungs, absorbing and releasing air molecules as the drivers move in and out. This effectively doubles the internal volume and lowers the bass extension accordingly.
All this firepower yields a maximum sound-pressure output of 118dB and a typical in-room frequency response from 25Hz to 60kHz (3dB), with a low-frequency extension down to 20Hz (-6dB). Subwoofers? We don't need no stinkin' subwoofers!
Only 100 pairs of Muons will be made and sold for $165,000—and don't forget to double that for a 4.0 surround system. A center-channel speaker is superfluous thanks to the Uni-Q's wide, seamless coverage throughout the listening area, which can be used to create an effective phantom center.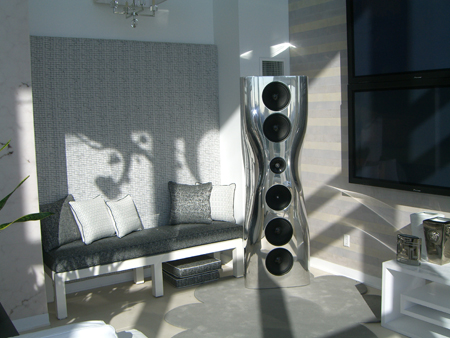 As a statement product, the Muon is certainly worthy of Raymond Cooke's dream when he founded KEF in 1961. Cooke envisioned a speaker company with a flair for the unusual and controversial, ideals that are clearly embodied in the Muon. Now, all that's left to do is determine where you're going to put these 250-pound sonic sculptures.