Apple WWDC: AirPods Sharing, Spatial Audio, 4K YouTube, and More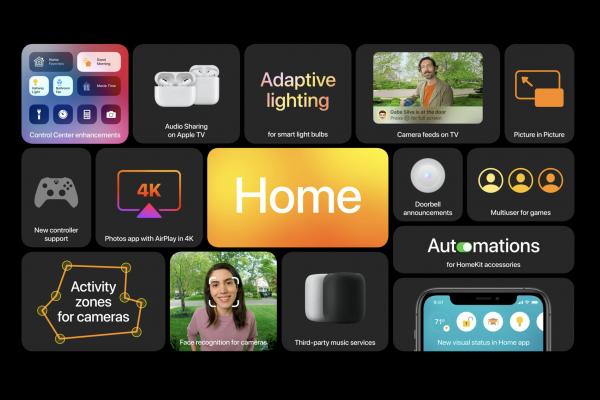 At the 2020 Apple Worldwide Developer's Conference (WWDC) keynote on Monday, the company announced its latest operating systems: iOS 14, iPadOS 14, and tvOS14. With these come new AirPod and HomeKit features plus long-overdue Apple TV additions, including picture-in-picture enhancements and 4K YouTube playback.
One of the best AirPods features has been how easy it is to connect to any Apple device. Bringing the AirPods case and opening it near an iPhone or iPad connects the headphones instantly via Bluetooth to the device without any further setup. In iOS14 and Big Sur (the OS update for Mac computers), users with multiple Apple devices paired to the same iCloud account can automatically hand-off the AirPod connection from one device to the next.
Here's how that works. Say you have been listening to music on your phone but pick up your iPad to watch a movie. The AirPods will instantly connect with your iPad. Then, when you close your iPad and open a Zoom meeting on your iMac, the AirPods will connect to your computer. If a phone call comes in, the AirPods will then switch to answer the call on your iPhone. This update will work on 2nd-generation AirPods, AirPod Pros, Power Beats, Power Beats Pro, and Beats Solo Pro.
Apple's headphones will also receive new accessibility features. With the update, users can change settings that amplify soft sounds and adjust frequencies for their hearing needs. These accommodations also extend to the Transparency mode on the AirPods Pro, so quiet voices and sounds will become louder and clearer.
The update to AirPods Pro also adds "Spatial Audio" virtual surround sound. Similar to Sony's 360 Reality Audio or Waves Nx, Apple's take on 3D Audio uses algorithms to map sounds so they appear to be coming from specific directions around you. When listening, it will seem like there are speakers set up to the left, right, behind, and even above you. This is accomplished by applying directional audio filters and adjusting the levels and frequencies for each ear to create a sensation of distance and discrete placement of each sound source.
Like other technologies, the soundfield stays fixed to a point in space as if coming from a specific speaker in the room; when you tilt or turn your head, the sound doesn't move with it. The accelerometer and gyroscope in the AirPods Pro sense movements, so Spatial Audio allows the sound to stay in sync when turning the corner in a car, or if the airplane banks. Unlike other technologies, you don't need a specially formatted video or music file to experience Spatial Audio, which works with content encoded in 5.1, 7.1, and even Dolby Atmos. Spatial Audio is ideal for listening using the AirPod Pros while watching shows with an Apple TV.
Although we have previously been able to share audio with more than one AirPod connected to an iPhone or iPad, audio sharing will now also be available on Apple TV with tvOS14. That way, your significant other can join you in private watching/listening.
With tvOS14, the Apple TV 4K can now play more Ultra HD content—specifically 4K YouTube videos. Users will also be able to wirelessly send 4K videos from their iPhone's photos app to the Apple TV via AirPlay.
In the current tvOS13, picture-in-picture is only available in the Apple TV app, but the tvOS14 update will let you call up picture-in-picture in any app on Apple TV. Stream the news on CNN while working out with your favorite fitness app. You can also AirPlay videos from your iPhone or iPad into a picture-in-picture screen.
Apple TV+ is continuing to create new original series, including one based on Isaac Asimov's Sci-Fi classic Foundation novels. Considered the "greatest science-fiction work of all time" the show is written by David S. Goyer (Batman Begins and Dark Knight) and directed by Rupert Sanders (Ghost in the Shell and Snow White and the Huntsman). It will be released in 2021.
Along with entertainment, Apple is making Apple TV more appealing for gaming. The Xbox Elite 2 and Xbox adaptive controller will join the PlayStation DualShock 4 and Xbox Wireless controllers in connecting to Apple TV. Multiuser support for gaming will track players' individual game levels, leaderboards, and invitations. Players can pick up where they stopped in a game on other devices. Switching between players on the fly is as easy as holding down the home button and changing users in the control center.
The control center on Apple TV becomes more useful with the addition of HomeKit controls that change depending on the time of day. Different automation scenes you have created will appear in the control center at different times. The door lock and outdoor lights may appear in the evening, for example, while bedroom light control may show up at bedtime.
If you have a HomeKit-compatible front door camera, the Apple TV's Control Center will have a live view of your front door, or you can switch to keep an eye on any HomeKit camera feed. Ask Siri to view any camera at any time or see them all from the home view in Control Center. Clicking on a picture-in-picture of a camera view will make it full-screen so you can get a closer look, and if the person at the door is a friend or family member that you have tagged in your photos app, the visitor will be announced on the Apple TV or a HomePod speaker.
An exact release date for iOS14 and tvOS14 was not announced other than to say it will be available in the fall. If it follows the release schedule of iOS updates from previous years, we can expect it to be available sometime in September or October 2020.