CEDIA Expo 2018: Sifting Through the AV Nuggets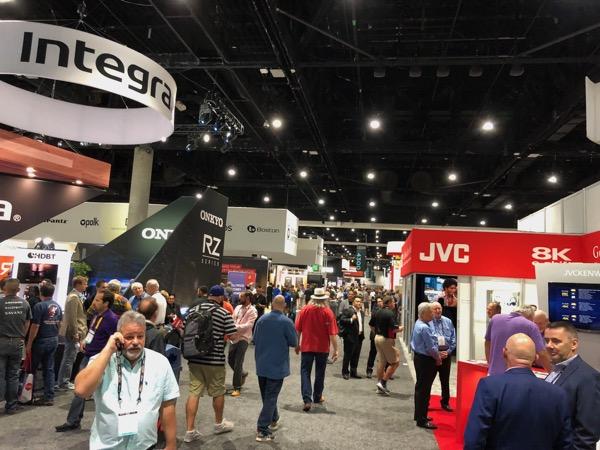 The 2018 edition of CEDIA Expo is now history. CEDIA is one of the two big annual trade-only shows covering AV gear. CES, held each January in Las Vegas, is the big Kahuna. Apart from every electronic gadget on the planet (and some not so electronic) the main event at CES is the launch of all the new Ultra HD TVs for the coming year (not to mention the 8K sets waiting for their close-ups). It's a forest of video displays everywhere you look, and covering CES, with its attendance generally over 150,000, is a major challenge.
CEDIA, on the other hand, takes place in early September. It's a moveable feast, spending a couple of years in one city before moving on to another. I've been to Denver, Dallas, San Diego, Atlanta, Indianapolis, and New Orleans for that event over the past 20 years. And while you'll see some flat screen sets at CEDIA, they're usually the current models. For video, CEDIA is a projector show. It caters to custom installers, who nearly always feature a projector in their jobs. And since the attendance at CEDIA is a fraction of the CES glut it's a far more laid-back event.
Video Everywhere
The big projector news at CEDIA, at least on the relatively affordable side, nearly always involves Sony, JVC, and Epson.
Sony launched true 4K projectors last year at near-popular (though hardly blue-light special) prices, but did a repeat this year with several new lamp-lit designs. The most affordable are the VPL-VW295ES ($5,000) and the VPL-VW695ES ($10,000). While they haven't changed enough from last year's VPL-VW285ES (also $5,000) and VPL-VW385ES ($8,000 — there's no $8,000 model this year) to prompt last year's buyers to cry in their beer, they should attract newbies with at least a little cash to spare and the itch for a 4K projector. Several other projectors remain unchanged in the Sony lineup, plus a third new model, the laser phosphor-lit VPL-VW995ES at (gulp…) $35,000. At that price, it needs to produce an absolutely stunning picture — and it does. All of Sony's projectors use SXRD panels (Sony's version of LCoS)
JVC had no consumer-priced native 4K offerings last year, but this year jumped in with both feet. There are three new models (six if you count an identical trio that uses a different distribution channel): The DLA-NX5/DLA-RS1000 is $6,000, the DLA-NX7/DLA-RS2000 is $8,000, and the DLA-NX9/DLA-RS3000 is $18,000. All of them are lamp-lit.
While all three employ native 4K LCoS imaging chips, the DLA-NX9 and its DLA-RS3000 identical twin go one step further. They use pixel shifting (as with the e-shift JVC used for years to simulate native 4K from 2K imagers) together with video processing to enhance the native 4K image to a respectable simulation of 8K. It certainly looked stunning on a huge screen. But the entry-level NX5 also produced a superb picture on a smaller, more domestically-sized screen.
As currently designed, DLA-NX9/DLA-RS3000 is not compatible with a true 8K input because the silicon for 8K (HDMI 2.1) isn't yet available. That might not matter much, as such sources are unlikely to be widespread for years, but $18,000 is not a small investment for potential buyers.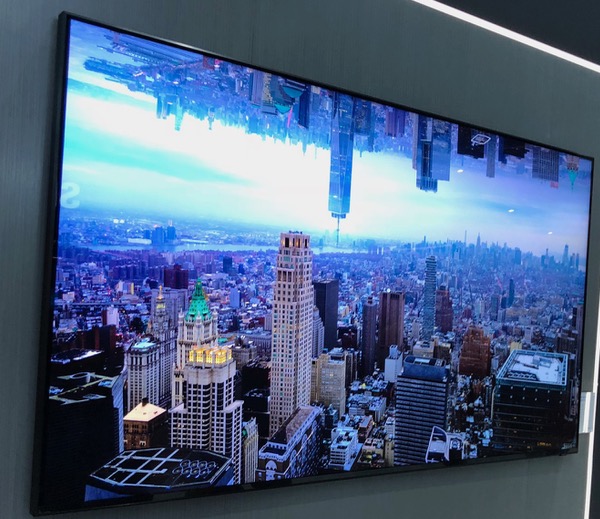 While we're on the subject of 8K, Samsung unveiled its upcoming 8K Q900FN flat screen UHDTV (shown above). Availability is promised for this year at $15,000 in the 85-inch size (smaller sizes will be available elsewhere, but not in the U.S.). A promised future update will allow the TV to accept a true 8K source when, and if, such material becomes available to consumers, but for now it will only accept a maximum input resolution of 4K, with its internal processing scaling the source up to 8K.
Epson didn't show up with anything quite as headline-grabbing on the consumer front. Its $8,000, pixel-shifted 4K, laser-lit LS10500 projector was nowhere to be seen. But at $2,400 — less than half the price of the sexier introductions from JVC and Sony — Epson's new pixel-shifted 4K LCD Pro Cinema 4050 got plenty of attention. Given that the jump to $5,000 is a leap-to-far for many projector buyers, Epson should sell tons of Pro Cinema 4050s.
DLP projectors weren't common at the show, unless you step up to something like Digital Projection's new Insight 8K, which looked great on a 16-foot screen — but at $400,000 it should! Optoma and BenQ were no-shows, but Wolf Cinema's smallish, TXF-1100 laser-lit DLP 4K pixel-shifted projector ($11,000, shown above) certainly looked like a real player on an acoustically transparent screen from Seymour Screen Excellence. Wolf has wowed us in the past with its LCoS projectors based on JVC DNA, but all the 4K models in its current lineup appear to be DLP-based.
And Screens, Too…
Projection screens, of course, were all over the show floor. Perhaps the most interesting, though certainly the priciest, was Stewart Filmscreen's Director Choice. It's available in any size up to 25-feet in any of Stewart's 18 varieties of screen material. It can be auto-masked, with memories, to virtually any aspect ratio; 2.25:1, 2.40:1, 2.55:1, 2.20:1, 1.85:1, 1.6:1, and 1.33:1 are all child's play, and if you can find a film that's anything else, it can handle it as well. The only hang-up is the price. The 16-foot wide by 8-foot high version at the show will run you around $67,000 (depending on fabric)!
But if you opt instead for one of Hisense' short-throw projectors, at up to 10-feet diagonal, it will come with a screen. Short-throw projection is a totally different animal from the above models and is currently offered by only two other manufacturers — Sony and Epson. The Hisense model requires that the projector be located below the screen and less than 2-feet away. Significant image manipulation is required by the projector and lens to produce a properly proportioned picture. While I haven't yet seen anything from a short-throw projector that equals a respectable conventional model, it can look quite good and offers a big-screen experience to those for whom standard projection just won't work.
Naturally you'll need source material to complete the picture (and sound). It's interesting that the only company we know of that offers storable movie downloads remains Kaleidescape — possibly because they've fought the copy protection wars and reached mutually acceptable accommodations with most movie studios. Its featured product was the Strato 4K player. Used with downloads purchased from Kaleidescape's on-line movie store, you keep the films (HD or, if available, UHD) on the Stratos' hard drive and play them back when and as often as you want. If the Strato becomes corrupted, or damaged (perhaps by a lightning strike), or the internal drive crashes, you can download the film again at a lesser charge, or no charge, depending on the studio involved.
The main catch is the cost. Kaleidescape's products have always been pricey, and while the Stratos is no exception it's far less expensive than the previous disc-based versions. With a 6-terabyte (TB) hard drive it will set you back $4,495. With 12TB, $6,995. Those should be good for 100-300 movies (depending on the mix of HD vs. UHD). The cost of movie downloads is mostly competitive with, or slightly more than, retail disc prices. One issue for those of us with extensive disc libraries is that the Strato can only accept downloads from the Kaleidescape movie store. In other words, you're stuck with manual replay of your existing collection unless you pay for the films again via download.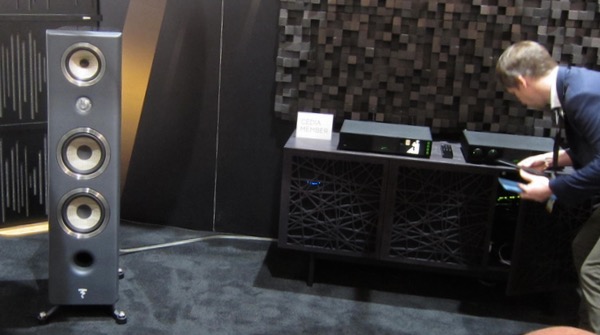 Breaking Audio
CEDIA isn't really an audio show, though the in-wall, on-wall, and in-ceiling speakers heavily featured there are a big draw for custom-installers. But there were a number of dramatic home theater demos from JBL Synthesis, Sony, Paradigm-Anthem, Wisdom Audio, Wolf Cinema, Starke Sound, and others I may have missed. Many of these demos were striking, and many appeared to be using some of the same material (Ready Player One seemed to be a favorite).
There were also a few brave souls featuring largely audio demos, including MartinLogan, GoldenEar, MBL, Focal, Totem, and likely others. The most effective of the latter were in the pre-fabricated rooms set up on the show floor, but Focal surprised me with the striking amount of bass a pair of Focal's new Kanta No.3s ($12,000/pair, shown above) produced in a space largely open to the show floor — a difficult environment for generating low frequencies.
But, Wait…There's More
There's more to CEDIA than just audio and video, particularly if you're into home automation. Smart speakers of various descriptions were on hand along with the usual peripheral suspects, including a booth offering video golf, cable manufacturers of all descriptions, vans and trucks from Mercedes and Chevrolet to entice custom installers in need of new and spiffy transportation to impress their customers, and even a company (Blackdove) that can stream moving video artwork to your display when you're not watching TV or a movie.
While CEDIA might not be as wild and wooly as CES, it is a lot of fun. Like CES, it's open to the trade only, but as with CES a friendly dealer can likely get you a pass — though it might cost you. Load up the wagons; next year the CEDIA road show moves back to Denver.