MartinLogan Demos Mystery Speakers on 35th Anniversary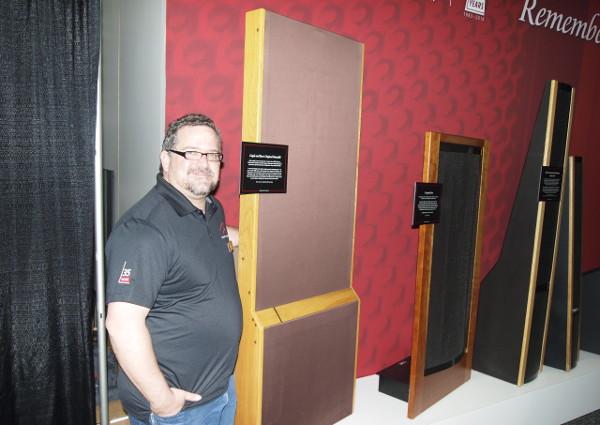 You could hear them but couldn't see them, nor could you pry any details out of MartinLogan representatives about the mystery speaker pair demonstrated behind acoustically transparent panels to celebrate the brand's 35th year in business.
But many listeners at the CEDIA Expo agreed that the high-performance speakers delivered powerful imaging, expanding the sound stage beyond the listening room walls during several two-channel music-only demos. Surround sound was not part of the demo.
During the demo, individual instruments were separate and distinct while vocals were rendered with force and clarity, locked to the center of the sound stage.
The demo was set up to "remember the future," or "remind us what got us into the industry: music and developing products that create an engaging experience," said Devin Zell, marketing manager for MartinLogan, sister speaker brand Paradigm, and audio-electronics brand Anthem. At the show, MartinLogan simply wanted listeners "to experience what we've been about for 35 years," he said.
The company also isn't revealing whether the speakers, or some portion of the designs behind them, will come to your home anytime in the future, said Zell, pictured above with an original prototype of MartinLogan's first speaker (a hybrid electrostatic model that debuted in 1983).
What MartinLogan and sister speaker brand Paradigm did talk about were Paradigm's CI Elite in-wall and in-ceiling speakers, demo'd in a Dolby Atmos setup, the new Defiance series of subwoofers, from $399 to $1,499, and the brand's Premier speakers, which played music from the Qobuz high-resolution streaming-music service that will be turned on in the U.S. later this year.
At MartinLogan's display, a revamped lineup of Dynamo subs put in an appearance from $399 to $1,699 each.