Action Figures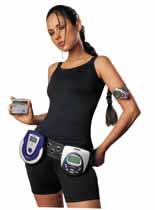 Photos by Tony Cordoza
Over the years personal stereo has evolved from an offensive weapon (think boombox) to a defensive one. When you're wearing earphones in a crowd, you're ensconced in a zone of privacy. People don headphones at a health club or on the street in part to signify they don't want to be approached. Wearing phones is also armor against screaming children, screeching wheels, and strangers yakking into cellphones. No wonder those of us who spend time on planes, trains, or buses increasingly defend our ears and personal space with portable music players.
During my daily subway rides between home and
Sound & Vision
's Manhattan offices over the past few weeks, I took along four very different types of portable players. My mission was to test how easy they were to use and how well each stood up to the rigors of commuting. Each model was chosen because it promised to be one of the best in its category. Still, keeping a portable player portable inevitably means some kind of tradeoff between features, size, and weight.
Bridging the Divide
My informal survey of subway riders who wear headphones showed that most wires lead to portable CD players. They're cheap and have the advantage of not requiring a computer. Prep work is no more than taking a disc out of its jewel case and popping it in the player.
If TDK's Mojo 620 played only standard CDs, there would be little to distinguish it from scores of other portables. But it's a hybrid that also plays discs containing compressed MP3 files. Its usefulness, however, depends on whether you have access to a computer equipped with a CD burner (or a standalone recorder with MP3 encoding). Once you start downloading music from the Internet, ripping CDs into MP3 files, and burning compilations to CD-R or CD-RW, however, there are some real advantages to using the Mojo in its MP3 mode.
| | |
| --- | --- |
| | |
| TDK Mojo 620 DIMENSIONS: 5 1/4 inches wide, 6 inches long, 1 inch thick WEIGHT: 12 ounces (with two AA batteries and dsc) PRICE: $149 www.tdk.com | |
The first is an exponential increase in storage capacity - instead of carrying ten CDs, you can put all those tracks on one disc. Next is being able to see the name of the artist, album, song title, and genre on the Mojo 620's crawling display. Third is the superior antishock handling. Whenever I moved the 620 from my shoulder bag to my lap while playing a regular CD, the music went silent, resuming only when I put the Mojo down. When I switched to an MP3 disc, the music kept playing even when I shook the unit. That's because with a regular CD the player's solid-state memory buffer holds only 45 seconds of music, compared with 8 minutes for playback of MP3 files encoded at the "standard" data rate of 128 kilobits per second (kbps).
TDK claims that the player will run for 10 hours on one pair of alkaline AA batteries (supplied), but it kept going for only 6 hours when I used it. And you can figure even less time if you use the Mojo only as a CD player. Although you get less battery time, the audio quality in CD playback is unmistakably superior to what you get from typical MP3 files.
For use when you're not in motion - though the Mojo is a bit too bulky to make a good jogging companion - TDK includes an AC adapter and an analog line-level output. It also throws in its Navitrack software (Windows only), which lets you organize your music by track, album, artist, and genre. The burning, however, must be done by the software you already use with your CD recorder.
I also tried the LyricSync software, which lets you import lyrics so they can be shown as a song plays. After ripping the Sheryl Crow CD, C'mon, C'mon, I did a Google search and found several sites on the Web that enabled me to copy the lyrics from her "Soak Up the Sun" so I wouldn't have to type them in. Using the LyricSync software, I timed each line to the music. It's kind of labor intensive, but it's one of those things you have to try once. Still, the Mojo 620 is the only player among the four reviewed here with karaoke-like capability. It also includes an in-line remote control that clips to your clothing.
Stealth Fighter
One-sixth the weight of the Mojo 620, Samsung's Yepp YP-90S will appeal to anyone who likes miniaturization. About the size of a bar of hotel bath soap, this newest Yepp can be carried in its pouch on the supplied armband or hidden in a small pocket.
| | |
| --- | --- |
| | |
| Samsung Yepp YP-90S DIMENSIONS: 2 inches wide, 3 inches long, 3/4 inch thick WEIGHT: 2 1/4 ounces (with two AA batteries ) PRICE: $229 www.samsungusa.com | |
To create such a small player, Samsung jettisoned the usual memory-expansion slot, so you're locked into its 64 megabytes (MB) of internal memory, which can hold about an hour of music at the typical 128-kbps compression rate. You're not limited to MP3, though. I used the supplied RioPort PC software to transfer the David Byrne song "Like Humans Do" from my computer to the player via USB cable in the Windows Media Audio (WMA) format, and it played just fine. The limited storage in the YP-90S means frequent trips to your computer to keep the Yepp's mix from becoming stale. To compensate, Samsung built in an FM radio. On the street and in my office it worked surprisingly well, tuning in as many stations (26) as my Sony FM Walkman and letting me store ten of them in memory. Adding to the Yepp's flexibility, there's also a built-in microphone for voice recording.
By the way, there's no way to connect to an AC adapter. The Yepp runs only on battery power even when attached to the computer. Still, playing music from flash memory is less of a drain than accessing a CD, and a pair of AAAs kept the little guy running for 14 hours (Samsung claims 15).
Don't throw out the plastic canister the Yepp comes in until you check under the lid, where you'll find a 3-inch CD containing the software. I was taken aback when, several weeks after installing it, a warning came onscreen telling me I needed to upgrade via the Internet from the "standard" version. Unlimited MP3 encoding would cost $12.95 (not necessary if you have another MP3 encoder or Windows XP's built-in WMA encoder) and unlimited CD writing (not necessary for Yepp use) another $12.95, but I could have both of them for only $18.95. When I called Samsung, I was told that despite what the screen said, users can download an unrestricted version of the software for free. And even without the upgrade, I had no trouble transferring existing compressed music files from my computer or the Internet into the Yepp.
Veteran Appeal
Ten years ago, Sony launched the MiniDisc (MD) to great critical acclaim and little acceptance by the U.S. buying public. But the MD format, which records compressed audio onto a 21/2-inch disc in a square case, is showing renewed signs of life thanks to the upheavals wrought by the Internet and MP3. While the original MD recorders didn't even connect to a computer, Sony's new Net MD
| | |
| --- | --- |
| | |
| Sony Net MD Walkman (MZ-N1) DIMENSIONS: 3 inches wide, 2 7/8 inches long, 5/8 inch thick WEIGHT: 4 1/2 ounces (with Ni-MH battery) PRICE: $350 www.sonystyle.com | |
Walkman (a.k.a. MZ-N1) goes well beyond letting you digitally dub a CD.
The magnesium-encased recorder, no larger than a cigarette box, comes with a docking station, used to recharge the removable Ni-MH battery, that sports a USB port so you can connect it to any Windows-based PC. It's bundled with Net MD Simple Burner software and the older Open MG Jukebox program, which still has music-checkout procedures and is useful if you happen to encounter something called "secure" music (that's the kind you download for a fee).
After launching Net MD Simple Burner, I loaded C'mon, C'mon in my CD-ROM tray and clicked on the Get CD Info button. The program went out to Gracenote's CDDB Web site and retrieved the track titles and other information about the disc. When I clicked the Record button, Simple Burner sequentially ripped and transferred all the songs from the 561/2-minute album to a blank 80-minute MD in just 14 minutes. The whole process was quick and easy.
Like other current-generation MD recorders, the MZ-N1 also offers MiniDisc Long Play (MDLP) modes that compress the music data further in exchange for a longer record/play time per disc. The LP2 recording mode fits about 160 minutes of music on an 80-minute MD, and the LP4 mode fits about 320 minutes. I had the MZ-N1 record the Crow CD both ways. While the LP2 tracks sounded almost as full-bodied as those on the original CD, the LP4 versions sounded noticeably thinner.
Still, at more than 5 hours, one MDLP4 disc would pretty much orchestrate my entire five-day commute without making me listen to the same song twice. And blank MDs cost about $2 each, which means you can build a huge library very cheaply.
On the go, the MZ-N1 was a pleasure to use. Compact enough to slide into a shirt pocket, the player is best operated with its intuitive remote-control stick. The clip-on, in-wire remote contains a 2-inch-long backlit display for crawling text such as song titles. Twist the end of the stick, and the player jumps to the next track; twist and hold it, and the track fast forwards; tug and twist, and the music gets louder. Unlike the buttons on many players, the stick controller is pleasingly tactile.
Sony's MZ-N1 is an extremely versatile player/recorder. Between its rechargeable battery and supplied sidecar for attaching your own AA battery, the MZ-N1 is said to be able to play continuously for up to 110 hours. All I know is that the rechargeable battery never failed while I was using the player for a couple of hours a day over several days.
Troop Transport
Deciding which songs to take along and which to jettison is a nonissue when you're packing a hard-disk drive. Grab the Nomad Jukebox 3, and all the CDs on your shelf can get a ticket to ride!
| | |
| --- | --- |
| | |
| Ceative Labs Nomad Jukebox 3 DIMENSIONS: 4 3/4 inches wide, 5 1/8 inches long, 1 3/8 inches thick WEIGHT: 12 ounces (with one lithium-ion battery) PRICE: $400 www.nomadworld.com | |
Jukebox junkies aren't concerned with mere megabytes. They talk in multiples of gigabytes (GB). The 20-GB version of the Jukebox 3 from Creative Labs, slightly smaller than the TDK Mojo, stores more than 300 hours of music encoded at 128 kbps. That's an arsenal of tunes, and for $100 more there's a 40-GB version in the same casing. I tested the 20-GB model. With so much storage at your disposal, you don't need to think twice about compressing music at 160 kbps or an even higher rate, if sound quality is a concern.
When S&V reviewed the original Nomad Jukebox with its paltry 6-GB capacity, we complained about its less than intuitive interface. That's been corrected in the latest version, thanks in part to a scroll/selector on the side that makes it easier to drill down through submenus. The PlayCenter 3 software, supplied for Windows, makes ripping and transferring seem almost automatic, and the big news about the Jukebox 3 is that it's the first hard-drive portable since Apple's iPod to include a FireWire port. I was able to transfer a ripped version of the CD soundtrack from the movie I Am Sam in 13 seconds via FireWire vs. 1 minute via USB.
Another big improvement for the Jukebox 3 is a pair of slots for flat lithium-ion batteries (one is included). Previous models used four AA rechargeables. Creative claims the Jukebox 3 offers up to 22 hours of playback when both battery bays are filled. We verified that one battery delivered 11 hours of music. My major gripe with the new Jukebox is that it's only a bit smaller than the original - and it doesn't come close to the svelte design of the iPod. Then again, you're getting four times the capacity for the same price, and Creative hopes to offer support for Macintosh as well as Windows users later this year.
Given a portable CD/MP3 player, a flash-memory player, a MiniDisc recorder, or a portable jukebox to choose from, you won't have any trouble finding the right player to take on your next flight, jog, or commute. The only question is whether to keep things sleek and simple or to go for more options and storage. Either way, packing your tunes will become as routine as packing lunch.