3 Roads to HDTV Page 3
Philips Cineos 55PL9773 Reminiscent of Bond's sleek, silver Aston Martin V12 Vanquish, the 55-inch (diagonal) Philips 55PL9773 looks downright gorgeous. The company's designers went all out, wrapping a thin silver border around the screen, making the set only 56 1/2 inches wide, and mounting it atop a short base that blends perfectly with the swivel stand. (The cabinet underneath is an extra $499.) Depth is only 17 1/2 inches, and the whole thing weighs just 84 pounds.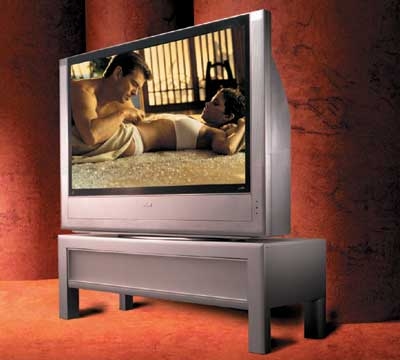 At the heart of the 55PL9773 beats a single 1,280 x 720-pixel LCoS chip, the first of its kind in a TV set (Toshiba's own LCoS set uses a three-chip design). The individual pixels are applied to a silicon wafer instead of LCD's glass substrate, eliminating gaps between pixels, which can be visible onscreen. Snooping around the backside, I found a full suite of input jacks, including DVI and a pair of wideband component-video inputs for HDTV sources and a VGA input for computers.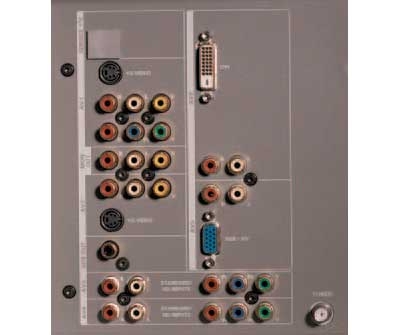 The Philips remote control looks like a foil-wrapped candy bar with buttons. Its rubberized keys felt really nice, but they don't have any sort of backlighting. The remote has fewer buttons than the others, resulting in more frequent trips to the onscreen menus, but it can control up to five other devices. Switching inputs meant scrolling through all six choices, and there's no way to skip unused inputs.
The undisputed champ for sheer variety of display modes, the Cineos offers seven ways to resize standard 480i programs, but it can't resize progressive-scan or HDTV material. Notable options include a 4:3 setting that places either black or gray bars to the side of the image, a Movie Expand 16:9 mode that stretches and crops a little, and an Automatic mode that senses black bars and immediately zooms the image to fill the screen. I was pleasantly surprised when a trailer for Gigli appeared and J Lo suddenly grew a foot taller.
Since the animated menu system shows only a few options at once, I soon became frustrated navigating among the set's controls. The manual picture settings include only one global custom memory, so I couldn't tailor brightness, contrast, and color for different inputs. Six picture presets are provided, however, and another three options labeled Active Control are said to dynamically adjust certain settings depending on picture content and ambient lighting. There are also three color-temperature presets, defeatable noise reduction and color enhancement, and two settings intended to smooth out 480i images - Pixel Plus and Movie Plus.
Phillips 55PL9773
DIMENSIONS
56 5/8 inches wide, 38 1/8 inches high, 17 1/2 inches deep
WEIGHT
84 pounds
PRICE
$4,200
MANUFACTURER
Philips, Dept. S&V, 64 Perimeter Center E., Atlanta, GA 30346;
www.philipsusa.com
; 800-531-0039
Cueing up Pierce and Halle for one final spin, I got the sense that LCoS is still a technology in its infancy. Blacks were not as deep as with regular tube sets. I also noticed video noise on the DMZ bridge as Zao emerged from the fog. Another glitch occurred during a pan over a Korean flag and a MASH-style camp. A moving horizontal line appeared briefly in the image, cutting it in two so the flagpole appeared disconnected for a second. The line resurfaced during the scene in the Cuban clinic, and occasionally with HDTV sources. My tests also revealed 2:3 pulldown processing that wasn't as good as it should have been - the ribs in Icarus appeared somewhat jagged when I used a standard DVD player.
On the other hand, the Philips delivered highly detailed closeups and extremely bright whites. Jinx's form emerging from the sea shone with glistening droplets, and the incredible light of Icarus bathing the crowd in reflected sun was conveyed with blinding impact. Many details looked razor-sharp, including the edges of the tiny blocks of background that appear when the Aston Martin's invisibility camouflage begins to fail. The picture also maintained even brightness at wide viewing angles.
The 55PL9773 excelled with the high-def images from Ice Age. My reference scene came alive with the ultra-smooth reflections of the mammoth and the sabertooth as they raced down the slide - the mammoth's fur looked like it could cut glass. Textures in the cave wall and the paintings seemed real enough to touch, while the undulations of the melting ice in the volcano sequence were breathtaking. Aside from some noise in the darker sequences and a couple of rainbow effects when I shifted my eyes, this D-VHS tape looked as good as I've ever seen it.
For its first year on the job, LCoS has assembled an impressive pedigree as well as a few issues - including grayish-looking blacks. The Philips 55PL9773's high style and impressive high-definition picture will probably seal the deal for many folks, but video purists may want to wait until Philips irons out some of its kinks.
We've seen a wide range of technologies, features, and designs in these three widescreen TVs, and all have their strengths and weaknesses. While the tried-and-true CRT may be destined for replacement, it still delivers the most consistently pleasing images. But DLP, LCoS, and other chip-based systems aren't too far behind, and their prices will continue to fall as they become more popular. Whether it hides something old or something new behind the screen, any of these HDTVs will give you the kind of large-scale images that deserve to be called "high-definition."
LATEST VIDEO