3 Roads to HDTV
Photos by Tony Cordoza
Like a souped-up Aston Martin needs a stretch of open road, the high-definition TV (HDTV) format and progressive-scan DVD need big screens to really strut their stuff. Large rear-projection TVs (RPTVs) can blow viewers away with crystal-clear images, and the latest designs are slimmer than ever - allowing you to balance your craving for massive movies with your desire to save on precious floor space.
Toshiba 57HX83
Aside from being slim, TVs that use new technologies like DLP (Digital Light Projection) and LCoS (liquid crystal on silicon) don't require periodic maintenance - there are no cathode-ray tubes (CRTs) to keep aligned - and you don't need a dark viewing environment to get good pictures. But classic tube-based RPTVs enjoy advantages of their own, including significantly lower prices - which is why we've included all three technologies in our roundup.
In order of their technological seniority, the 57-inch Toshiba 57HX83 ($2,700) uses those classic tubes, the 50-inch RCA Scenium HDLP50W151 ($3,999) uses DLP, and the 55-inch Philips Cineos 55PL9773 ($4,200) uses LCoS. All share wide 16:9 aspect ratio screens, Hollywood-compliant (read: copy-protected) digital connections, and the ability to show off the finest details of DVD movies and HDTV. While each one can give the local cineplex a run for its money, the model you prefer will depend largely on your viewing habits, budget, and sense of living-room style. Let's see how far down the road each set takes us.
Toshiba 57HX83 Even though it hides a trio of red, green, and blue CRTs behind its screen, the Toshiba Cinema Series 57HX83 is outfitted with enough technical gadgetry to impress James Bond. But you wouldn't guess it by looking at the exterior. Befitting its status as the most . . . ah, experienced member of the group, its overall look isn't as aggressively high-tech as those of the other two. The 57-inch (diagonal) screen, surrounded by a thin black border, rests atop a gray field of cloth that conceals the speakers.
Toshiba 57HX83
DIMENSIONS
52 3/4 inches wide, 55 3/4 inches high, 24 inches deep
WEIGHT
204 pounds
PRICE
$2,700
MANUFACTURER
Toshiba, Dept. S&V, 82 Totowa Rd., Wayne, NJ 07470;
www.toshiba.com/tacp
; 800-631-3811
Just don't expect this behemoth to hide in the corner. At nearly 2 feet deep, it'll protrude a good bit from the wall behind it, and its integrated base means you can't use a custom stand. Thankfully, Toshiba provides coasters to make moving the 204-pound TV less of a hassle.
The rear panel includes every important connection except a VGA computer input. A DVI (Digital Visual Interface) jack ensures compatibility with new high-definition tuners, satellite receivers, and DVD players, while a pair of wideband component-video inputs provides more high-def and DVD connection options.
I had a little trouble using the wide-bodied remote control - I was constantly stretching for the aspect ratio and menu buttons - but otherwise the layout felt natural enough, and a cool blue backlight illuminates every button. The handset can also operate up to five other components.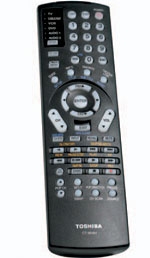 Selecting inputs with Toshiba's remote was easier than with many other TVs, which make you toggle through selections, but I still had to call up a separate menu and hit the number key corresponding to the input I wanted. The same process is used to select one of the set's five display modes: Natural (for standard 4:3 programs, complete with tube-saving gray bars to either side), Full (for widescreen DVD and HDTV), and Theater Wide 1, 2, and 3 - none of which work with HDTV programs but are designed to eliminate those gray bars with regular 4:3 programming. I preferred Theater Wide 3, which stretched the image slightly and cropped the top and bottom a bit. It's the best such "compromise" mode I've seen in a widescreen HDTV.
Toshiba's straightforward menu system made using the TV's numerous features a breeze. In addition to a custom video memory for every input, you can apply one of three picture presets - Sports, Standard, and Movie. The set converts standard interlaced programs to either 540p (progressive-scan) or 1080i (interlaced), and its dual-view mode, which places two images side by side on the wide screen, works with both standard- and high-definition sources.
After making a few adjustments, I dove into the latest 007 DVD, Die Another Day. The early-morning surfing scenes at the start made an immediate impact with their deep
blacks and fine gradations of shadow. I could make out the differences between dark tones in the camouflage wetsuits even when the spies were dwarfed by the midnight-blue waves. Later, during a bedroom tryst between Bond and Jinx (Halle Berry's character), the display perfectly preserved the shade of her skin in the dim bluish light. I also appreciated being able to pick out facial details, including arch-thug Zao's diamond studs, through the fog that enshrouds him and Bond as they meet on a bridge that crosses the Korean DMZ.
In the scene where the Icarus satellite unfolds in space, the ridges of the parabolic antenna looked solid thanks to the TV's 2:3 pulldown processing - a feature intended to ensure smooth images from film-based DVD programs. Color rendition was very good, and the infamous slow-motion stare-fest where Jinx emerges from the ocean revealed her well-saturated orange swimsuit and brown skin, among other things. During the icy car chase, however, I did catch one characteristic common to tube-based TVs. As I moved from one side of the couch to another, the fields of white shifted in intensity, with the center of the screen looking a bit brighter than the edges.
I noticed similar variations in brightness - on different ice fields, of course - when I slipped a 1080i high-definition tape of the animated movie Ice Age into my D-VHS VCR. In a cave scene that comes after the mammoth and his cohorts are trapped by an avalanche, the edges of the quivering ice shards looked the tiniest bit softer than on the other two sets. That's not to say the Toshiba's high-def image looked indistinct by any means. The details of fur and claws reflected in the ice slide were all visible, and the shadows in the cave paintings looked deep and realistic.
If you can live with its bulk and the knowledge that you're not buying the latest technology, Toshiba's 57HX83 will deliver jaw-dropping image quality, especially in movies with lots of dark scenes.
PDF: Features Checklist
PDF: In The Lab
LATEST VIDEO