3 Roads to HDTV Page 2
RCA Scenium HDLP50W151 As I was reading the spec sheet of the RCA HDLP50W151, I felt like I was getting a lecture from Q himself. This 50-inch (diagonal) set uses Texas Instruments' second-generation Mustang HD2 DLP chip, which has a resolution of 1,280 x 720 pixels. The chip consists of thousands of tiny mirrors that move in increments to create pictures. RCA designed the TV's exterior to complement those futuristic innards. Burnished aluminum highlights the lustrous silver-and-black cabinet, and the front buttons are bathed in a fully dimmable blue light to appear even more distinctive. This tabletop TV deserves to sit atop a high-tech stand, and its 92-pound weight makes light work of lifting. Best of all, it measures only 16 inches deep.
You'll find a complete assortment of jacks on the rear panel, including a DVI input, a pair of DTV Link-compatible FireWire ports for high-def recording, two wideband component-video inputs, and an Ethernet port. That's right, this TV has a limited built-in Web browser that works with the remote or an optional $49 keyboard (I'd have preferred a VGA input for a computer). Since it has a built-in HDTV tuner, the Scenium also features an optical digital audio output and composite A/V outputs that can send standard-resolution versions of high-def programs to a recorder - a first in my experience.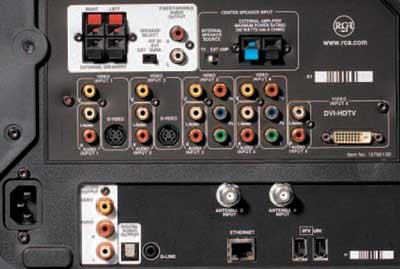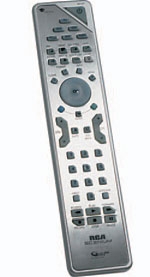 RCA's ultramodern remote control was my favorite of the three. Once I got past its diminutive buttons, I really liked the smart layout, manageable size, and blue backlighting. I programmed the top keys to directly access different inputs, and since it's a learning model the remote can operate just about any A/V component.
Only three display modes are available: Normal (to view 4:3 programs with gray bars), Stretch (horizontally stretches 4:3 programs), and Zoom (crops all sides and is ideal for letterboxed programs). Unfortunately, none of them work with 480p or 1080i sources, so I recommend a progressive-scan DVD player with aspect ratio control for use with this TV.
Like the Toshiba, the RCA has a separate custom memory for each video input, and there's a trio of global picture presets called Vibrant, Natural, and Cinematic. There are also three color-temperature selections, including a Warm setting that just about nails the NTSC standard (see "In the Lab," page 96, for details). Other options include defeatable edge enhancement and a picture-in-picture (PIP) function that works only with standard 480i sources.
RCA HDLP50W151
DIMENSIONS
39 1/4 inches wide, 47 inches high, 16 inches deep
WEIGHT
92 pounds
PRICE
$3,999
MANUFACTURER
Thompson, Dept. S&V, 10330 N. Meridian, Indianapolis, IN 46290;
www.rca.com
; 317-587-4450
As if all that weren't enough, RCA's engineers threw in the Guide Plus+ program guide complete with infrared (IR) blasters, so the set can control a VCR and cable box to automatically schedule recordings. The built-in HDTV tuner proved very capable, and I was able to plug the cable directly into the back of the set and receive all of Time Warner Cable's local high-definition channels. (You may not get the same results with your cable system.) The RCA tuner grabbed the local Fox digital broadcast even in the depths of our testing room, a feat that Samsung's late-generation SIR-T160 tuner couldn't duplicate.
When I cued up the opening scene of Star Trek: Insurrection with my DVD player in interlaced mode, the RCA's 2:3 pulldown processing did a good job of making diagonal lines and edges on the upturned boats and the tops of buildings look solid. But when I switched back to Die Another Day, the telltale ridges in the Icarus satellite still looked a bit jagged. Of course, there's no need to worry about the TV's performance in this area if you have a good progressive-scan DVD player.
The Jinx/Bond bedroom scene makes a compelling reference for how well a TV reproduces black. In this case, deep shadows came across as dark gray instead, punctuated by tiny motes of greenish video noise. I also noticed distinct contours in some areas that should have appeared as even fades from one color to the next. When Bond infiltrated the facial-reconstruction clinic, for example, a pan away from a security camera to a mural depicting Cuban revolutionaries crossed a brown wall in the background, and I saw bands of color instead of a nice even gradation. The level of detail in the mural was excellent, however, and I could make out shiny flecks of earth in the wall.
Most people wouldn't notice the "rainbow effect" that can occur on DLP displays, but I did see it occasionally. When Bond is incarcerated by MI6 following his Korean ordeal, a spot of glare on the hospital floor grew rings of red, green, and blue. The rings appeared more often where dark and light areas of the picture were next to one another and when my eyes moved quickly from one section of the screen to another. Turning on a dim light behind the set and decreasing contrast reduced their incidence, however, and it didn't wash out the picture as much as it would have on a tube-based TV. RCA's bright DLP set actually thrives in environments with some ambient light.
The white snow fields in Ice Age revealed remarkably even light output across the RCA's screen, with the image retaining its intensity even when I watched from the extreme corners of the room. In this area, its performance was as good as that of a direct-view CRT set. But the colors of the animals' hides were a little washed out.
With its boatload of features and excellent connectivity, the Scenium is ready for the future. Sure, it has a few video glitches, but they're countered by solid performance in real-world lighting conditions. If you truly want to feel like part of the future, RCA's HDLP50W151 is as close to a time machine as current HDTVs get.
PDF: Features Checklist
PDF: In The Lab