2018 Top Picks of the Year Top Pick of the Year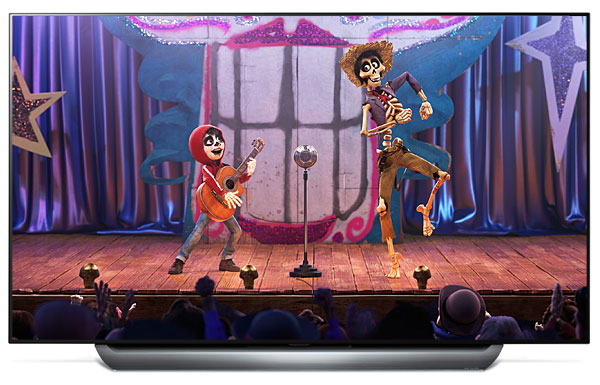 Top Pick of the Year:
Top Pick of the Year: LG OLED65C8PUA OLED UHDTV
(October/November) When Sound & Vision bestowed its 2017 Top Pick of the Year award on LG's OLED65E7P OLED Ultra HDTV, it was the first time in a few years a TV had earned that honor, and an acknowledgement of the technology's long-term marketplace viability (a notion no doubt hammered home by Sony's 2017 release of its own OLED model based on LG's raw panel). The award further served as acknowledgement that OLED managed to satisfy videophile performance expectations. It's true that OLED doesn't achieve the spectacular 2,000 nits or higher brightness levels that certain LCD models are capable of hitting, but light output with the latest OLED models has increased, and the technology's incomparable blacks allow it to deliver consistently excellent contrast.
While technical editor Thomas J. Norton found the improvements offered by LG's 2018 Top Pick of the Year-winning OLED65C8PUA to be evolutionary as opposed to revolutionary, there were several notable features that left an impression during his experience with the new model, which he was able to directly compare with 2017's OLED65E7P. These include a new Alpha 9 processor, an auto-calibration option for quick adjustment by a video calibration professional, and an evolved Dynamic Tone Mapping feature that ended up making a visible difference when viewing programs with high dynamic range.
Another key new feature of the OLED65C8PUA is a Logo Extraction Algorithm (LEA) designed to prevent image retention, something it does by limiting the brightness of stationary objects on moving images. Image retention (otherwise known as burn-in), which doesn't affect LCD models, is a potential problem with OLED displays. During the course of our review, LEA was found to decrease brightness of stationary objects by up to 40 percent—a level that should help put to rest any fears of OLED burn-in when watching baseball or gaming.
What was it like watching movies with the OLED65C8PUA? Viewing a new Ultra HD Blu-ray release of Braveheart, TJN stated that the Dolby Vision-enhanced image "looked little short of spectacular on the LG, providing one of the most jaw-dropping viewing experiences I've had to date." High praise indeed. Equally impressive is the $3,500 price of our 2018 Top Pick. At $1,500 less than last year's award winner, the OLED experience has now become more accessible to a larger swath of viewers.