15 Minutes with Moulin Rouge Director Baz Luhrmann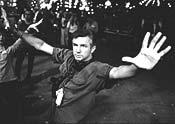 Since he first delighted audiences and divided critics with his stylized, idiosyncratic first feature, Strictly Ballroom, writer/ director Baz Luhrmann has gone on to make Romeo+Juliet and Moulin Rouge - each more ambitious, more stylized, and more dividing of critics than the last. Each has also had greater success at the box office and in accumulating awards both in the U.S. and abroad, with Moulin Rouge winning three Golden Globes and nominated for eight Oscars (results still pending at press time). Luhrmann's complete output has just been made available on DVD from Buena Vista and 20th Century Fox, and a "Red Curtain" boxed set is expected later this year.
I liked Strictly Ballroom and Moulin Rouge when I saw them in the theater, but they really took off for me when I saw them on DVD. Do you think that films like yours are better viewed at home? I think that in a good cinema - with a fantastic screen, perfect sound, and a great audience - it can be fantastic. But I love the DVD format, and I was deeply involved in the DVDs of my films. A lot of the things that I couldn't control in the cinema - like print quality, color, and the sound balance - are actually better on DVD. And my form of film is designed like symphonic music, where you're meant to experience it over and over again. It's very common that people say, "I've seen Moulin Rouge 12 times, and it feels like there are three completely different versions." It's about your experience with the film, and as you watch it, the layers peel off and different things become foreground for you. DVD is a very good environment for this.
Both you and Jean-Pierre Jeunet [director of Amélie] have used this more expressive form of cinematic language, and both of you have had greater and greater success worldwide. Do you see a new kind of filmmaking coming to the fore? Yes. It has to. I know Jean-Pierre very well, and you're absolutely right about the parallels. Both Moulin Rouge and Amélie have primary myth structures that can unite human beings anytime, anywhere, any place - because, basically, they are born of the human condition. They are both simple, but their poetic power comes from the way they are expressed. And they speak to savvy younger audiences that are very aware of naturalistic manipulation. With our films, it's no longer about "look how beautifully we create the illusion of reality," but "look how artistically the form is used in revealing the human condition." The audience is awake to what is going on, instead of being put into a dream state. They must participate. The contract these films make with them says, "This isn't reality, but nonetheless you can celebrate in the artifice. You can celebrate in the big lie to find the big truth."
---