Audiofly Headphone Sweepstakes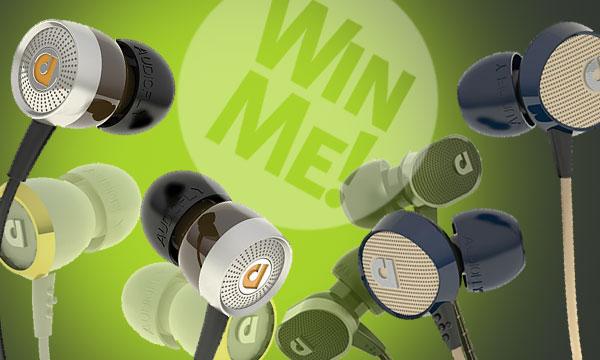 Register to win one of four sets of Audiofly Headphones (MSRP $30 - $200) we are giving away.
According to the company:
AF33
Made with high quality materials and precision manufacturing, the AF33 will play its heart out every time and astonish you with its sound quality. It arrives equipped with a custom voiced 9mm dynamic driver for detailed sound reproduction across the entire sonic spectrum.

AF45
Born out of obsession, the AF45 delivers clear, honest tones. Well-defined mids groove with a punchy bass and blend with stunning highs that chime like a church bell. Its custom voiced 11mm driver yields beautifully balanced bass, round mids, and a crisp high end for incredible definition. The AF45 has a noise isolating in-ear design, complete with four sets of Silicon ear tips that mold to your ears for better isolation and better sound.

AF56
Packing our largest in-ear driver, the AF56 delivers uncompromising sound, pumping out astonishing clarity over the whole spectrum with a rich and detailed bottom end… all with a nostalgic smirk. The custom voiced 13mm driver produces a powerful bass response, blended with effortless detail in the middle and high end.

AF78
The highly acclaimed AF78 offers a duet of technologies highlighted by a custom voiced9mm dynamic driver and balanced armature driver. Audiofly's AF78 is your ticket to truly sophisticated sound with ourcustom articulated dual drivers for incredible separation and beautiful detail in the high end with lush well-defined response in the lower and mid frequencies.
To enter the sweepstakes, all you need is an account on this website. If you don't already have one, click on the link labeled "register" at the bottom of this announcement or "Create new account" in the right column (under the ads). Then, enter a username and a valid e-mail address, and click on the "Create new account" button. A message will be automatically sent to the e-mail address you specified, which will include a link to activate the account.
The final step (and only step for those who already have an account) is to log in and leave a comment right here on this announcement—any comment will do, as long as it's not profane or spam. Then, when the sweepstakes closes, a lucky commenter will be chosen at random to receive the prize. So post a comment, and good luck!
For complete sweepstakes rules, click here.