Definitive Technology Mythos ST-L Loudspeaker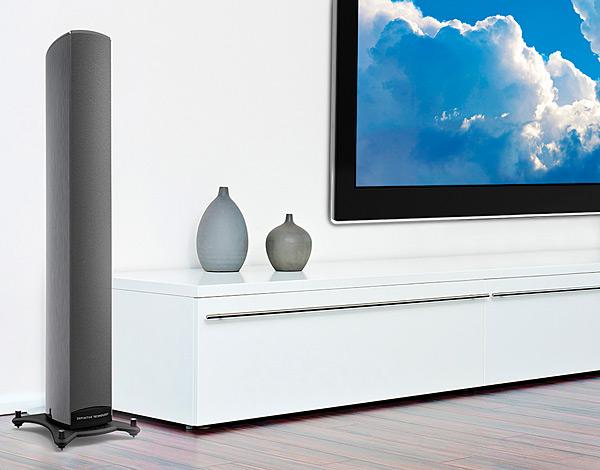 PRICE
$2,499 ea
AT A GLANCE
Plus
1,200-watt Class D subwoofer amplifier
IR remote control for woofer level adjustments
No support grid behind grille cloth to block midrange/tweeter array
Minus
They're pretty heavy
Remote control coverage too narrow to reach both speakers simultaneously
THE VERDICT
Def Tech's updated flagship is an uncannily neutral, disappearing speaker and an amazing value.
It's hard to believe that the original Definitive Technology Mythos ST was introduced seven years ago. At the time, the Mythos styling ethos—svelte, curved-back, extruded-aluminum cabinets—had already been around for a while, so the sleek, silvery design of the Mythos ST wasn't a dramatic departure. Sure, it was the largest Mythos speaker to come out to that point, but what made it especially buzzworthy was that the ST was the first Mythos speaker to include a powered woofer section.
Def Tech helped pioneer the concept of tower speakers with built-in powered woofers earlier, in its BP series of bipolar speakers. But, in the eyes of a lot of people, even the slimmest BP towers—deep, rectangular, cloth-covered, with gloss-black caps and bases—didn't look aesthetically appropriate next to a plasma TV. Rather than being solely Def Tech's problem, though, it was an issue for nearly every speaker company. Sadly, everyone simply accepted the fact that, unless you were willing to spend extremely significant amounts of money, you could have either great-sounding speakers or great-looking speakers—but not speakers that were both.
The Mythos speakers broke that paradigm, and with its powered woofer section, the Mythos ST absolutely pounded it into the dust. A reviewer I know well (a.k.a., me) opined: "You'd have to spend gobs more money to get anything else that offers this combination of performance and beauty. The Mythos STs are an audiophile's speaker wrapped in an interior designer's cabinet that sells for much less than you'd expect to pay for either." But that was in 2007. Seriously, Def Tech dudes, what have you done for us lately?
The Mythos ST-Lately
According to Dave Peet, executive VP at Sound United and Definitive Technology (but really just a guy who pretends to work by sitting around listening to music), the new Mythos ST-L is the company's long-awaited answer. Although it has taken seven years, the people at Def Tech made good use of the time (plus advances in technologies and materials) because, as Peet told me, they tweaked and tinkered with damn near every aspect of the original speaker's design in order to "re-imagine the ST" and "really kick some ass." (Crap, I think that last part was supposed to be off the record.)
I won't go into everything (you're welcome), but there are a few technical aspects of the ST-L that deserve mention. First of all, instead of a granite pedestal base, the ST-L stands on a solid, cast-aluminum, X-shaped platform with four top-mounted knobs used to adjust the spikes or footpads installed underneath. Rather than hanging off the back of the tower like a stubborn, skinny turd that refuses to drop, the detachable power cord attaches underneath the speaker through a central hole in the base and is cleverly prevented from inadvertently falling out by a small wire tie.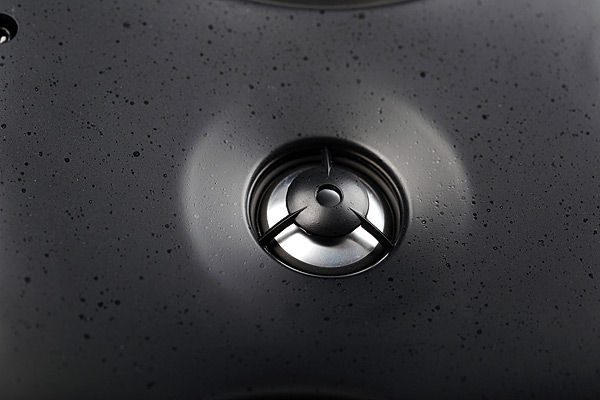 Then there's the almost nonexistent difference in size. At 53 inches high, the ST-L is only 1.5 inches taller than the ST, while the extruded-aluminum cabinets of the two speakers have the same 6.75-inch width and 9.5-inch depth. I'd have thought that for $1,000/pair more, the ST-L would have been taller or fatter or deeper—or all three. It's a good thing the ST-L isn't any larger, though, because its current size puts it very close to the border between coexisting within a room and totally dominating it.
Was Ist Das "Klippel"?
If the name Klippel rings a bell, it shouldn't. That's because the Klippel R&D System is "a collection of loudspeaker measurement tools that precisely analyze various large-scale (large-movement) performance parameters." In other words, it's used for pinpointing ringing and other types of distortion when designing speakers. Def Tech says the new-school Klippel System differs from old-school methods of measuring speakers in two ways: 1) It uses both high- and low-amplitude test signals to more closely simulate real-music requirements, and 2) Klippel uses a laser to "map" the surface of a cone or enclosure and identify causes of distortion. Although other companies do these sorts of tests, Def Tech claims to be "one of the few loudspeaker companies" that uses every tool in the Klippel chest.
OK, so the new Mythos ST-L is totally Klippel-icious. That and a dollar (plus tax) will get you a large iced tea at McDonald's. What's the big deal about some German dudes who sit in front of computer screens looking at graphs all day?