Polk Audio UltraFocus 8000 Headphones Sweepstakes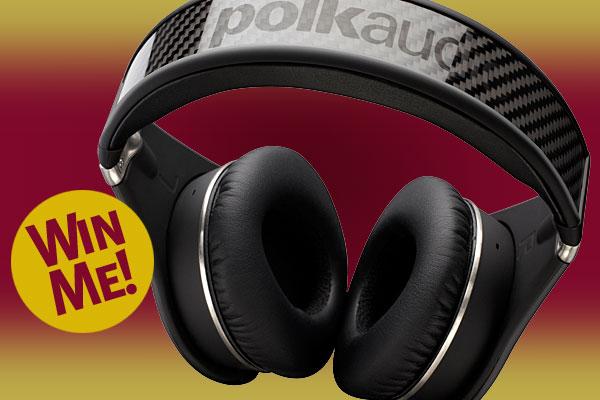 Register to win a set of Polk Audio UltraFocus 8000 Headphones Sweepstakes (MSRP $349.95) we are giving away.
According to Polk:
In the UltraFocus 8000, Polk has distilled 40 years of knowledge from our high-performance home speakers to craft a superb headphone listening experience. That's because we believe the quality of the sound you want to hear, your music, is more important than those you want to cancel.

The UltraFocus 8000 produces a truly amazing sound as easily on an airline or train, as it will at home in front of your stereo system. With SecureFit support, generously cushioned ear pads and Active Noise Canceling technology, you'll hear your music with extraordinary clarity and detail, even around high levels of ambient noise. Polk's patented Dynamic Balance Driver Technology, combines with active noise canceling and passive noise isolation, to produce an audiophile-grade listening experience.

In addition, an on-ear 3 button remote control and an in-line microphone enable you to use IPod, iPad and IPhones anytime, anywhere. There's also a push-to-hear ambient control that mutes the audio and amplifies outside sounds, so you can hear without removing the headphones. Details that add to an enjoyable listening experience include an ultra-flexible, tangle-free audio cable, made of non-microphonic material, that eliminates exterior sound transfer, and a lightweight carbon fiber headband for a snug yet comfortable over-ear fit.
Click here for more info.
To enter the sweepstakes, all you need is an account on HomeTheater.com. If you don't already have one, click on the link labeled "register" at the bottom of this announcement or "Create new account" in the right column. Then, enter a username and a valid e-mail address, and click on the "Create new account" button. A message will be automatically sent to the e-mail address you specified, which will include a link to activate the account.
You can enter once on HomeTheater.com. No more than one entry allowed.
The final step (and only step for those who already have an account) is to log in and leave a comment right here on this announcement—any comment will do, as long as it's not profane or spam. Then, when the sweepstakes closes, a lucky commenter will be chosen at random to receive the prize. So post a comment, and good luck!
For complete sweepstakes rules, click here.
[This Sweepstakes is now closed]