Baby Steps to HDTV
The process may be painful, but the result is a bundle of joy.
Every year, I throw a Super Bowl party. This year I hosted an AFC Championship party instead because I wanted to show my friends championship football in HD. The only post-season game I knew I could receive in HD was CBS's broadcast of the AFC Championship, which I pulled in using an off-air antenna. My friends, predictably, were blown away by high-def football.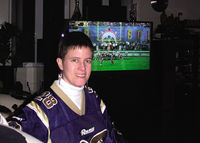 As I write this, it's the Friday before the Super Bowl, and I'm hoping to catch ABC's broadcast of the game in HD—this time via cable. Based on my recent history with my cable provider, Cablevision, I don't like my odds. A week ago—a day before Cablevision issued a press release stating that they would offer ABC's HD coverage of the Super Bowl to their digital-cable customers in
certain areas—a Cablevision customer service rep told me that I couldn't get HDTV until 2007. When I heard Cablevision's announcement, I redialed the company and learned that I could get an HD upgrade the next day if I swapped out my Scientific-Atlanta Explorer 4200 standard-definition digital-cable box for the 4200HD model.
How did HD availability go from 2007 to tomorrow in one week? No one at Cablevision is talkin', but I'll take it. Since ABC is offering the Super Bowl for free to cable companies, Cablevision will show the HD feed to digital subscribers on the Madison Square Garden (MSG) Network. After that, though, Cablevision's ABC HD plate will be empty because the company doesn't currently have a retransmission agreement with the major networks. Such is the frustrating state of HDTV in Rockland County, New York.
I've longed for HDTV since I first laid eyes on the stunning images five years ago at an industry trade show. Last fall, I decided that enough programming was available to justify investing in a Hitachi 57-inch 57XWX20B Ultravision digital set. My expectations were a bit naïve. My first hope was to replace my current DirecTV receiver with a high-def DirecTV box in order to receive HDNet, Discovery HD Theater, MSG, Showtime HD, and HBO HD. I was thwarted when Brian Sidle, owner of AAA Satellite in Bergenfield, New Jersey, thoroughly inspected my property and discovered that the canopy of trees in my backyard blocks the line of sight to the 110-degree and 119-degree high-definition satellites. I can only get standard DirecTV from the satellite that's located at 101 degrees.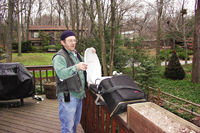 Next, I pursued the over-the-air option. The 57XWX20B has its own ATSC tuner, so all I needed was an anachronistic rooftop antenna. A visit to the Consumer Electronics Association's antenna Website (www.antennaweb.org) led me to the type that would work best for my location about 35 miles northwest of the Empire State Building, where the CBS antenna is located. After I plugged in my address, city, state, and house type, the site prescribed a category-green antenna (i.e., the large, multidirectional type). I went with a Channel Master Model 4228 UHF antenna, which has a specified range of 60 miles. I also purchased a Titan 2 preamplifier and a Model 9521A remote-controllable rotator to help me find HD broadcasts around my area.
Technician Richie Geng pointed the antenna southeast toward the Empire State Building, while Sidle monitored the signal strength on the Hitachi TV. They communicated via walkie-talkie and locked in the position at 184 degrees, the point at which they got a peak level of 91 on the signal-strength meter. Voilà! A beautiful CBS HD feed appeared on the Hitachi set. Weeks later, the AFC Championship game looked spectacular and was a huge hit with my guests, who commented on HD's three-dimensional look; the exceptional level of detail in uniforms, signs, and faces in the crowd; and, of course, the remarkable color purity.
When I'm not watching football, I can watch HDTV in prime time. Currently, WCBS and WYNY (Fox) are the only New York stations that broadcast HDTV over the air—CBS in 1080i and Fox in 480p. Fox also delivers a subchannel for independent station WWOR in 480i. Most of CBS's prime-time shows are available in HD, including CSI, The District, The Agency, Becker, The King of Queens, Everybody Loves Raymond, Still Standing, JAG, Without a Trace, Hack, and Yes, Dear. I occasionally sneak a peek at The Young and the Restless to see the great picture (fortunately, I've yet to become hooked). In terms of picture quality, Fox's 480p digital content doesn't come close to CBS's 1080i.
I plugged about 10 compass positions into my antenna and used my remote-controlled Channel Master rotator to try to snare other HD broadcasts that might come from Connecticut or western New Jersey.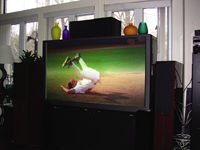 No luck. For now, I have to do a channel scan each time I change the rotator's position. Hitachi has a software-upgrade option that simplifies the process and lets you store channels and positions inside its ATSC tuner. Consumers who have the 57XWX20B can call Hitachi (800-HITACHI) to have a technician come out and slip a multimedia upgrade card into a slot on the back of the TV.
CBS looks great in 1080i, and I'm hoping for similar results when local NBC and ABC stations start broadcasting in HD. Both networks' local transmitters—along with other TV and radio antennas and emergency transmitting equipment—were located on the World Trade Center. The stations have since been seeking alternate locations. According to Ed Grebow, president of the Metropolitan Television Alliance—an association of 11 local broadcast stations formed to find a new location for a tower—stations are still awaiting approval for a new antenna site. "We're in the midst of the regulatory process," Grebow says. At press time, the alliance was waiting for results following public-comment periods from the New Jersey Department of Environmental Protection and the Federal Aviation Administration regarding a proposed transmission-tower site, which is near Newark International Airport.