Got HDTV?
Home Theater's guide to using indoor and outdoor antennas to pick up digital TV broadcasts.
It's funny how everything old is new again. Forty years ago, you might have watched from the backyard as Dad carefully climbed up a ladder to the roof, strapped a bracket onto the chimney, and attached a large T-shaped television antenna so that you could watch those glorious black-and-white (and sometimes color) images from I Love Lucy, Bonanza, The Wonderful World of Disney, Gunsmoke, and other TV programs of that era.
Things change. Over time, cable television and direct broadcast satellite (DBS) services like Dish Network and DirecTV have largely relegated TV antennas to the trash heap. Unlike Dad, you now spend your time hooking up coaxial cables to splitters to feed cable signals to all of your TVs. Installers scramble around on your roof, pointing small circular and elliptical dishes toward the heavens to capture movies and sports programming.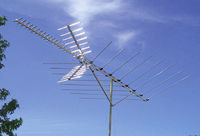 Just when you thought you'd seen the last of antenna rotors and chimney brackets, the FCC has launched a new all-digital television broadcasting service. It's so new, in fact, that only a handful of cable-system operators are starting to carry local digital TV channels that feature ABC, CBS, NBC, PBS, WB, and Fox programs. Got a DBS dish? Forget it. You won't find the digital 11:00 pm eyewitness news there, either.
The truth is, if you live in one of the major TV markets, you may not need cable or satellite service to get your HDTV fix. The trick is to reach back in time and use a TV antenna. "How archaic!" you might exclaim. True, but there are several advantages to getting your digital TV via the airwaves: 1. It's free. No monthly fee is required to pick up your local channels; just a DTV tuner or an integrated DTV set. 2. In most cases, you get the best video quality possible. There's no overcompressing of digital audio and video just to pack in a few more TV channels. 3. You have a programming backup in case your cable goes on the fritz or your DBS system fails.
The ATSC digital television broadcast system works quite well, much better than some industry pundits claimed in the early days. No, the system isn't perfect yet. There are problems with signal dropout, and reception of DTV signals in cities or in rural, hilly areas can be problematic. But so is reception of our current analog (NTSC) TV system, which is the reason cable TV came into being. Unless you have a clear, unobstructed path to the TV transmitter site, it's almost impossible to get perfect audio and video.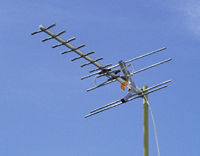 That's not the case with the ATSC system, which is best described as a river of digital bits and bytes floating on a TV channel. All that's required is enough signal to capture this stream of audio and video data, and that amount is far less than that required for snow-free, ghost-free reception of analog television. In theory, for successful reception, an ATSC digital TV signal (carrier) needs to be at least 15.3 decibels stronger than the background noise. Since we don't live in a theoretical world, that signal threshold has proven to be a bit higher—say, about 20 dB or so.
Of course, a 20-dB carrier-to-noise analog TV signal would look pretty crummy, with lots of noise in the picture and in the sound. You've probably seen this kind of picture when you've adjusted your TV's rabbit-ears antenna or watched a ball game on a portable TV in your garage or backyard. On the other hand, once the signal is acquired, a 20-dB carrier-to-noise DTV signal is perfect. Your receiver merely decodes a stream of digital packets containing video, audio, and program information, so you won't see ghosts or noise. With even more signal, your DTV set-top receiver or integrated TV can tolerate multipath (multiple echoes of the original signal arriving in and out of phase at the receiver) and fading (normal up-and-down signal levels due to atmospheric conditions).
Given that most TV stations now have or are switching to all-digital signal distribution, you'll notice that even standard-definition TV programs look better in digital than in analog form. And, of course, digital TV enables high-definition television, which has spectacular picture quality and is usually available with Dolby Digital 5.1 sound.
I've been watching over-the-air digital television since the fall of 1999, using a variety of indoor and outdoor antennas and several generations of DTV set-top receivers. As I write this, I can watch 13 different DTV stations from as far away as 70 miles, using a modest rooftop antenna and preamp. I can pick up six of these stations indoors in my home or office with an even smaller antenna.
Antennas may have fallen out of favor for analog TV, but they can be your ticket to a new level of TV viewing. And what's so bad about an outdoor antenna? You need an outdoor dish antenna to get premium-quality programming from Dish Network and DirecTV, don't you? Once you see the quality of broadcast digital TV, you'll realize that it represents a different kind of premium-quality programming, one that's worth the effort.
Want to get with the program? This primer will help you understand how to choose and set up an antenna for your DTV receiver, covering all of the parts in your reception—from the antenna to your DTV set-top receiver or integrated DTV set.
The Weakest Link
Your DTV setup will only be as good as the worst-performing component in the whole system, which is made up of the following items: an antenna, preamplifiers (if used), a feedline (also called a downlead, antenna lead, or coax), splitters (if used), and the actual DTV receiver or set-top box. Problems with DTV signal reception can happen anywhere in this chain. The antenna you've chosen might not have enough gain at the desired reception frequencies (a common problem). There could be a mismatch between the antenna and the feedline. The preamp might be noisy or unstable. The feedline or splitter might attenuate too much signal at the desired reception frequencies.
Even DTV set-top receivers can cause problems. Sharp's original TU-DTV1000, Sony's SAT-HD100, and Panasonic's TU-DST50/51 series had documented problems with decoding digital TV program data and playing back audio and video without dropouts. The digital program data that broadcasters send out isn't always clean, which can result in reception headaches. So, let's get started with the first link in the chain: the antenna.