DVE (Digital Video Essentials): HD Basics
Anyone can calibrate.
According to Websites that investigate such things, there are 219 million televisions in the United States. That averages to about 0.74 TVs per person. Bermuda leads the world with more than one TV per person (must be all those hotels). And China reports it has 400 million TVs in all.
However, I don't know of anyone who is keeping statistics on how well those sets are adjusted. I would guess that no more than a quarter million of the televisions in the U.S. are properly set up. And it's unlikely that more than a fraction of that number is fully calibrated. Most viewers are blissfully unaware of the problem. They watch their sets either with the default settings or with the brightness, contrast, color, and sharpness controls cranked up to 11 (convinced that this setting will produce the brightest and punchiest picture).
Not our readers, of course. You all know that setup DVDs of various degrees of complexity have been available for a long time. You can find basic setup assistance in the menus of THX-certified DVDs. Another useful product is the HDTV Calibration Wizard. The product, a joint effort from Monster Cable and Imaging Science Foundation (ISF), uses real-world program material. Apart from average visual acuity and the ability to access your set's basic video controls, it requires no advanced skill or knowledge.
However, the granddaddy of them all is Joe Kane Productions' Video Essentials in its various versions. The original release came out on Laserdisc in the mid 1990s. JKP subsequently released the title on DVD. The company created an updated version in the new millennium that it dubbed Digital Video Essentials. It released the disc in high definition on a limited D-VHS release, in separate 720p and 1080i versions.
But in today's HD world, tape is out and Blu-ray Disc is in. Enter DVE (Digital Video Essentials): HD Basics.
You'll find much of DVE: HD Basics' content familiar if you've used Digital Video Essentials on DVD. However, the menus and navigation are all new and improved. The only occasional glitch I encountered in my testing proved to be a problem with the players, not the disc. Some players were choppy on the moving portion of the menus (the Pioneer BDP-95FD), and some had legibility issues (the Samsung BD-P1200). But others (such as the Panasonic DMP-BD30) responded smoothly.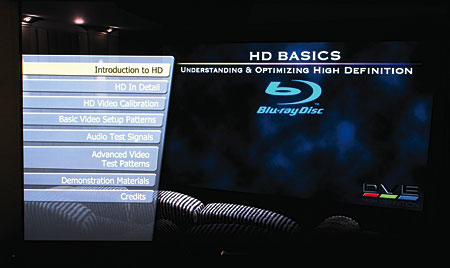 Once you click on a selection from the menu, another menu pops up with thumbnail shots of various options, such as the available test patterns. You can select one of the options or choose Play All. The disc offers extensive guidance on how to use the test patterns. It explains the patterns briefly on the selection menu itself and more thoroughly in the supplementary features. A few of the explanations are a bit eye glazing (Pixel Phase, for example). However, the disc clearly explains the patterns you're likely to use most often. It helps you set the basic video adjustments for your display in easy-to-follow terms.
The disc contains all of the test patterns in both 1080p/24 and 720p/24. But it does not include full-screen white, color, or black patterns. In my mind, this is the most significant omission. Still, those patterns are probably more valuable to a person who wants to use them to measure a set, rather than just set it up properly.
The disc also includes an audio-setup menu. Although the audio offerings are limited, they're still useful. However, I would have added fixed and separate low-frequency test tones for each main channel and the LFE channel (mainly because this audio test is surprisingly hard to find elsewhere). These tones are useful for determining whether your bass management is properly routing the low frequencies to the subwoofer. If your system doesn't have a sub, they also help you determine if your system is properly routing the center, surround, and LFE bass information to the large main speakers.