Digital Video Essentials: Short Take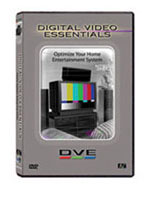 $25
The latest iteration of video expert Joe Kane's
Video Essentials
, the
DVE
DVD is already an industry standard. Revised and updated,
DVE
has everything you need to dial in your home theater, and more than a few patterns we use in our reviews at
UAV
to evaluate the performance capabilities of source components and displays. In addition to providing the test patterns, it also tells the less initiated how to go about making adjustments in a clear, concise fashion. For just $25 you can elevate the performance and accuracy of your entire system.
WHERE TECHNOLOGY BECOMES ENTERTAINMENT