Built to Scale
Is a 1080p video processor worth the investment?
Remember the days when interlaced was a term used primarily by basket-weavers, and scaling was something the dentist did to your teeth when you didn't floss? Ah, those were good times. . . simpler times, when you didn't need a degree in electrical engineering to pick out a new television set. As we enter the era of large-screen 1080p displays, video processing—or the ability to convert all signal types, from 480i SDTV and DVD to 720p/1080i HDTV to 1080p high-def DVD, to a TV's native resolution—plays a more important role than ever before in overall performance. Even an average TV can make high-quality HD sources look good; the real test is how good a lesser-quality 480i signal looks when blown up on that big 1080p screen.
Fortunately, TV manufacturers now pay more attention to processing functions like scaling and deinterlacing. Many of the new 1080p TVs that pass through our testing studio perform at least average in this regard. The better news is that, if your TV doesn't handle these functions very well, or if you simply demand a higher level of performance, there are a number of standalone video processors on the market that can take the reins. Companies like Algolith, Calibre UK, and Anchor Bay now offer standalone 1080p processors priced under $3,000. Admittedly, that might be more than you paid for your HDTV—which begs the question, is there enough of a performance improvement to merit the cost?
Due Process
To answer that question, I tested all three processors (Algolith's Dragonfly, Calibre UK's Vantage-HD, and Anchor Bay's DVDO iScan VP50) on an 80-inch-diagonal screen in concert with an Epson Home Cinema 1080 projector. The processing inside this $2,999 1080p projector is representative of many displays I see. It ably handles film-based sources, like SD and HD DVDs and many prime-time HDTV shows, but struggles with video-based sources, creating some jaggies and stair-stepping artifacts with sporting events, concert videos, and other video-based content.
I was happy to see that all three processors met my most basic performance demands. They output 1080p/60 via HDMI, as well as other common HD resolutions like 1,280x720p or 1,366x768p, in case you don't have a 1080p display. My Silicon Optix test discs revealed that they correctly deinterlace 1080i and pick up the 3:2 sequence in film-based 480i and 1080i sources. Of course, test discs don't tell the whole story, and each model performed differently with real-world content, revealing different strengths and some limitations that I'll discuss below. In the end, none of these processors eliminated every single artifact from every single source, but all three offered improvement over my display device, particularly with more challenging video-based sources.
Scaling and deinterlacing may be a video processor's bread and butter, but that's not all these three products bring to the table. A crucial feature is their ability to transcode analog video signals, like component video and RGB, to be output via HDMI. This allows you to connect a variety of sources and feed a single cable to your display device, which is especially important if your display has limited inputs or is located a long distance from your equipment rack. They also feature advanced picture and aspect-ratio controls to fine-tune the image, as well as audio inputs/outputs and lip-sync adjustment to remove lag between audio and video signals.
Algolith Dragonfly ($2,995)
The Dragonfly uses Silicon Optix's Realta HQV chip to handle its processing duties, and it's capable of 43 predefined output resolutions. With 1080p/60 HDMI output, it rendered the most detailed picture of the three processors, but motion was not always as smooth as it could be. Its deinterlacing of 1080i content from both component video and HDMI sources was clean; the deinterlacing of 480i sources was also good, although a bit better through the component video input than HDMI. It did a solid job transcoding a composite-video DVD signal all the way up to 1080p HDMI output.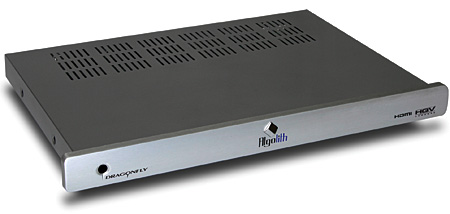 The Dragonfly had the fewest A/V connections, including two HDMI inputs but only one component video input and no RGBHV input. It's the only product in the group with a dedicated component video output, though. It has ample picture adjustments, and you or your installer will definitely want to adjust the contrast, brightness, and sharpness controls because the default picture settings crush black and white detail and add edge enhancement. Also, be careful which Adaptive BCE (Brightness Contrast Enhancement) mode you select, as several of these modes permanently crush black. The Cinema and Graphic modes are best for home theater, as they provide better black detail and create less noise in light-to-dark transitions.
The Dragonfly had some ergonomic drawbacks. It's pretty loud, it was slow to switch between resolutions with my DirecTV receiver, and the remote lacks direct input and aspect-ratio buttons. Combine these with its limited connection panel, and it may not be the best choice for the hard-core video enthusiast. However, its simple interface and manual, good processing, and component video output make it a fine choice for the general consumer looking for improved video quality.
Calibre UK Vantage-HD ($2,899)
The Vantage-HD also uses the Realta HQV processing chip and has similar processing modes, aspect-ratio options, and picture adjustments as the Algolith. But this unit ups the ante by including RGB gain and offset controls to calibrate gray scale, as well as a picture-in-picture function to simultaneously view content from different inputs. It also has a healthier back panel, sporting two HDMI and component video inputs, an RGB input and output, and more audio inputs.
The setup menu includes 20 predefined output resolutions, plus a custom mode. You can set different picture parameters for each input and each resolution within that input. The preset "contrast enhance" modes do not permanently crush blacks, but you'll want to take the time to adjust the inputs to improve black detail and reduce edge enhancement.
When set for 1080p/60, the Vantage-HD performed solidly in all processing respects. I noticed a few more jaggies with 1080i video content, and the picture wasn't quite as detailed as that of the other processors, but this one offered the most consistent performance with both HDMI and component video sources of any resolution.
You have to set up and name each input you want to use; then the remote's number pad doubles as direct input buttons. The remote's strangely unnamed red button scrolls through aspect-ratio options. The user interface is easy to navigate, but the processor was slow to switch between resolutions with my DirecTV receiver, and the internal fan is a little noisy.
The Vantage-HD is the least expensive model in the roundup. Nevertheless, it offers a nice assortment of connections and features and generally good performance that should suit all but the most discerning videophile.
Anchor Bay Technologies DVDO iScan VP50 ($2,999)
The VP50 caught my attention right out of the box, boasting the best build quality and the most connections, including a whopping four HDMI inputs and two component video inputs. It's the only one with an LCD screen to navigate the menu, and its larger remote includes direct input and aspect-ratio buttons.

The VP50 uses Anchor Bay's Video Reference Series (VRS) processing chip, which provided the largest assortment of deinterlacing modes: auto, film bias, video, forced 3:2, 2:2 even, 2:2 odd, and two gaming modes. It features 34 predefined output resolutions, plus a custom mode. There's not enough space to describe this unit's extensive customization features to precisely tailor frame rate, color space, aspect ratio, and more. It has basic picture adjustments but forgoes advanced color and contrast modes; its default picture settings were the most accurate, requiring minimal setup to enjoy a natural-looking picture, without crushed blacks or edge enhancement.
With 1080p/60 HDMI output, the VP50 did an excellent job deinterlacing 1080i content from both component and HDMI sources; I felt that 480i signals looked better through the component video inputs. The overall detail level was very pleasing, maybe a hair less than the Algolith, and motion was nice and smooth. The VP50 also did a slightly better job transcoding the composite-video DVD signal than the other two processors.
The VP50's extensive setup options might overwhelm the average user. However, once you get past initial setup, its remote and functionality are well suited for everyday use. I like that it does what it's supposed to do on the processing end without editorializing the image quality, and it has enough inputs to accommodate a complex home theater system. The iScan VP50 is definitely the videophile's processor, and its performance won me over.