The Prize Winner of Defiance, Ohio—DreamWorks
Video: 3
Audio: 3
Extras: 2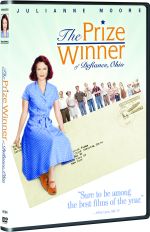 Midcentury small-town homemaker Evelyn Ryan keeps her family of 10 kids fed and cared for with prizes from advertising writing contests. Julianne Moore carries the show as the titular prize winner, and Woody Harrelson inhabits his role as a drunken train wreck of a husband to the hilt. But, ultimately, the movie loses steam and becomes repetitive. Harrelson drinks away another paycheck, Moore wins another contest, the kids get to live on the ragged edge of disaster for another week. This harrowing film's marketing as a "witty and engaging" comedy should be considered seriously false advertising.
The 1.85:1 anamorphic picture is perfectly serviceable, but the cinematography never climbs much above movie-of-the-week level. This certainly isn't the disc you'd want to use to demonstrate your home theater. Viewers have a choice of two audio tracks—Dolby Digital 5.1 and Dolby Digital Stereo—both of which are clear and nicely balanced, although the 5.1 sounds a bit crisper. The sound editors have done a good job mixing in the subtle sounds of suburban life—birds twittering in the backyard or a radio playing across the street. In addition to a standard commentary by director Jane Anderson, the disc's producers have taken the unusual step of giving Moore her own audio track.
Features are particularly weak on this DVD. Other than the commentaries mentioned above, there's just a photo gallery of the real-life Ryan family. A miniature documentary on the culture of jingle contests might have been nice. Instead, we're left wanting more—from the film and from the DVD itself.
LATEST VIDEO