Sci-Fi TV on DVD: The New Generation
We last wrote about the explosion of science fiction TV shows on DVD in a two part feature that appeared in the November 2004 and January 2005 print issues of
Ultimate AV
. Those features, which covered the gamut from
Star Trek
to
Babylon 5
, will be posted on the website in April. Watch for it
.
But the hits keep right on coming. This new entry looks at some of the more exciting new releases, and re-releases of old favorites, which have appeared in the past year.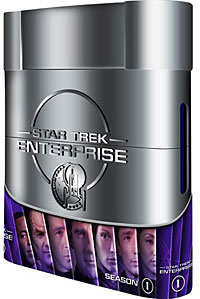 Star Trek: Enterprise
Paramount
Seasons 1-4
Separate box sets, $129.99 each
Starting its broadcast life as simply Enterprise, (though the titles of these box sets might suggest otherwise) this fifth Star Trek series is set in a time well before Captains Kirk to Janeway. It attempted to tell the back story of the Star Trek universe, taking place 100 years before the Starship Enterprise of the original series started out on its (abbreviated) five-year mission.
The concept—to show how things were before Kirk, Spock, and crew stepped onto the scene—was a good one. How did humankind take its first tentative steps beyond the solar system? How did our reluctant interstellar friends, the Vulcans, help or hinder us in that effort? And how did the familiar antagonists—Klingons, Romulans, Andorians, and others—respond?
Cancelled after just four seasons (a longer run than the original series), Star Trek: Enterprise, as it was renamed in its third season, never caught on big with fans of the franchise. Many hated it. The fact that it was up against endless syndicated repeats of all the other Star Trek series certainly didn't help. Simply put, there was Star Trek saturation on broadcast and cable television—a glut that only an exceptional series could break.
Enterprise, out of the gate, was anything but exceptional. Its first two seasons produced the sort of mixed results all Star Trek series have suffered in the early going. The problems began with a theme song that broke with the long tradition of orchestral introductions. It wasn't a bad song, but it was a jarring departure made even worse by the addition of a backbeat in the second season (though the new version did, at least, sound better).
But it was the wide variation in the quality of the stories in those early years that led to the exodus of fans, many of whom didn't stick around long enough to witness the dramatic turn-around in quality in seasons three and four.
Looking through the 52 episodes in those first two seasons, I can only find 15 that I would ever care to watch again, and some of those only because they provide necessary background for seasons three and four (see a list of those episodes at the end of this review.) If you watch only these episodes, you'll experience the launch of a good if not great series. Watch all of season one and two, however, and you might well give up on the show, as many fans did.
That would be a mistake. In season three, the decision was made to develop a story arc that would cover the entire season. After Earth undergoes a devastating attack from an alien civilization called the Xindi (pronounced Zindi), the Enterprise sets out to locate the perpetrators and destroy the similar but even larger weapon they are building—a weapon that could literally destroy the entire planet. The show finally hit its stride in a big way with the third season's intricate plotting, rich character development, fine performances, and superb special effects,
While there were a number of standalone episodes in season three, only one was truly compelling and not to be missed. "Similitude" withstands comparison with the best character-based Trek episodes from any of the preceding series.
After season three, I couldn't believe the Enterprise writers had an even better season in them, but they topped themselves in season four. I missed most of these episodes when originally broadcast, having abandoned it after its banishment to the television purgatory of Friday night. I was also irate that the show was not available in Los Angeles in high-definition—as it was in many parts of the country. The Friday night, lights-out slot is the same fate that doomed the original series, and history repeated itself here.
Unlike the dismal third season of the adventures of Kirk and Spock, Enterprise came out of the gate running in its last year and didn't let up until a peculiar final episode. That finale was dominated by "guest" appearances from the cast of Star Trek: The Next Generation, with the cast of Enterprise dropping in for a visit! However, that last show was saved by its last 10 minutes. It was as moving a wrap-up as any of the previous Star Trek's gave us, and provided perhaps the most important link in the whole Enterprise back-story.
Most of season four consisted of mini-arcs—stories that extended over several episodes, followed a week or two later by another arc. There are only a few standalone episodes scattered throughout—none of them particularly memorable. But the story arcs are all first-rate, even if one of them does borrow shamelessly (in Hollywood, that's known as an "homage") from the "Mirror, Mirror" episode from the original series. The Enterprise two-parter seems to come out of nowhere and ends abruptly. While it's fun, it's also dramatically muddled. I can't help but wonder if the producers had planned to follow up on it with additional episodes in the aborted fifth season.
The quality of the video in the final two seasons is impressive, particularly season four. The first two seasons were acceptable, though unusually soft for widescreen anamorphic transfers (the first Trek series not shot in 4:3), with uneven brightness levels. In the last season, however, the show's producers switched from 35mm film to 24fps HD video. The often dimly lit styling of the series benefited significantly from the transition, with a look that fell comfortably between that of film and video. The visual improvement from earlier seasons is not subtle.
The special effects—in season four, at least—are some of the best that ever created for televised science fiction, holding up to close scrutiny even when projected onto my 78-inch wide screen. I'd give season four a four-star picture quality rating if only for one reason: there were numerous times when I involuntarily sputtered "wow" while watching it!
As is usually the case with standard definition video, medium and longer shots can be a little soft (though never fuzzy). But in that last season the close-ups that are a common feature of television shows are often stunningly crisp. There is no visible edge enhancement in any of the season box sets, the color is excellent (though this is not, in most cases, a brightly-hued series), and shadow detail is more than respectable. Digital artifacts were never a distraction.
The soundtracks on Enterprise are also the best I've heard from any Star Trek series, falling short of only a few recent DVD transfers of TV science fiction, such as Farscape and the new Battlestar Galactica. This is particularly true of the final season. The music in many of those last episodes is not only more prominent than with most Star Trek productions, but also includes excellent scores from several composers new to the Trek universe.
Extra features include the usual commentaries and deleted scenes, though only for a few episodes. There are also "Making of" featurettes on the final disc for each season, and the occasional blooper reel. It's well short of a gold mine of inside information, but fans will eat it up nevertheless.
Because of its dynamite final two seasons, Star Trek: Enterprise deserves more attention than it has received from fans. I will even go so far as to suggest that season four, taken as a whole and considering both dramatic and technical quality, is the single best season of any Star Trek series ever produced.
As is the usual Trek practice, Paramount is demanding premium prices for these box sets. My advice: rent seasons one and two for the back story, and view the episodes listed below. But definitely consider adding seasons three and four to your collection- particularly the latter, which offers the most striking audio and video available on DVD from any Star Trek series. It's a real find, and an unexpected gift for the home theater fan, particularly one blessed with a big screen.
Recommended episodes from the first two seasons: Broken Bow, The Andorian Incident, Breaking the Ice, Cold Front, Shadows of P'Jem, Shuttlepod One, Shockwave Part I, Shockwave Part II, Dawn, Stigma, Cease Fire, Future Tense, Regeneration, The Expanse.
(Missable) stand-alone episodes in season three: Extinction, Impulse, Exile, North Star, Chosen Realm, Doctor's Orders, Hatchery.
(Missable) stand-alone episodes in season four: Daedalus, Observer Effect, Bound