In-Your-Face Football Reality Check
Reality Check
Setting up and running a Super Bowl HDTV party like this sounds like a blast, right? Time for a reality check. Over the four years that I've hosted this party, my actual accumulated TV viewing time during the games totals about 30 minutes. That's it. When you host a party of this size (our official attendance for 2003 was 54 guests) and have to refresh food and drink, wash dishes, clean up messes, and fix the odd technical glitch here and there, you can't expect to actually sit back and watch the Super Bowl.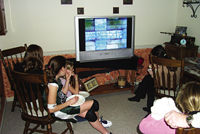 So, why do I host this party every year? Simple. As a writer and consultant, I see plenty of high-definition programming on a regular basis. These HDTV parties are a chance for friends who have seen very little HD (or perhaps none at all) to enjoy the moment, relishing the detailed picture and lush sound in a fun, social atmosphere. (It's likely that a few of them will purchase an HDTV this year as a result.)
If you're thinking of running your own Super Bowl party and have similar ambitions to scatter several displays throughout your house, do the right thing and organize your priorities. You are a host first and a football fan second. Be prepared for a lot of prep work and several hours of cleanup and striking the equipment following the game.
Just can't bring yourself to miss the Super Bowl? Then wrangle an invite to someone else's party and enjoy yourself that way. You'll really be popular if you can help the host set up an HD display or two to watch the action.