Yamaha RX-V3900 A/V Receiver Page 2
The Yamaha's sound remained impressively smooth even with old-school Dolby Digital in the DVD release of Burn After Reading. Soundtrack composer Carter Burwell festooned the goofy comic-intrigue plot with straight-faced action-movie tympani. The drums had enormous depth, impact, and bloom—even as the receiver played the Paradigm speakers full range, with five 7-inch woofers and no subwoofer. There was a strong contrast between the scenery-chewing dialogue, which was recorded flat and stayed close to the center speaker, and the music, which spread around and slightly outside the speakers. I know that sounds obvious, but it was more striking than usual.
Pure but Not So Simple
I first heard Murray Perahia's performances of Beethoven piano sonatas numbers 12, 9, 10, and 15 on my Era/Onix/Pinnacle 2.1-channel desktop system. This reminded me of the fact that I rarely use an AVR's stereo purist mode. But the sheer quality of the Sony Classical recording, even on a mere CD, was so mind-boggling that I was reluctant to subject it to any soundfield manipulations, even good ones. So I cut back to stereo and engaged the Yamaha's Pure Direct mode using the blue LED button on the front panel. This effectively shut down the soundfield programs, front-panel display, GUI, and all other video output (although you can configure Pure Direct in the setup menu to enable video).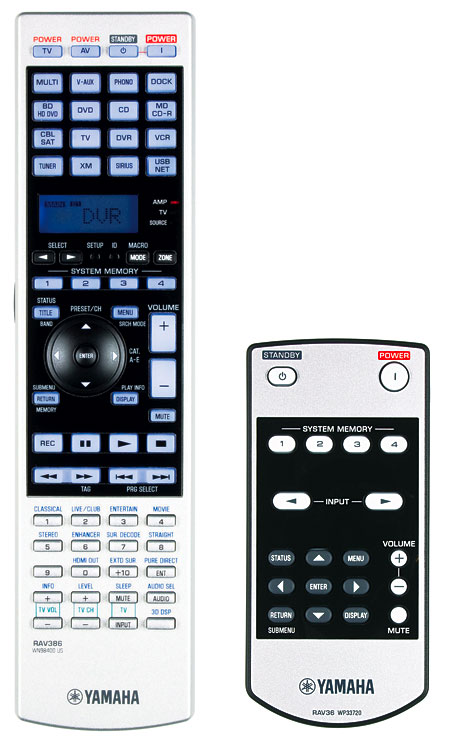 The performance is recorded in a German radio studio—where the level of technological aspiration takes on the intensity that Americans reserve for the space program.Perahia's Beethoven set is clearly the product of keen ears, including those of the pianist and the engineers. In my audition, the reverb was a tight marriage of direct and reverberated sound. The decay was well developed, but it never completely detached itself from the piano as an echo. I could sense Perahia listening to the ambience and adjusting dynamic subtleties like a true master. Every dynamic shift, even a small one, transformed the piano's tone color. The balance between the left and right sides of the keyboard was spot on, although the far left keys would have benefited from a subwoofer. Yamaha's musically balanced midrange—no hype, but no dumbing down either—let this perfect recording come to life. Oh, that life could be this good all the time!
I switched back to my usual default, the Dolby Pro Logic II music mode, for Van Morrison's 1974 live album, It's Too Late to Stop Now, on vinyl. This added a little needed fullness to the flatly recorded soundstage. The emphasis is on Morrison's mercurial voice. It's mixed right up front but not gratingly so, and it's supported by a band as limber, nervy, and scrappy as the singer himself. Strings, horns, and drums were somewhat recessed in the mix, and the Yamaha discreetly left them where the mixer placed them. David Hayes' fluid, voluble bass was warm and prominent, even without a sub. The best word for Yamaha's treatment is objective. In "Listen to the Lion," as Morrison tapers down into that reflective dreaming territory only he can access, surface noise became apparent. Although this was an annoyance in my youth, it now feels like some artifact of authenticity. I wouldn't trade this old vinyl for a download even if the digital version were free.
Sticking with vinyl, I went on to Mingus at Antibes. DPLII added to the sense of live immediacy, but even in stereo, there was considerable ambience, as the receiver's unusual two-channel prowess came to the fore again. The lower register of Eric Dolphy's bass clarinet was riveting, and the Yamaha delivered its full quota of rich overtones. Dannie Richmond—heard only a few years after Mingus persuaded him to switch from sax to drums—gets a full drum sound that makes his rolling polyrhythmic solo even more of a knockout.
Perhaps I shouldn't be too quick to reshelve these things. I may want to hear them again soon. I can't think of any higher praise for a receiver. I felt I'd gotten a little closer to music than I normally would, sitting with my notebook, trying to be professional.
After the critical listening was over, I explored a few of the Yamaha's other source options. PC connectivity is via Ethernet (no Wi-Fi), so I ran a cable from the router on my desk to the system rack on the adjacent wall. Internet radio became available immediately. To get music from my Lenovo ThinkCentre A61e desktop PC in Windows XP, I booted Windows Media Player 11, looked under the Library tab, enabled media sharing in general, and then enabled it specifically for the Yamaha. A minute or so later, the Lenovo appeared in the Yamaha PC/MCX menu, and I could select tracks by the usual means (artist, album, etc.). The connection was not instant, but it was pretty quick, and I never had to do anything degrading like key in a network address. That would have been against my principles.
Full House of Joy
Considering what today's receivers routinely deliver for a grand, or even less, some people may raise an eyebrow at a $1,900 model like this one. But the Yamaha RX-V3900 A/V receiver makes a strong case, with beefy and musically reliable sound, coupled with a bevy of music-connectivity features that really reflect the way music lovers listen now—via PC, Internet, portable devices, and for the rapidly growing class of young analog listeners, a moving-magnet phono stage. By spanning the generations, this receiver should make a whole house full of disparate people happy.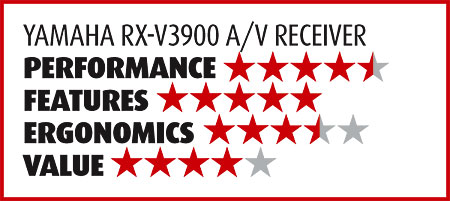 LATEST VIDEO