Yamaha RX-V3900 A/V Receiver
Price
: $1,900
At A Glance
: Dizzying array of music networking features • Superb video processing from Anchor Bay • Eight-point auto setup and room EQ
Of Tea Leaves and Logos
An A/V receiver isn't just a product. It's a series of diplomatic handshakes. Sure, manufacturers develop some of the technologies that go into their products, but they also license a lot of the technologies from other outfits—which enhances their products with the fruits of many different R&D labs. The Yamaha RX-V3900 is a beefy powerhouse on paper, rated at 140 watts times seven, but if you check out Yamaha's Website, you'll more likely notice the sheer profusion of logos. I counted no fewer than 24 different ones. You can read them like tea leaves.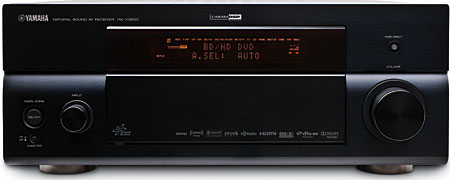 Some are Yamaha born and bred. These include YPAO automatic setup and room correction, which optimizes the latter by measuring from eight points in the room. Others seem to relate to generic features, like HDMI (a licensed feature) and 8CH EXT. INPUT (not a licensed feature).
No A/V receiver would be complete without surround codecs from Dolby and DTS, old and new, which extract multichannel soundtracks from a variety of media. But Yamaha generously lards this model with additional options including SRS Circle Surround, Neural Surround (which just parted ways with THX and was purchased by DTS), and its own Cinema DSP. It also has VRS video processing by Anchor Bay, which may improve on that in your DTV or signal source—see our Video Test Bench.
Radio options are generously represented, with built-in support for Rhapsody's streaming library and separate logos for the now merged but still separate XM and Sirius satellite radio networks.
HD Radio also beefs up the traditional analog FM tuner. Want to connect a portable device? There's a Made for iPod logo on the optional YDS-11 universal dock ($99). Incidentally, the HD Radio tuner supports iTunes tagging. If you hear a tune you like, you can tag it, and HD Radio provides the info to direct you to that song in the iTunes store to purchase it.
The Bluetooth logo on the optional YBA-10 wireless receiver ($129) signifies wireless capability. The RX-V3900 plays back any A2DP Bluetooth content from any compatible device. Some portable players are compatible on their own, while others (including iPods) work with an adapter. And the receiver can play music from USB devices, such as an external hard drive or thumb drive.
Perhaps most novel are three PC-related logos: Network Receiver, Certified for Windows Vista, and dlna-CERTIFIED. (Is someone having trouble with the cAPS lOCK?) These let the AVR stream music from Internet radio stations or up to 15 PCs on your home network. The network connection also lets you operate the receiver remotely with either a PC Web browser or a browser-enabled portable device.
Hub of Activity
Paradoxically, for such a hotbed of technological intrigue, the RX-V3900 hews to the well-established Yamaha look. That includes the familiar amber display, which I've always loved, and a stripped-down front panel that only includes a volume knob, a source-select knob, a Pure Direct button, and two power buttons—one for standby and one for total shutdown. Additional items are located behind a flip-down panel, which includes navigation, tuning, zone control, front-panel inputs, etc. Most of these functions can be handled from the remote.
Speaking of the remote, it shows Yamaha's attention to detail. The volume keys are the largest ones and fall just where a right-handed person's thumb would seek them. The navigation rocker is right next door, and while it could be a little larger, it works well. Below the nav controls are transport keys, and below them are other miscellaneous buttons, many that relate to surround modes.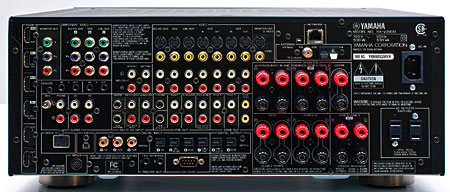 Above the nav controls are four macro keys, which you can program to memorize multiple commands. A liquid crystal display is located above the macros. Its blue backlighting comes on (along with button backlighting) whenever you press any of the remote's buttons. Above the LCD are 16 keys for direct input selection. If you prefer to step through inputs, two buttons below the LCD make that possible. In general, Yamaha does a good job of distinguishing controls, relying heavily on layout and background and less on size and shape. It's not a gorgeous remote, but it's a good one.
Menu graphics are full color and a pleasure to use. One thing that distinguishes Yamaha's user interface is its separation of Music Content from Input Select. They have a few items in common, such as Rhapsody and iPod Dock. You might find what you're looking for more quickly under Music Content, since it has fewer items.
If you fiddle with DSP on a rainy day, you'll find the numerous modes in nested menus. Classical includes large concert halls in various cities (I seem to have missed the Church in Freiburg in my travels), and Live/Club includes smaller venues. (This is your only chance to visit the Bottom Line in NYC now that the myopic bean counters of New York University have evicted the legendary club.)
Let me mention in passing that the Dolby and DTS complement does include the new lossless Dolby TrueHD and DTS-HD Master Audio codecs, as well as their improved lossy counterparts, Dolby Digital Plus and DTS-HD High Resolution Audio. That last item is present in the product, although it's absent from the spec sheet. This receiver processes the new codecs' bitstreams through the HDMI 1.3a interface.
I hooked up my Paradigm Reference Studio 20 v4 speakers, Pioneer BDP-HD1 Blu-ray player, and Integra DPS-10.5 universal player and got to work.
Prozac for the Ears
A pattern asserted itself in movie after movie. I often have a problem with dynamically bipolar movie soundtracks—not one volume setting suffices to reconcile loud effects with soft dialogue. But with the Yamaha, this hardly occurred at all. I was able to pick an initial volume setting for each movie based on its dialogue level. When the effects got loud, my sometimes battle-weary ears were unfazed. This is some pretty clean amplification.
In the case of Indiana Jones and the Kingdom of the Crystal Skull, the Blu-ray Disc's Dolby TrueHD soundtrack may have helped. Now that I've had prolonged exposure to Dolby TrueHD, I'm certain that lossless surround helps. It can't remix a bad soundtrack, but it can help a good one sound (and feel) as good as possible. At least half of the movies I've heard in Dolby TrueHD have benefited significantly from it. In the latest chapter of the Indy saga, I weathered the dynamic swells without pawing the remote control, and what a relief that was. I fell in love with action movies all over again.
We Are Marshall—the true-life story of Marshall University's recovery from the loss of its football team in a plane crash—is a symphony of crowd noise. Variations indicate changes in the crowd's mood in response to the twists and turns of the football-inspired drama. Again, Dolby TrueHD made a difference. I got pulled right into the story (and I don't even like football).