A Winning System Page 5
DREAM COME TRUE
InFocus ScreenPlay 5700

high-def DLP projector

Denon AVR-2105

digital surround receiver

Denon DVD-1910

DVD player

Polk XRt12

XM satellite-radio tuner

Polk RTi10

main left/right speakers

Polk CSi5

center speaker

Polk TC60i

ceiling surround speakers

Polk PSW505

subwoofer

Polk RC60i

ceiling speakers (in kitchen)

Universal Remote Control MX-850

with

MRF-250 RF

base station

Draper M1300

106-inch video screen

Sanus NF-24

center-channel speaker stand

Panamax Max 4310

system surger protector
---
(includes installation, cabling, and a one-year subscription to XM Radio)

Installer

: eMagine Technology Systems www.emaginehomes.com And if you'd like to check out Cara's home-made soap, go to thesoapshoppe.com
When it was time to fire up the system, Kevin tried to prepare Cara for what to expect. "I told her, 'I don't think you know how good this is going to be.' When I saw the 9-foot-wide screen on the wall, I was worried it would be
too
big, but now that we're watching movies, it's perfect."
Kevin has a hard time finding words to sum up his feelings about the system. "It's just awesome, way more than we ever imagined - like being in a cinema."
Cara echoes his sentiments. "It does sound like you're at a movie theater. People get focused on how big the screen is, but Ken and Phil told us you need to put most of your money into the sound because that creates most of the effect. I'm not a sound person, so I didn't really believe them. But now that we have it installed, I have to agree."
The family immediately settled into enjoying the new system. Kevin says he likes "just losing myself in a movie, especially one with lots of effects. The sound is just amazing. Hearing a bullet whiz by really pulls you into the action. Watching The Return of the King, I felt as though the wall was crashing down as the wolf's head crashed the gates of Gondor!
"The kids love all of the Pixar films. We have Finding Nemo, The Incredibles, and Monsters, Inc., and seeing them on this system is a totally new experience for them. Alexander had friends over for four hours of Star Wars - they were speechless the whole time!"
Cara adds that the family has become "quite accustomed to the second lap of the Pod race. When Kevin is watching it, the pots on my kitchen walls rattle. Anna has informed me that 'The big TV in Dad's room makes my butt shake.'"
Installer Eagle is also happy with the outcome, but from a different standpoint. "Because this is a farmhouse with a lot of character and heritage, we had to carefully plan to integrate the technology and still preserve the home. I'm pleased that we were able to retrofit wire without interrupting the existing finish.
"The Ludlows are the kind of customers you always want to work with. They were very polite and welcomed us into their home. We had a tight installation timeline, and Kevin really pitched in to help complete the theater on time. And it was great to see the neighbors drop in to experience a little bit of the excitement."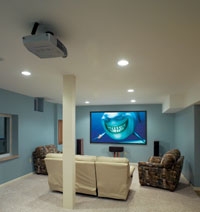 Kevin already has plans for his first upgrade. "Everyone on our road has satellite TV, but we just have an off-air antenna that gets five local stations - that's our TV entertainment. One of the first things we'll do is get a satellite system, hopefully one that's high-def." While there's still some remodeling to be done around the house, Kevin has put it on hold for now since he "can't seem to get anything done because I'm distracted by a rather large screen in the basement!"
Cara says that the whole family is still amazed every time they go downstairs. "There are no words to thank everyone for this experience. We never could have imagined anything like this ever happening to us."