Wild Card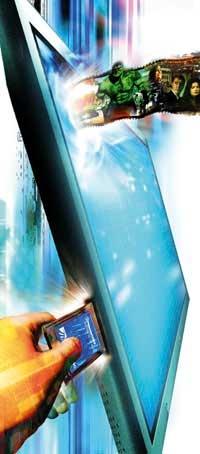 Before premium cable channels like HBO began appearing 30 years ago, you were more likely to have a bowl of waxed fruit atop your TV than a black box that changed channels. But cable-TV signals began to be encrypted to keep basic-cable subscribers from watching the new channels, and suddenly upscale viewers had to rent a decoder box from the local cable operator.
Well, the set-top cable box may finally be on the way out. After a decade of wrangling and posturing, the cable-TV industry bowed to a Federal Communication Commission (FCC) mandate and as of July 1 agreed to offer CableCARD, a credit-card-size "conditional-access device" that promises to unfetter TV viewers from their hard-wired and butt-ugly cable boxes. You'll find CableCard slots on most new "integrated" HDTVs - that is, models with built-in digital tuners - from all the top manufacturers. Insert your leased CableCARD in the slot and you can watch every analog, digital, and high-definition channel you were seeing through your cable box, including premium channels.
Although CableCARD reduces clutter and simplifies hookup, it is a one-way system for now, which means it doesn't support interactive services like video on demand. You'll still be able to watch pay-per-view programs, but you'll have to order them the old-fashioned way - by calling customer service instead of simply pushing a few buttons on your remote control.
You also won't get the interactive program guide from your cable provider, but don't despair. Many CableCARD-ready sets have TV Guide On Screen, a free interactive service that lists all your cable channels and doesn't need a phone connection. A number of companies are working on a two-way version of CableCARD, but it's not expected to be available for at least a couple of years.
Most cable companies charge less for CableCARD than for their high-def cable boxes, and all major providers currently require a service call to have a CableCARD installed and activated. As you can see from the "CableCARD Fares" chart (click to view PDF), fees vary between $19.95 and $60.
Getting StartedTo see how well CableCARD works, I called my local cable company, Cablevision, and arranged to have a card installed in a Panasonic TH-37PD25 enhanced-definition plasma TV, one of the first CableCARD sets on the market.
Lucky me, I was the first Cablevision subscriber in my area to order CableCARD, so they sent the company's two top installers. I watched as they inserted the card into the back of my TV - as easy as sliding a cartridge into a Gameboy. Then they plugged the cable from the wall into antenna jack A on the back of the TV and screwed the over-the-air antenna connector into the B jack. The TV's tuner decodes over-the-air digital and analog signals as well as digital cable signals that are decrypted by the CableCARD.
After everything was hooked up and the card was in the slot, a unique "Host ID" number appeared onscreen. Another ID number is printed on the card. One of the installers called the cable company to report the two numbers. A minute later, HBO was onscreen, and I was surfing a channel lineup identical to what I got through the set-top box.