What's in Store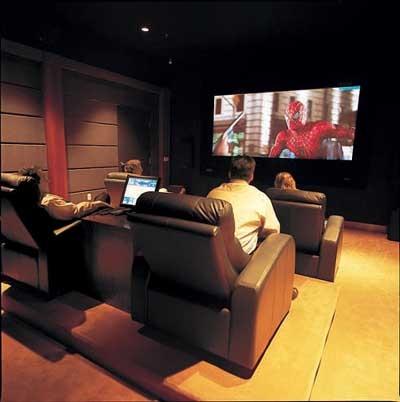 The days of going to an electronics store, choosing from a lineup of components, and carrying your selection out to the trunk of your car might be fading fast. We now want our entertainment with us all the time, wherever we go, but few of us have the time to wade through the overwhelming proliferation of gear being created to address that desire. Things like home theaters, multiroom entertainment systems, and home networks are inherently complex, and retailers are realizing that the best way to make them palatable to the average person is to simplify shopping as much as possible.
That's why you might begin to see more stores go down the path chosen by Tweeter Entertainment's prototype outlet in the Las Vegas suburb of Summerlin, Nevada. The venerable specialty chain, which started in New England in the 1970s, now has 160 stores and recently branched out into places like Florida and Illinois. But none of its stores offer the dramatically different experience you'll find in Las Vegas. Here, "home within the store" settings show gear integrated into typical rooms, and you're encouraged to think in terms of systems rather than individual components. Intrigued by this vision of shopping's future, we went to Vegas for a closer look.
Rooms with Views It's obvious from the moment you walk in that this store focuses on home-entertainment solutions, not stuff. Instead of shelves lined with gear, boxes stacked in the aisles, and the din of cash registers, you get an open floor plan that's clean, quiet, and inviting. Imagine a cross between an Apple store and Ikea, and you'll get the idea.
As soon as I arrived, I was greeted by Katie, the concierge - like being greeted by the maitre d' at an upscale restaurant. She asked pleasantly if I wanted something in particular or was just looking around. When I told her I was just browsing, she handed me a detailed map so I could take a self-guided tour. The oval space is designed to let you walk through at your own pace without any salespeople hovering - a big plus in my book.
Much of the store is taken up by the room settings, ranging from the "What's Cookin' " kitchen - which includes a Sony under-the-cabinet LCD TV/radio and Westinghouse's iCEBOX PC/DVD/TV with waterproof keyboard - to the "Family Night In" living room featuring HP's Digital Entertainment Center PC. Able to handle movie and music playback, gaming, recording, networking, and more, the HP unit is meant to be your house's audio/video hub.
The centerpiece of the "Body Shop" bathroom is Philips's $2,000 MiraVision - a mirror with a 17-inch LCD screen across the bottom so you can watch the news while brushing your teeth. The "Insomniac's Dream" bedroom features a 42-inch plasma TV that rises from the Cabinet Tronix chest at the foot of the bed.
In the "Digital Playground," you'll find a videogame system featuring big-screen action and the kind of high-impact sound you expect from home theater. Browsers are encouraged to experience the latest games in full-blown surround. The gear here includes an Xbox console, a Sony 55-inch rear-projection LCD TV, Artison speakers, and MartinLogan's Dynamo subwoofer.
You emerge from the room settings to a huge wall of TVs, including flat-panel plasma and LCD displays from brands like Pioneer, Samsung, and Panasonic, starting at $3,000. Across from the TVs is the "On the Go" area, which highlights iPods, XM and Sirius satellite radios, Tivoli table radios, and more. Everything is out in the open for you to pick up and play with.
At the back of the showroom floor, I came across "The Big-Screen Adventure" - a room tricked out in $250,000 of the finest home theater gear. Featuring a Sony Qualia 004 front projector, a 10-foot Stewart screen, a Kaleidescape DVD movie server, and JBL's 7.4 Synthesis Series surround speaker system, it made watching things like the famous speeder-bike chase in Return of the Jedi exhilarating. The setup even has D-Box Quest motion-simulator chairs that sway, tilt, and shake in sync with the onscreen action. If watching movies in this room doesn't motivate you to get out your credit card, nothing will!
Next door is the "Sound Stage," dedicated to demo'ing audio options. While there were traditional floorstanding speakers and plasma-friendly on-wall systems, most of the speakers sold here are "architectural" - ceiling, in-wall, and outdoor models. The store caters to people who want great sound but also want the speakers to blend into the look of their homes. Brands include Artison, Boston Acoustics, Polk Audio, MartinLogan, Sapphire, and Mirage.
Right before circling back to the front of the store, you come across the "Collaboratorium" - a glass-walled conference room where you review what you're planning to buy before breaking out the plastic.
LATEST VIDEO