Western Digital WG1S5000 My DVR Expander Hard Drive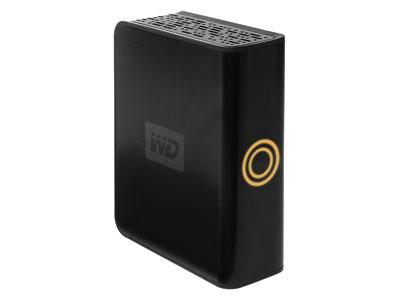 With a digital video recorder, you're master of the HDTV universe today, but brought to your knees tomorrow when your DVR fills up and automatically deletes the penultimate episode of Dancing with the Stars before you've witnessed the duel play-out. If you've ever had to chuck an episode of Chuck because there was no space to record anew, you know that sinking feeling I'm talking about.
This is no small problem. While the high-def DVR emboldens us with unspeakable convenience, limited capacity in the typical cable set-top box places enormous pressure on us to play catch-up with our accumulating series before being forced to confront the delete screen, or worse, discovering that the DVR's no-nonsense software has already erased the show to make room for something else.
The Short Form
Price $199.99 / westerndigital.com / 800-275-4932
Snapshot
My DVR Expander spells R-E-L-I-E-F for high-def recording junkies with overloaded hard drives.
Plus
•Simple installation •Transparent extension of your DVR's internal drive •Fan-less and quiet
Minus
•Can't direct a program to be recorded to a particular drive •Drive is reformatted and programs lost if used with a different device
Key Features
•500GB hard drive •Stores 60 hours of HDTV or 300 hours of SDTV programs •eSATA cable included •Compatible with Scientific Atlanta 8300 DVR series set-tops, TiVo HD, and TiVo Series 3 •Inputs/Outputs eSata connector, power supply connector •6.78 x 5.63 x 2.23 in (H/L/W); 2.6 lb
Enter (laughing) My DVR Expander. Western Digital's 500 gigabyte external hard drive plugs into the eSATA port on Scientific Atlanta Explorer 8300 series DVRs (leased by Time Warner Cable, Cablevision, and many other cable operators), TiVo HD, and TiVo Series 3 models. If you're wondering (and who wouldn't?), the acronym stands for external Serial Advanced Technology Attachment, and refers to a technical standard developed for hard drives and other (primarily external) storage devices with super-fast data transfers in mind - just the ticket for HDTV.
In this case, the Expander's promise is the capacity to seamlessly store an additional 60 hours of HDTV content or 300 hours of standard-def programs on top of whatever capacity your existing SA set-top DVR or TiVo already has. But I had lingering concerns upon cracking it out of the box: How difficult would My DVR Expander be to install, and was the Expander truly compatible with my existing gear?
Setup Since my home theater actively employs two DVRs, including both the Scientific Atlanta Explorer 8300HDC and a TiVo HD, I chose to install My DVR Expander on the leased cable box first. Before powering off the cable box and detaching the electrical cord, I checked the part of my electronic program guide (EPG) that listed recorded shows to see how much space was occupied on the Explorer's 160GB internal drive. It indicated the drive was 90 percent full. I connected the included but short (38-inch) eSATA cable to the backs of the horizontal SA and vertical Western Digital boxes. The latter looks like a thick hardcover that belongs on a bookshelf; the top of the "book" contains vents, which dissipate heat. I attached the AC adaptor to the Expander. There is no power switch. Then, I reattached the power cord to the cable box.
The cable box took about 10 minutes to boot up, eventually alerting me that an external drive had been detected and, if I'd like to format it, to press the A key on the remote. Shortly afterwards, I was informed that the drive was ready for use. I went back to my EPG and discovered that the storage capacity was now only 10 percent full. Yippee! Or, more appropriately, eureka!