Welcome to Flatville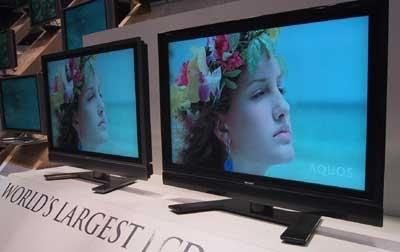 I live in Illinois near a town called Flatville. The buzz at this year's Consumer Electronics Show might lead you to believe that it's the capital of the universe. On Press Day, January 5, the day prior to the official opening of CES, every major manufacturer introduced myriad models of new flat-panel displays, which in the not-too-distant past were called TVs. However, while all were flat, companies used different technologies to squeeze the depth of their displays. Virtually all big-screen models were true HDTVs, and most included a built-in digital (DTV) tuner/decoder for off-air programs from an antenna as well as digital satellite and cable feeds. LG Electronics noted that including a digital tuner in a TV still adds about $300 to $500 to its price tag. The latest LCD size champ is Sharp's new 65-inch Aquos LCD flat-panel TV (price and availability not set).
For the most part, three technologies vie for your affection and your MasterCard: LCD, plasma, and Digital Light Processing (DLP), a/k/a microdisplay technology. Beyond flatness, their most obvious common trait is that the prices of displays using them continue to fall. LCD and plasma TVs also continue to grow in screen size. Last year Sharp expanded horizons by introducing a 45-inch Aquos LCD set, and at its press conference this year it unveiled a 65-incher, the largest LCD model yet. Sharp representatives didn't say what it would cost or when you could pick it up at your local dealer, but they did suggest you could be watching one by Christmas. In plasma, Sharp and LG played leapfrog: First LG unveiled what it thought was the largest plasma TV in the show at 71 inches, and then Samsung revealed its own 80-inch HPR8072 plasma monitor, supposedly available in May for $40,000. And then, as if to forestall all possible rivals for the plasma-size crown, Samsung showed a humongous 102-inch handbuilt prototype, indisputably the largest direct-view display in existence (
see Photo Mix
).
Each manufacturer offered its own take on the future, depending on the technology in which it was most vested, if not invested. Sharp, for example, hopes its position as the leading manufacturer of LCD panels will give its models an extra cachet among the offerings of the 70 some companies marketing LCD TVs in the U.S. But as if to acknowledge that very large LCD screens are still a long way from affordable for most folks, Sharp also announced 56- and 65-inch DLP rear-projection TVs and showed a DLP front projector as well. The 56-inch model will be available in March at a $3,300 list price, and the 65-inch RPTV is due in May with a sticker of $3,800. And Sharp maintained that its Aquos LCD line could match price reductions on competing plasma displays.
LG Electronics straddles the fence with 12 new plasmas, 22 new LCDs, and 8 new DLPs. Besides that 102-incher, which (literally!) isn't ready for prime time yet, it made a strong plasma statement with its new 71-inch MW-71PY10 plasma TV, one of the largest at CES, which will soon be on sale for $75,000, or a little over $1,000 an inch. LG zeroed in on the usual digs about plasma, claiming that new DoubleLife technology gives its plasma sets a 60,000-hour lifespan, enough for 25 years of average viewing (vs. 30,000 hours for ordinary plasma displays), and that its proprietary XD Engine prevents burn-in, or ghost images created when a stationary picture or part of one, like a logo, remains onscreen for a long time. LG also showed a 60-inch plasma model, the 60PY2DR, with a built-in 160-gigabyte hard-disk recorder that can save up to 14 hours of high-definition programming. No price was announced for this set, which will arrive in the spring.
LATEST VIDEO