Wall-to-Wall Sound
We evaluate eight similarly designed and priced in-walls.
I think I've purchased enough drywall to finish the interior of a three-bedroom house. My local home-improvement warehouse now stocks extra inventory just for my in-wall speaker reviews. You see, I hate to cut holes in my living-room walls, and I'm not very skilled at patching them. So, for this review, I made some portable walls in which to test eight different in-wall loudspeakers, also known as architectural speakers, priced between $435 and $600 per pair. In fact, I made several walls and simply swapped drywall to accommodate the various models. That's why my home-improvement store likes me so much.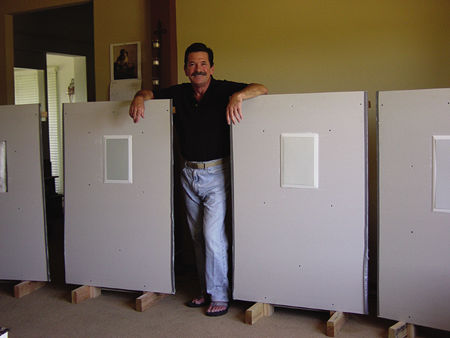 I constructed each wall like a standard interior residential wall, with 0.5-inch drywall on two-by-four studs with 16-inch on-center spacing and R-30 insulation inside. Each wall is 32 inches wide and 48 inches tall, big enough to simulate a real wall's many characteristics and portable enough that I could get them from the workshop to my listening room without a forklift.
While doing research for this article, I was surprised by the number of architectural speakers available, as well as the variety of shapes, sizes, and unique features. I decided to narrow my test to eight two-way speakers, all with 6.5-inch woofers (except one with a 6-inch woofer) at popular price points. In the following writeups, I examine each speaker's mounting system, construction quality, appearance, sound quality, unique features, and overall value so that, when you go shopping, you'll be armed with some valuable information.
Since many of the speakers' suggested retail prices are the same, I've presented them in alphabetical order. I used the same source and power components to review each speaker pair, and I chose not to use a subwoofer so that I could evaluate bass response fairly.
Canton Karat InWall 160
Passen Sie gut auf! In other words, pay close attention! Canton is a German company started in 1973 that manufactures a full line of loudspeakers for the home and auto markets. This is the only model in the roundup that uses a 6-inch woofer, an aluminum cone with an inverted dust cap. The 1-inch AMT-25 tweeter, an aluminum-manganese alloy dome, is the same one Canton uses in their high-end floorstanding speakers. The company says that both designs improve off-axis response.
The Karat InWall 160 uses a two-piece mounting system that, in addition to requiring some assembly, is an excellent design that solidly couples the speaker to the wall. The six clamps that attach to the mounting bracket have spikes that dig into the drywall's interior. Typical of many German products, construction and build quality are top-notch, including the speaker baffle, which is made of heavy-duty ABS. The tweeter has a level control that allows adjustment of +/–2 decibels.
The grille and frame are neutral white but can be painted, and the frame is slightly textured, like a typical wall. However, you can see the aluminum woofer and tweeter through the grille, which you may or may not find objectionable.
The Karat InWall 160 has a rich, mellow sound quality that's very easy to listen to. Its midrange reproduction has a noticeably strong presence, with a pleasant, sweet high end when the treble level is set at flat. Stephane Grappelli's jazz violin from The Collection was as full and resonant as I've heard it, and Lou Rawl's vocals in "I Only Have Eyes for You" from Les Brown's Session #55 DVD-Audio painted an image that was so dead-center, I thought I had my center-channel speaker on. Midbass was tight and well defined, with adequate low-end bass. I was able to overdrive the Cantons, but only at high volume levels. Off-axis sound quality was also excellent.
At A Glance: Canton Karat InWall 160
Features:
Tweeter (size in inches, type): 1, aluminum-manganese dome
Woofer (size in inches, type): 6, aluminum cone
Cutout Dimensions (inches): 7.875 wide by
11 high
Mounting Depth (inches): 2.75
Available Finishes: white (paintable)
Price: $550/pair
Ratings: Canton Karat InWall 160
Build Quality: 95
Value: 95
Features: 93
Performance: 95
Ergonomics: 92
Overall Rating: 94
General information
Karat InWall 160 In-Wall Speaker, $550/pair
Canton Electronics
(612) 706-9250
www.cantonusa.com
Dealer Locator Code CAN

SPONSORED VIDEO