Vizio XVT3D650SV 3D LED LCD HDTV Page 3
The Vizio's black level is surprisingly good for an LCD set without true local-dimming backlighting. When a source goes to a full black image, the LED edge lighting frequently shuts off completely, plunging the screen into an impressive total darkness. At other times, the full-screen black is a dark gray. I couldn't predict when the screen would go to total black or merely to near black. This was a minor oddity rather than a major issue since the XVT3D650SV's blacks are the best I've yet seen from an edge- lit LCD. Still, it was occasionally distracting in a "will it or won't it?" kind of way.
When the image on the screen was near black, or very dark and low in contrast, the brightness on the screen was nonuniform. That is, the sides of the screen (where the edge lighting sits behind the frame) were lighter gray than the center. This has been a problem on all of the edge-lit sets we've tested so far. On the upside, it was less distracting on the Vizio than on most other examples of the breed we've seen. You'd probably only notice it in a darkened room.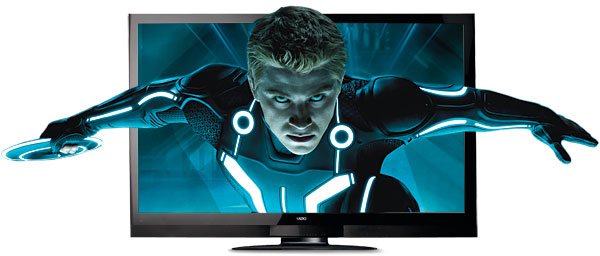 The set's shadow detail was also impressive. I was never troubled by the gray, fog-like, faded blacks that are typical of dark scenes in mediocre LCDs. Thankfully, we're seeing fewer such sets now than even in the relatively recent past.
My only issue with the Vizio's color was a hint of green in fleshtones. This was subtle enough that it was largely invisible except in side-by-side comparisons with other properly calibrated sets. There was also a bit too much color intensity in images dom- inated by green. Given the excellent post-calibration gray scale color tracking, I couldn't explain either of these minor anomalies. Two possibilities are a slightly skewed color gamut (see HT Labs Measures) and excessive brightness in the green color component. But these are nitpicks; overall, the Vizio's color was completely satisfying.
So was the resolution. The XVT3D650SV looks crisp and detailed. It turned in a solid showing all around, with little to criticize in pristine transfers such as Avatar and Toy Story 3.
The set's off-axis picture quality is neither better nor worse than most LCDs—although it's a bit worse than we found on the 2D-only Vizio XVT553SV mentioned earlier. Critical view- ers will want to sit within a few degrees of dead center; noncritical viewers will likely not notice anything wrong up to about 30 degrees off axis (slightly less in 3D). But no one will want to sit much further to the side than that with this HDTV.
The Vizio's overall motion lag was comparable to that of most current LCD sets. On some sources, it also exhibited a brief but quite visible motion-induced color smear, where red appeared to lag behind blue and green. Examples: Toy Story 3 at 6:33, on the right side of Buzz's shadowed face; at 6:59 on Jessie's face just as she moves; and at 49:25 on the toy lion's red lips as the "camera" pans away. This was visible on a Samsung LN46C650 LCD and also visible (but much more subtle) on a Sony BRAVIA KDL-55EX720 LCD (review in progress). It wasn't visible at all on a Samsung PN58C7000YF plasma. While it was hard to miss on the Vizio when it occurred, it was relatively rare on 2D sources.
With some significant but infrequently visible exceptions, the XVT3D650SV is an excellent 2D set. But if 2D were all it did well, it would be a little pricey, par- ticularly for a Vizio. Which brings us to the XVT3D650SV's...
3D Performance
The Vizio's single 3D mode offers limited control, so I didn't make any changes to this mode's factory settings apart from tweaking the Backlight control. Fortunately, I didn't seriously miss any of the inaccessible controls on the limited range of currently available 3D material. While the 3D mode provides control of the color temperature calibration controls, a full 3D calibration wasn't possible without 3D test patterns or a 2D-to-3D conversion mode.