Victrola Expands Upscale Line of Sonos-Certified Turntables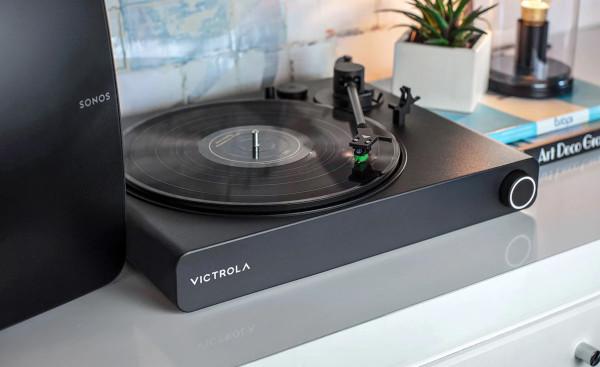 We were caught off guard by the sleek, upscale nature of the Carbon turntable Victrola introduced at CEDIA Expo 2022. Since Denver-based Innovative Technology acquired the rights to the iconic 120-year-old trademark in 2016, the company has largely focused on inexpensive record players sold in dozens of retailers, including places like Costco, Kohl's, and Bed Bath & Beyond. But the Carbon is different. It's a serious turntable that doubles as a wireless source device for Sonos systems, hence the Sonos-Certified designation.
S&V
editor Mark Henninger even singled it out as one of his 12
Editor's Picks at CEDIA
.
Victrola just announced the Victrola Stream Onyx, a less-expensive follow-up to the Carbon. The new turntable is slated to ship in late February and, starting tomorrow (January 7), will be available for pre-order on victrola.com and Amazon for $600, $200 less than the Carbon.
Victrola CEO Scott Hagen says the difference between the two models lies mainly in a "few alterations in the materials and finish." The tables look almost identical except the Onyx is fitted with an aluminum tonearm and Audio-Technica VM95E moving-magnet phono cartridge instead of a carbon-fiber tonearm and the higher performing Ortofon 2M Red cartridge used in the Carbon, also a moving-magnet design.
Both are two-speed belt-drive tables with a removable headshell and a built-in phono preamp with RCA outputs but the Carbon's base combines metal with veneered MDF and boasts an elegant silver faceplate whereas the Onyx has an all-black MDF base.
As with the Carbon, the Victrola Stream app (iOS and Android) makes it easy to integrate the Onyx into a Sonos wireless system with the turntable's illuminated control knob providing centralized volume control for an entire Sonos system. For more information, visit victrola.com.