Vandersteen Model 3A Signature System: Short Take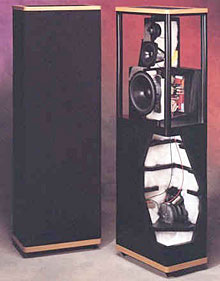 Price
: $11,673 as configured in SCB's former reference system.
3A Signature: Three-way, four drivers, floor stander 26Hz LF, $3549/pr. VCC-5 center: Three-way, "triaxial" four driver designed for stand, 50Hz LF, $1995 ea. VSM-1 surrounds: Two-way, two driver coaxial speaker designed for wall-mounting, 60Hz LF, $949/pr. 2Wq subwoofers (four in system): Three-driver slot-loaded sub with 300W amp, adjustable Q, 20Hz LF $1295/ea.
This Vandersteen system, based on the 3A Signature isn't cheap, but is an extreme high-performance system with four powered subwoofers, making it an extraordinary value. All the speakers in this system are time-and-phase correct and the 3A Signature is a full range speaker with deep bass response based on Vandersteen's baffle-less design for an wide-open, non-boxy sound. The Vandersteen 2Wq woofers are incredibly sophisticated, and involve using passive high-pass filters at the amplifier input. This relieves the amps from producing deep bass, which increases the clarity and dynamic swing of the entire system dramatically.
As a result, this Vandersteen system offers high-impact, dimensional home theater sound with the heart and soul of a naturally musical high-end, audio system.
WHERE TECHNOLOGY BECOMES ENTERTAINMENT