UV and Vudu for U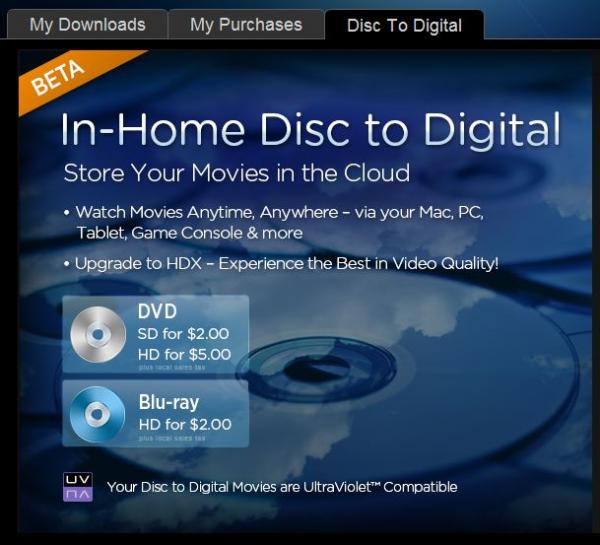 Of course, you have a wall of discs. And what an impressive wall it is. LPs, CDs, DVDs, and Blu-rays. There is no better feeling than firing up the home theater and sipping on a martini as you casually peruse your massive collection, pondering which disc to deploy. Moreover, with Vudu to Go, you can take the wall with you anywhere you go.
Digital lockers are nothing new. The idea of using ownership of a physical disc to also obtain access to a streaming copy has been around. But, Vudu has recently made the process easier, and cheaper. Specifically, their In-Home Disc to Digital program (currently in public Beta, but working fine in my tests) lets you use your DVD or Blu-ray discs to access permanently-stored streaming copies of those movies. After paying a one-time fee for access, there is no additional cost to watch your movies.
It's as easy as pie. Sign up for Vudu (it's free and you get 10 free movies). Download the Vudu to Go app. Load your DVD or Blu-ray. Pick SD or HD (1080p). Pay the fee (see below). Watch the movie anywhere, anytime on any Vudu-enabled device. Devices include iPad, Mac or PC computer, XBox 360, PlayStation 3, HDTV, Blu-ray player, etc. Sadly, and significantly, although basic Vudu runs on Android, Vudu to Go does not yet support Android. Blu-rays are coded to High Definition with Dolby Digital Plus Surround Sound (HDX), as are upconverted DVDs. Disc identification is powered by Gracenote. Your Blu-ray player is busted? Take your discs to Walmart (which owns Vudu) and they'll credit your locker for you. Sorry, rented discs are not compatible.
The fine print: The fees are thusly: $2 for a SD DVD. $5 to upgrade a DVD to HD. $2 for a Blu-ray. Plus local taxes. A 50% discount if you convert 10 or more discs. Vudu uses Ultraviolet as its file format. All your converted movies are UV compatible. Of course, Vudu also lets you play the UV copies of movies you get with some DVDs and Blu-rays.
In addition, similar to Netflix, Vudu lets you stream other movies. However, it does not require a monthly subscription fee. For $2, you can watch a movie any time within 2 days. Easy. As an UltraViolet service, not all movies are available. However, UV is supported by Paramount, Sony Pictures, Fox, Universal, Lionsgate, and Warner so the catalog is reasonably large. Note that Disney has gone its own way.
I know what you curmudgeons are thinking: Yo ho ho, I'll just rip the damn discs myself and set up a server. Well, for 2 bucks, I submit that it's just not worth your time to rip your collection to make (illegal) copies. And with a 50% discount for quantities, it's a no-brainer.
UltraViolet isn't perfect. Because of its limitations, you'll probably wind up with a couple of incompatible lockers with different content. And, Vudu to Go needs to support Android asap. But, getting movie ownership on UV is now easy, and cheap. If nothing else, at least you've backed up your movie collection in case of theft or damage. If you have a stable and fast connection, check out Vudu to Go.
LATEST VIDEO