TV Walls, Digital Radio, and Double-Duty Cams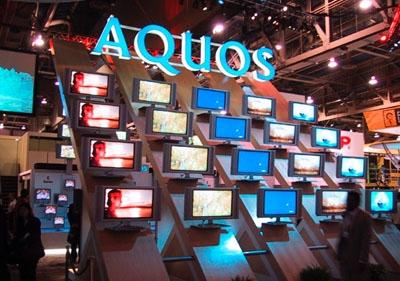 The first day of the International CES ended on a colorful note at a Sharp press conference on the convention floor in front of scores of its LCD TVs. The company arrayed rows and rows of its flat-screen TVs, from 13 to 37 inches - a total of 286 displays - as the focus of its space. All was aimed at promoting Aquos, the name of both Sharp's LCD technology and of the TVs using it.
A wall of Sharp Aquos LCD TVs. Actually, this photo shows only part of the wall of 286 LCD screens.
Sharp premiered its largest display yet, the 37-inch high-definition LC-30HV4U, which doubles as a computer monitor and will cost $9,000 when available in February. A 30-inch version, the LC-30HV4U, is priced at $5,500. However, the real news was the near completion of a new automated factory in Japan that will produce nearly every part of an LCD panel. Specifically, the plant will be able to fabricate 60-inch panels when it comes on line next year, most likely allowing Sharp to regain bragging rights to the biggest LCD screen. Sharp also joined the rush to DLP (Digital Light Processing) technology, but with a front projector, not a rear-projection model. The XV-Z1000U is said to deliver a contrast ratio of 2,600:1 and is currently available for $12,000. At a more popular price, Sharp displayed what it called the first "personal home theater" front projector, the Theago (DT-200), with a short-throw lens for small rooms and a variety of mounting options. It's available now for $4,000. Kenwood grabbed the first slot of Day Two to present its new president and CEO, Mr. Kawahara (first name not given). He emphatically declared that Kenwood's financial problems were passed, that the company had regained solid financial footing, and that the U.S. is an extremely important market for both car and home stereo. He explained that the company exited cellphone and computer-peripheral manufacturing to concentrate on mobile and home entertainment - car stereo now accounts for 50% of the company's total sales. Most of Kenwood's new products at CES centered on mobile sound, especially the new high-definition digital HD Radio system (see below) and Sirius Satellite Radio. In home audio, Kenwood has enhanced its Entré system, a whole house music server, by enabling it to display more onscreen information, support a longer daisy-chain of CD changers, and operate with third-party controllers.
A Kenwood Excelon car head unit designed for both Sirius Satellite Radio and terrestrial HD Radio.
iBiquity held a press conference to announce that January 10 was the official launch date of its digital HD Radio system for terrestrial AM and FM broadcasts with improved sound quality (no hiss!) and new options such as text display for artist names and song titles. The system was originally called IBOC - for in-band, on-channel - to indicate that it would still use the familiar AM and FM bands as well as the same channel assignments as now, but iBiquity understandably renamed it. Eerily, the opening of the press conference was interrupted by a high-pitched whistling sound that took considerable time to silence - this at a press conference touting the end of radio interference. A panel of chip and receiver manufacturers, a retailer, a National Association of Broadcasters spokesman, and radio-station representatives, as well as executives from iBiquity, all praised the new system and its many merits. However, they admitted that although extensive testing had just been completed on night-time AM interference that could be caused by the system, the results would not be announced until late February. HD Radio will initially arrive in car radios, although a Korean company, Personal Communications, showed a prototype of an HD Radio-capable headphone stereo receiver. Texas Instruments announced that the final, full-featured chip for HD Radio was just entering production and would first appear in receivers later this year. Thus, any HD Radio tuners sold now would have an earlier chip. So far 44 broadcast groups are licensed for the system, represented by 120 stations in 9 of the Top 10 markets, and iBiquity expects 300 stations by the end of the year covering two-thirds of the U.S. An audience member pointed out that the FCC had merely permitted broadcasting with the system to begin and had not yet approved it as a new standard. Samsung's exhibit showed it could compete with any other company on the convention floor in breadth and depth of product. It showed every size and technology of video display, including LCD, plasma, and DLP. It showcased some truly innovative products, such as a DVD player, the DVD-HD931 ($349, available May), with a Digital Visual Interface (DVI) output to the TV for ultimate video quality. The player includes processing that converts images to HDTV-quality resolution, according to the company
The Samsung SCD-5000, a Mini DV camcorder that turns into a 4.1-megapixel digital still camera simply by rotating the lens barrel.
Samsung has overcome the image compromise of camcorders that double as digital still cameras. The barrel of the Mini DV Duo Cam SCD-5000 rotates 180 degrees, so it's actually two separate imaging devices. One end shoots video, and the other is a 4.1-megapixel still camera. In addition to Mini DV tape, it can record MPEG-4 video clips onto a supplied Memory Stick. This versatile camcorder/camera will be available in May for $1,400. Another innovative Samsung camcorder is the Gadget, a tiny camcorder that records MPEG-4 video onto a 2-gigabyte (GB) internal hard drive or a Memory Stick. It also functions as an MP3 player and communicates with a PC through a fast USB-2 port. The ITCAM-7 Gadget will be available in May for $499. Finally, if you like the portability of MP3 players but tire of wiring them to a system for bigger sound, the Yepp YP900 (February, $430) incorporates a 10-GB disc drive for massive music storage and an FM transmitter for playback on any radio or receiver.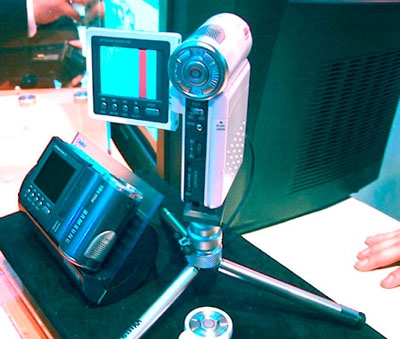 The remarkable Samsung Gadget, a camcorder that records to its own hard drive as well as to a Memory Stick. Available in May for $499.
Harman Kardon debuted two new home theater receivers, the DPR 2001, claimed to be the first full digital path receiver. No price or availability were given. Available shortly will be the 7.1-channel AVR 7200, which features a configurable amplifier section giving you a choice of seven channels for surround sound or of five channels plus two for a second-room system. It's priced at $1,999. (Photos by Rich Warren)