True Grit (Blu-ray)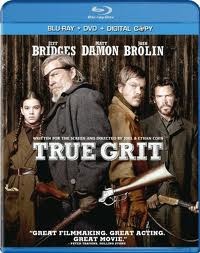 Mattie Ross (Hailee Steinfeld) wants justice when her father is killed by Tom Chaney (Josh Brolin). Headstrong to the nth-degree, the teenager hires U.S. Marshall "Rooster" Cogburn (Jeff Bridges) and insists she's part of the posse. Cogburn grudgingly approves but Matty isn't happy when he allows a Texas Ranger (Matt Damon) into the group who's in search of the same man for a murder in Texas.
Filling the shoes of John Wayne is an impossible task, but Bridges did the best he could do and still doesn't measure up to Wayne's Oscar-winning portrayal of the gruff Cogburn. Having watched the original less than six months ago I couldn't help compare each of the respective roles and other than Bridges impossible undertaking, the other two main characters (Damon and Steinfeld) more than make up the difference.
The marvelous cinematography of Roger Deakins is captured beautifully in this AVC encode and the DTS-HD MA 5.1 audio is to die for. Fine detail is outstanding and the sound design places you right into the action.
Put that switch down

Chapter 4, 00:37:23
Detail
Look at the detail in Rooster's clothing and face. In fact, not only can you see every fiber in the fabrics, you can see the sweat stains on his hat!
The rustling wind

Chapter 4, 00:40:46
Surround envelopment
Listen as the wind whips through the soundstage placing you within the scene.
Ambush

Chapter 6, 01:03:02
Frequency response, dynamics, shadow detail
As Rooster and Mattie watch the scene below, check out the amazing detail in the low-light scene. Once Rooster springs his trap, listen as the bullets fly throughout the room.
Release Date:June 7, 2011
Studio: Paramount
Movie: 8/10
Picture: 9/10
Sound: 9/10

LATEST VIDEO