Totally Tubular
Many audiophiles love vacuum tube-based components for their warm analog sound.
Einstein Audio
of Germany understands this well, as demonstrated by the introduction of The Tube MKII 2-channel preamp at CES next month.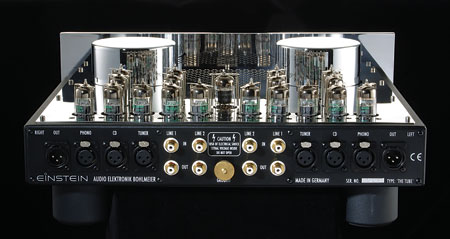 The Tube MKII employs a dual-mono, fully balanced design with an unusually large number of tubes—18 E88CC/6922 dual triodes and one ECC82 dual triode. Interestingly, only 10 of the 6922s are active at any time, eight for power and two for the selected audio source—when you switch inputs, the tubes associated with the previous source power down while the tubes for the new source power up. This conserves tube life and lets you tailor the sound for each source device by selecting which tubes will be used with it, a unique feature among preamps.
Other sound-enhancing attributes include point-to-point wiring, wide-bandwidth circuitry, ultra-low 50Ω output impedance, and a THD of less than 0.05% at 1.5V RMS. That's a lot of preamp, and it looks wicked cool to boot, but what else would you expect for $17,800?
WHERE TECHNOLOGY BECOMES ENTERTAINMENT